Roughly four months from now you'll be watching the second annual B1G Championship Game featuring not-Ohio State playing for the grand prize trip to Pasadena.
Numbing, isn't it. Our Buckeyes owned the decade prior to the installation of this conference title match thing, and after last year's aborted season we have become spectators instead of participants for the second year in a row. It wasn't supposed to be like this. It isn't ever supposed to be like this.
With that destiny already snatched away, your regularly-scheduled August Optimism is laser-focused on a dozen wins in a dozen games. The 13th and 14th will have to wait until next year.
That door has closed, which means another door has opened - to a bawdy, lewd and indecent opportunity.
This 2012 season is the one chance you will have in your life to openly pull for another program to reach the B1G title game without cuckolding your Buckeyes.
No strings attached and no guilt involved: For one year and one year only (no mas, NCAA, no mas) you have one of four eligible Leaders Division teams you can proudly ride to reach Indianapolis without violating your covenant with Ohio State.
The Nittany Lions and the Buckeyes are locked in the clink, so we've already got a Final Four situation on our side of the bracket.
However, there's only one palatable surrogate in that quartet: The contender from the seasonally-modest hamlet known in autumn as Columbus West. The Your Indiana Hoosiers.
Rooting for the most hapless program in the conference to reach the title game isn't quite as obnoxious as hipsters eating at Applebee's ironically to ridicule their boiled-in-a-bag food, but it's close.
The differentiator is that in this scenario, Applebee's is the only joint in town. This is borne from necessity. Ed: If you're reading from small town Ohio, there's a decent chance this metaphor hits a little too close to home. Sincere apologies. Applebee's is horrendous.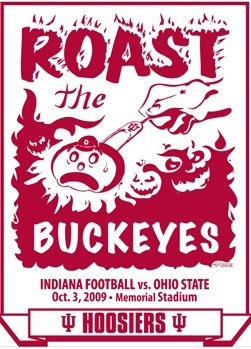 Look at the Leaders Division and it quickly becomes apparent that Indiana is your only choice. When Penn State finally reaches the B1G title game, its roster will consist of players who are either currently infants or not yet conceived.
Sympathy-cheering for the Nits makes little sense beginning next season and no sense in Ohio State's ineligibility year. Avoid this, even if you're friends with one of their displaced, sane refugees. There are better ways to demonstrate your friendship.
You're not going to root for Wisconsin, a title-favorite which only has to finish third to reach Indianapolis again. Even before Barry Alvarez rescued the Badgers from football oblivion, Earle Bruce tripped on them too often. They've taken too much from Ohio State without the help of your karma, so spare it for a program more deserving.
Similarly, Illinois has inexplicably made itself too welcome in Ohio Stadium over the past couple of decades. While they haven't beaten the Buckeyes in Champaign in several presidencies, they've won several in Columbus.
Tim Beckman, State College's premier villain not involved in its kingdom-killing scandal, should have the Illini back in gameday-threat mode in short order. It's a program which oscillates between tepid competence and outright hilarity (remember when the Buckeyes completed one pass and still won there? It's literally the only funny thing on Jim Bollman's shameful resume).
The decumbent misery of Champaign County is barely 100 miles from the closest thing America has to Kabul. Purdue may be black and gold, but West Lafayette is always gray. Northwest Indiana is always gray. Even its denizens, the inspiration behind every zombie movie ever made, are gray.
The West Lafayette air itself turns even the most competent Ohio State football teams into a baffling, sluggish mess. The last Purdue team to go to the Rose Bowl had a losing road record. That's an impossible feat for programs that aren't mostly dead on the inside. You cannot root for Purdue under any circumstance, let alone the unique one you're presented with in 2012.
That leaves Purdue's hapless arch-rival, Indiana. Despite the exercise we've just completed, we're not arriving at Indiana as a surrogate Leader Division bandwagon team by process of elimination. That's merely a coincidence.
Indiana, in this one-season ineligibility window, is the only choice. Bloomington counts as half of a home game for all of its B1G visitors. Look at the front pages and message boards of dedicated Hoosier sites in August.
It's already basketball season in their minds. Nobody has kicked off yet.
Full disclosure, and this isn't much of a secret: Indiana is one of three universities other than Ohio State that I've attended. I hold two IU degrees. During my years in Bloomington my football game attendance was based exclusively on IU's opponent, and I was there when Indiana had Bill Mallory and bowl games.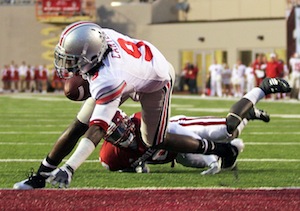 Think about how many Bowling Green, Akron, Miami and other Ohio college graduates that are Ohio State football fans. Native Ohioan IU graduates (well, the ones that aren't from Cincinnati, anyway) are no different. They didn't suddenly shed their childhood out of respect for their college choice.
Take your pick as to why Indiana football is ignored so resoundingly even by its own: It's been bad too often and too long, the basketball team has five national championships and not even four years after basically giving itself the death penalty is a national title contender, Notre Dame is in the same state and the football facilities were decrepit and sub-B1G standards for the better part of the last 50 years.
All of it is true. And the self-inflicted badness is even more gruesome.
IU fired Mallory, Woody Hayes-disciple and its all-time winningest coach, and replaced him with Cam Cameron. Cameron installed tacky USFL uniforms that eschewed both cream and crimson (pfft, using school colors is overrated) and was fired after five postseason-less seasons.
He was replaced with Gerry DiNardo, who discovered that Cameron somehow had more unused scholarships at his disposal than Penn State will be permitted to award during its sanction period. <-- process that and pick your jaw up off of your desk
DiNardo got Indiana back up to 85 scholarship players and opened an Italian restaurant in Bloomington before he was dismissed. That actually qualifies his IU football coaching career as a success.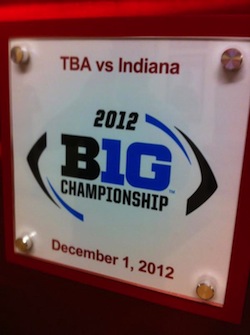 Terry Hoeppner was then hired, and for the first time since hiring Mallory, Indiana actually did something right. But then Hoeppner, who described IU as his dream job and quickly lifted the program out of the B1G's bottom tier was diagnosed with a brain tumor and died after only coaching two seasons.
Then IU reverted to its normal form by keeping and hiring Bill Lynch - who once went 1-21 at Ball State with all of his own players - to take over permanently for Hoeppner.
Lynch very predictably drove Indiana back into the cellar, and last year Kevin Wilson, an assistant coach for 24 seasons, was hired away from Oklahoma's staff to take over in his first head coaching job. His next conference win will be his first at IU.
The Hoosiers still have significant rebuilding from the carnage left over from the Lynch disaster: Ohio State's 34-point outburst against IU last season was their defense's fifth best performance of the season.
Yet this hapless program, which has only one direction that it can go (they did not defeat a single FBS team last season) is already in the Leaders Division Final Four.
And that's why Indiana is the only choice for the 2012 division crown. This has to be their year.
Even with the Buckeyes and Nittany Lions non-factors for the Indy trip - which for the map-deficient, is an hour from campus i.e. only half the distance most Hoosiers travel to see high school basketball - it is still an uphill battle. A simple pleasure for Buckeye fans, like bowl eligibility, is still a long-shot for the Hoosiers.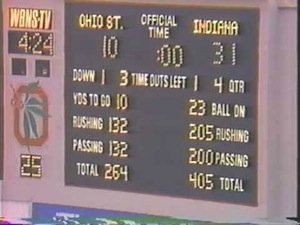 But looking beyond the roster holes, Indiana actually has some scheduling advantages in this one-year window of opportunity. IU opens with Indiana State (FCS), UMass (first year in FBS) and Ball State (bad) before it heads to Northwestern.
They get Michigan State the week after Ohio State visits East Lansing in what will surely be a hangover game for the Spartans from the prior week's disappointment. /trollface
A trip to Navy sets up the most important two-week stretch of the season: At Illinois, which is always winnable if you play the wind right, and back home for the Hawkeyes who are notoriously DERPy against bad teams away from Kinnick Stadium.
Indiana then gets Wisconsin, who they could catch looking ahead to the Buckeyes the following week, followed by a Penn State team which come November will be so beleaguered and defeated from the inside that the game will be ripe for the taking.
Remember, you're not hoping that Indiana beats Ohio State. You're simply pulling for the Hoosiers to finish higher than the three other eligible teams. That's it. You'll never find a more palatable or more flexible All-In situation in your entire sporting life.
If everything goes Indiana's way - and there's a first time for everything - the Old Oaken Bucket game could represent the B1G championship play-in game on the Leaders' side. If that fails to materialize while everything goes against Wisconsin, the Hoosiers could be our only hope as the final obstacle separating West Lafayette's undead from Indianapolis.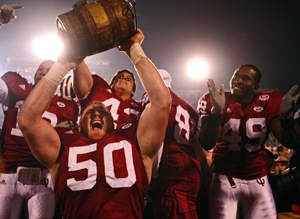 In order to win games, Indiana is going to have to engage in wildly-entertaining shootouts since they have no shot of shutting anyone down - again - but fortunately Wilson is an offensive-minded coach with a strong track record for scoreboard demolition.
The name "Tre Roberson" might sound familiar: For awhile in last year's Ohio State game he looked like the better-coached true freshman quarterback, likely because he didn't have a glorified barista as his position coach (and if Indiana went the Siciliano route, it wouldn't pay for Starbucks anyway).
He returns with a year of experience as IU's middle-class Braxton Miller-slash-Gunner Kiel repellant. He should help make the Hoosiers intentionally entertaining on the offensive side of the ball, which makes this one-year sabbatical an imaginably enjoyable exercise.
From the unintentionally entertaining standpoint, IU still has that defense which is sure to meet - and more often - exceed the number of points that are scored on its watch. If any team has the chance to be a one-man Alamo Bowl, it's Indiana.
And that's your IU football value proposition, Buckeye fans: Getting in on the ground floor with the Leaders Division's biggest underdog for the one year when you are 0% invested in Ohio State reaching the B1G title game.
Roughly four months from now you'll very likely be watching Wisconsin facing the Legends Division champ again in Indy. Your horse just didn't enter the race this year. You might as well pick another.
Go with the one that won't make you feel dirty, for there's nothing but upside for IU football. Always.