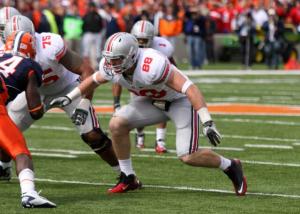 Urban Meyer released his initial depth chart in May, saying the spring was the time for deciding position battles. Fall, Meyer said, is for preparation and winning football games. You won't find too many dissenting opinions on that topic. But as Ohio State's fall practice approaches, Eleven Warriors takes a look at the positions to keep an eye on in the lead up to the Buckeyes' Sept. 1 season opener against Miami (Ohio). 
Despite returning 17 starters, there are numerous position storylines, including running back, where Jordan Hall is sidelined and Bri'onte Dunn's status remains murky. Twenty-three positions – 12 offensive, 11 defensive, not including specialists – are listed on the official OSU depth chart.  
Success has followed Meyer at every job he's had – Bowling Green, Utah and Florida. He's never won less than eight games in 10 seasons as a head coach. But that is just a minor detail compared to his two national championships and one undefeated season. Meyer's goal in Columbus is to make 2011's down season a one-year blip. Returning his childhood rooting interest to prominence is at the forefront, and Meyer is aware that there is no grace period. NCAA sanctions mean diddly to a fanbase eager to take their place among college football's elite.
"There's no such thing as a buffer year in college football, certainly not at Ohio State and certainly not with myself and our staff and our players," Meyer said in Chicago.
Offensive Line
On the offensive line, the right tackle position offers the most intrigue. Reid Fragel is listed as the starter with true freshman Taylor Decker as his backup. That could change, though. Fragel, a converted tight end, was still working on his technique when spring practice ended, while Decker excelled throughout the spring, eliciting compliments from Meyer and line coach Ed Warinner.
Decker was a Notre Dame commit, but Meyer's arrival and the subsequent hiring of Notre Dame's offensive line coach, Warinner, prompted the Ohio native to flip to the Buckeyes. What a break it was for Ohio State. Decker enrolled early and quickly grasped the nuances of Meyer's spread blocking scheme.
The rest of the line—from left to right, Jack Mewhort, Andrew Norwell, Corey Linsley and Marcus Hall—is firmly entrenched. Though, there is some intrigue surrounding Mewhort because of his June arrest. The junior grew into a leader after Meyer was hired, however, and was consistently on the receiving end of praise from his head coach throughout the spring.
Mewhort and Norwell are the only two returning starters on the line, but the unit does have a combined 32 starts apiece.
Perhaps the biggest surprise on the line has been the resurgence of rover Corey Linsley. Since he arrived in Columbus he's played every position along the line of scrimmage. Finally, he settled at center this spring and earned the starting nod over the presumptive starter-in-waiting Brian Bobek. Not only that, but Bobek was beat out by freshman Jacoby Boren, prompting a transfer to Minnesota. Boren is coming off shoulder surgery and won't be 100 percent for two or three weeks.
"Corey Linsley was a surprise on offense, but not really a surprise," Meyer said. "I just hadn't seen him play. But he is a journeyman to starter player. He has the potential to be a very good player. He is a very committed player."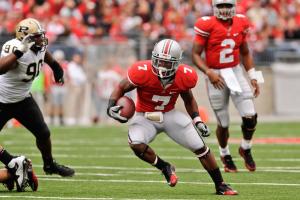 Running Back
Due to his offensive style, Meyer has never had a true feature back, someone that could carry the ball 15-20 times a game. That could be coming to an end, though. Meyer knows that you have to run the football effectively if you want to win in the Big Ten. It's been exhibited by Ohio State for decades, most recently with Boom Herron.
Meyer is in the right place, because the Buckeyes have a stable of running backs, and it starts with Carlos Hyde.
"It's time for Carlos Hyde to step up and take the baton and go as hard as he can," Meyer said. "He's got the tools. He's a big, strong, fast player.
"He's got to stay healthy and go get it. It's not the previous coaching staff's fault, it's not the offensive line's fault, it's not the dog ate his homework – it's time. This is the defining moment of Carlos Hyde's career. It's either yes or no. There can't be anymore gray area."
I'd say that pretty much sums it up from the guy in charge.
Behind Hall sits Rod Smith, who suffered from fumble-itis in 2011, causing a brief change to linebacker before moving back to running back in the spring. Next in line is Bri'onte Dunn, a freshman who enrolled early to take part in spring drills. Dunn showcased his skills and was lauded for his performance and offseason work ethic. But this past weekend's mishap has rendered his situation murky. Dunn was cleared of the most serious charges, but it remains to be seen whether he is punished by Meyer.
The backfield also serves as the home for the shifty Jordan Hall. He had morphed into Meyer's versatile, hybrid back. But Hall won't be catching balls out of the backfield or making guys miss anytime soon. In June, he suffered a tendon injury to his foot after stepping on a piece of glass. He'll miss anywhere from two to six games.
Now Meyer is left to scramble for a replacement.
"That was a shot across the mouth," he said. "As we start, we don't have that hybrid No. 3. I call him the No. 3. He's the guy on the left side of the hash that can do it all. We don't have that guy right now.
"Philly Brown, Evan Spencer ran an extremely fast 40. You have to be really fast because we run a jet sweep off of that. If you hand a jet sweep to a slow jet it's like a Citation compared to a King Air. We got a little issue there, but there are some candidates. Najee Murray's a guy I'm going to look at. He's had a really good summer. We're always going to look at body types that don't have to run east-west all the time, that's where (Hall) was a perfect guy. Percy Harvin, Brandon James, Jeff Demps; those were perfect body types: great acceleration and great speed, but also toughness and strength to hit it inside."
Not only does Hall's injury shorthand the Buckeyes, it hampers a guy who was poised to have a breakout season. The do-everything offensive threat put his explosiveness on display in the spring and was the benefactor of the change in offensive philosophy.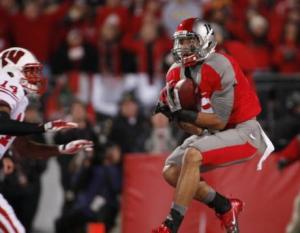 Wide Receiver
To say last season's passing game lacked effectiveness would be putting it lightly. Fourteen receptions led the team. No receiver even surpassed 300 yards – for the season. Miller and Joe Bauserman deserve part of the blame, but the receiving corps was underwhelming from the get-go.
For Ohio State to make 6-7 a one-year wonder, the likes of Brown and Smith must rise to the occasion.  Similar to the running back position, the Buckeyes have depth at wideout. However, it remains to be seen whether that's a good thing or a bad thing. One may have been inclined to say the latter in November, but the spring brought forth a renewal of talent.
Brown, Smith, Spencer, Michael Thomas, Verlon Reed and Chris Fields form a nucleus that could shoot up the ranks of the Big Ten. Brown (speed), Smith (home run ability) and Spencer (mix of sure hands and speed) have separated themselves as the top three for now, but Thomas' 12 catches in the spring game and strong work ethic lends one to believe he could be a factor during the season. Thomas has latched on to John Simon and developed a hard-working mentality.
"I think we have enough talent (at wide receiver) to be functional in the fall," Meyer said at the conclusion of spring practice. He has since changed his tune, offering anecdotes about the murmurs of improvements he's heard from players and coaches.
Defensive Line
The defensive line is far and away the most solid position on the roster. But it still offers up a flair of mystery. Simon, Johnathan Hankins, Garrett Goebel and Adam Bellamy have 62 starts among them, yet the second group, most notably Michael Bennett, Steve Miller and Joel Hale, will see significant minutes.
"Michael Bennett was a surprise on defense," Meyer said. "He's listed as a backup to Johnathan Hankins, but that may not necessarily be the case in the fall. It's hard for me to say that he isn't one of the four best."
That's lofty stuff, considering Hankins was projected as the fourth overall pick in a recent mock draft and he appears on numerous watch lists. Not to mention, Bennett hasn't even started a game.
Don't forget, Nathan Williams is also lying in the weeds, awaiting the perfect opportunity to reappear. Williams, coming off microfracture surgery, is said to be progressing adequately, expected to play and make an impact.
"Nate's doing well," Meyer said. "He's slightly ahead of schedule, so we're anticipating he's going to play. He's worked his tail off. I'm proud of him. Our training staff has done a good job, and Nate has done a very good job. That's a hard injury. "
Meyer is still taking a wait-and-see approach with Williams. While he may be showing signs of a fast healing process, rushing Williams along would not be the right way to go.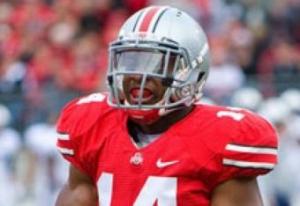 "We're certainly going to be cautious with him," Meyer said. "He's got a career in football, so we have to do him right. We have to be very careful. We have a plan we've already talked about.
"The best skill he has is he goes like a wild man. So we just want to make sure when it's time to cut him loose, we can't put a limit on him. He just does what he does. It's our job as coaches and a training staff to be smart. If you put him out there before he's ready, that's a problem."
Linebacker
The weak link on already lackluster defense a season ago was the uncharacteristic play of the linebackers. Penn State may use the term Linebacker U., but Ohio State could also stake claim to it.
The three starters – one senior and two underclassmen – provide a solid unit on paper with questions about their on-field caliber lingering. Sophomore Ryan Shazier proved he has a superb career ahead of him by tallying 57 tackles, five tackles for loss and three sacks last season. He played in all 13 games, starting three.
Curtis Grant, also a sophomore, had a rocky first season. He entered Ohio State as the nation's No. 2 overall recruit. Many figured he'd have the type of freshman year that Shazier flashed. Instead, Grant saw limited time on defense and spent most of the season on special teams. He had two tackles on the season.
In the spring, however, Grant looked like the player he was hyped to be. He seized the starting middle linebacker spot from day one. Meyer said Grant "has to be a player for us. If he's not, we've got problems." The problems should be averted. But if Grant's productivity slips or he's injured, a freshman with no playing experience will be inserted into the action. Connor Crowell missed all of last season with a leg injury. Storm Klein was listed as the backup until he was dismissed from the team in July.
The senior in the group is Etienne Sabino. He's never fully realized his potential, but a regime change appears to have sparked Sabino. He's lost weight and has been one of the bright spots in "the best offseason in school history." Sabino was among the top five leading tacklers on the team last year and ended the season on a high note, earning team MVP honors for Ohio State in the Gator Bowl.
Defensive Back
Scanning over the two-deep for the defensive backfield, six names immediately jump off the page, and two of them aren't even starters. Bradley Roby, Christian Bryant, C.J. Barnett and Travis Howard are first-teamers, but Orhian Johnson and Doran Grant are too good to keep on the sidelines.
Howard and Grant duked it out the entire spring. The senior held off the underclassmen, though. Howard and Roby are shutdown corners that can hold their own with any others in the conference. Opposing receivers will also quickly learn that Grant possesses a great ability to keep the ball out of their hands.
Bryant and Barnett, inexperienced sophomores a year ago, are now more seasoned and mature, while Johnson's inconsistent career had plenty of ups in 2011: he had a career-high three interceptions. That total led the team. Johnson is second on the team in career tackles (92), trailing John Simon's 110.