Welcome to the MLB trade deadline edition of the Eleven Warriors Recruiting Mailbag.
For those of you who don't care too much about baseball, well, you've come to right place because we're talking Buckeye Hoops and hardwood recruiting.
I want to take a moment to thank all those who have asked questions over the last few weeks. 
Summer AAU tournaments have filled most prospects' schedules which has given coaches a more than fair opportunity to evaluate and build relationships with each recruit.
When the school year approaches in just a few short weeks, it will become much more difficult for coaches to recruit because firstly, the staff will begin monitoring their players already enrolled as they approach the upcoming season. Secondly, if you think about it, an AAU basketball tournament is like football's "The Opening" or "Gridiron Kings" just open to college coaches. A coach can be there to support and evaluate multiple recruits at once.
AAU tournaments make it easy for the staff and here's to hoping Matta and staff made favorable impressions.
Now, on to your questions.
Any updates on those 2013 guards you talked about a few weeks ago?
Sindarius Thornwell actually just got an official offer from Thad Matta and staff a few days ago, which he seems very excited about. Thornwell does boast offers from several major programs around the country, but the Ohio State offer is one of his most prestigious. He is transferring to Oak Hill Academy in Virginia which will definitely change his recruitment a bit, being that he'll most likely be playing with several other big name prospects which will lead to more coaches contacting him.
Thornwell has seemed to become the one shooting guards with the most hype around his OSU offer, but every school down south wants him at their school. Hopefully, staying close to his family (in South Carolina) doesn't affect his recruiting because Columbus isn't too far away.
Chicago PG/SG Kendrick Nunn is also looking to make some moves, but someone else asked a question about solely him, so I'll discuss him more later.
Will Devin Williams commit to Ohio State?
In all honesty, I would be surprised if Cincy PF Devin Williams didn't commit to Ohio State.
Williams is playing this high school season down in Florida, but that shouldn't affect his recruitment at all. If you've heard what Williams had to say about Ohio State, you'd probably agree with me. Williams told ESPN ($) after his offer a few weeks ago:
"It means a lot to me being a state kid and things of that nature. Ohio State is a top-10/top-5 team in the country every year, so to get recognition from them is big for me."
and..
"Me being a state kid and a city kid (Matta coached at nearby Xavier before coming to Ohio State), that was one of the reasons, too. It's only an hour-and-a-half, two hours away from me."
Williams is also on the radar of many top programs around the country including North Carolina and Duke, so things could take a turn at any moment a coach decides to pull the trigger.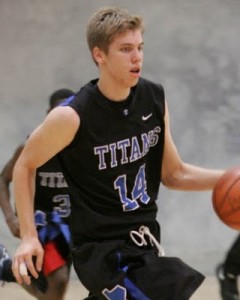 Does landing LB Mike Mitchell help in landing his stud SF little brother, Mickey?
Apparently, it does.
Mike and Mickey have planned to go to school together for quite some time and Mike heading to a football school that happens to have a good basketball program doesn't hurt their plan a bit. Mickey is one of the top rated basketball players in the nation for the 2015 class and an early commitment would help the Buckeye staff build around a top player.
Mike is still deciding between Texas A&M, Florida State, and Ohio State for football, but if his brother gets in his ear at all, you'd think he'd be telling him to pick the best school for both of them (if they are following their plan) and you'd think Ohio State is tops.
Whoever gets Mike Mitchell is also in very good position for landing his bro, stud 2015 SF Mickey Mitchell. bit.ly/NcqrZj

— Brian Perroni (@RivalsPerroni) July 7, 2012
Any news on Kendrick Nunn? He kind of appeared on OSU's map out of no where.
The Chicago Simeon combo guard (6-3/175) recently received his offer from Ohio State as Thad continues to offer guards, understandably so. The Buckeyes are already thin at the guard position down the line and have room to take 4-5 players in the 2013 class.
Nunn is not a new talent to college coaches and has actually been ranked in the top 50 consensus for the last year or so.
He is looking to trim his list down to a few schools and it seems Ohio State will surely make the cut, boding more than well for the Buckeyes. Nunn seems like he could be a great fit for the Buckeyes to eventually help replace Aaron Craft and crew in a few years.
When Signing Day comes, who do you predict will sign with the Buckeyes?
I predict Marc Loving signs with Ohio State. Okay, I'll stop messing around.
It is hard to predict who signs especially with the late signing period not until next April, but I'll give it a shot.
The Buckeyes will most likely sign SF/PF Marc Loving, who is already committed, Cincy PF Devin Williams, and G Kendrick Nunn, then I think they'll leave some room for a transfer and some extra openings for the 2014 class.
If Thad can land another big man that's not strongly in the picture yet, i.e. BeeJay Anya from Maryland (who lists Ohio State on his list), then the Buckeyes will definitely take one. The team desperately needs another big man for the future.
It seems like Thad Matta already has built some great relationships with the 2014 class and will likely take a handful of prospects in that class.
I want to thank everyone who participated in asking questions. I look forward to the next round of ball-breakers.