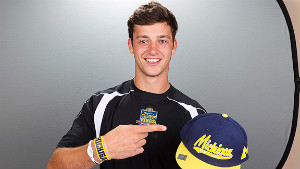 Unfortunately, the player pictured to the right - Shane Morris - is an elite quarterback who is headed to Michigan. 
Through The Opening, the Elite 11, and most recently, Gridiron Kings, Shane Morris has proven that he's likely to be a great quarterback with a high ceiling for UM.
There's no doubt he's ready to write his chapter in the story of The Game. 
But what's the worst for Buckeye fans about Shane Morris is his ability as a recruiter. He's managed to help assemble a recruiting class that is currently ranked second overall on Rivals.
Morris was Michigan first commit for the 2013 class, way back in May of 2011. In the year and almost three months since his commitment, he's helped sell Michigan to other top recruits in the nation. 
Shane embraces his role as a charismatic peer recruiter:
For me, committing early made everything easy as I can focus on my high school and helping recruit for Michigan. We have a great class in terms of quality and quantity, so that is really exciting.
His future teammates recognize his leadership too:
He's so energetic, so passionate about Michigan," said fellow pledge Kyle Bosch, an offensive guard from Wheaton, Ill. "I think he's going to be Tom Brady reincarnated.
It's possible that this isn't isolated to just Michigan either, but is common to most elite recruiting classes: an early commit by a highly-regarded, charismatic class leader can cause other elite players to join the class. 
It's my goal to statistically test whether this is true. 
Methods
In order to find whether or not a team had a recruiting class leader to rally behind, I took a look at the highest-rated commitment during the first month of the 2012 recruiting class.
That is, the recruit with the highest Rivals Rating that commits within one month after the first commit in the class. It's crucial for the theory that the class leader be an early commit. 
For example, for Ohio State in 2013, Jalin Marshall, Billy Price, and Eli Woodard all committed within a month of Cam Burrows' initial commitment on January 19th, 2012. Cam Burrows happens to be the highest-rated player of the four, with a 6.1 Rivals Rating, so he is assumed to be the potential class leader. 
The hypothesis here is that a highly recruited early commitment can be a rallying point for other recruits. If five-star quarterback Johnny Touchdown is one of the first commitments to a class, then he can help recruit fellow blue chip wide receivers and offensive linemen. 
Because I couldn't do this for all 120 FBS teams, I took a simple random sample of 30 recruiting classes using a random number generator. That way I avoid biasing my results by selecting based on the dependent variable, which is the final Rivals Class Ranking. 
Results
In short, we find really great support for our hypothesis: great recruiting classes usually start with a highly-regarded commitment early in the recruiting cycle. 
The Rivals overall class rank and the Rivals Rating for the highest-rated recruit to commit during the first month variables are inversely related: 
| Coefficient | T | P Value |
| --- | --- | --- |
| -148.3149 | -7.16 | 0.000 |
It's definitely no guarantee that highly-ranked first recruits actually will help recruit other elite players, but elite recruits seem to be especially drawn to the idea of playing with other elite recruits.
Part of this has to be because they're often friends with one another through things like The Opening, 7-on-7 camps, and other national recruiting events. 
Another drive is simply a higher probability of winning championships on a "dream team." Georgia classes have been like this in recent years, with the 2010 "Dream Team," the 2011 "Ring Team," and the 2012 "Dream Team II."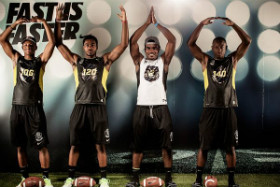 elites only
But wait! Maybe the "charismatic recruiting class leader" hypothesis applies even more intensely to teams at the top of the recruiting food chain. 
Demetrious Knox, a potential charismatic recruiter for Ohio State in 2014, has used similar "dream team" language: 
It seems that you have struck up quite a relationship with some other 2014 recruits. The term "super team", in regards to teaming up those other recruits to go to the same school, has been mentioned a few times.  Is that something that you are considering?

... I would love for it to play out so that we all go to college together, though.  It is something that I am going to definitely going to consider.  We all want to win.
Lower ranked teams have no real chance of being a championship-caliber dream team anyway, so why would a super-recruit's appeals work anyway? To test this alternative hypothesis, I only looked at the top 10 recruiting classes. 
Rivals 2012 Top Classes and Recruiting Leaders

| Team | Final Team rank | Top recruit rating | Top recruit stars |
| --- | --- | --- | --- |
| Alabama | 1 | 6.1 | 5 |
| Texas | 2 | 6 | 4 |
| Florida | 3 | 5.8 | 4 |
| Ohio State | 4 | 5.8 | 4 |
| Stanford | 5 | 6 | 4 |
| FSU | 6 | 5.8 | 4 |
| Michigan | 7 | 5.8 | 4 |
| USC | 8 | 5.8 | 4 |
| Miami | 9 | 6.1 | 5 |
| Auburn | 10 | 5.8 | 4 |
In last year's top ten Rivals classes, the first month of recruiting saw each team snag at least one 5.8, four-star player. The top class in the country, Alabama, received a commitment from 5-star Eddie Williams right at the beginning.
These elite players then recruit other elite players, and it snowballs until schools end up with entirely elite classes. USC's absolutely unreal 2013 class has used this dynamic: recruit an awesome player at the beginning (5-star DE Kenny Bigelow at first, then 5-star QB Max Browne later), then ride the momentum to the top-ranked class in the country. USC is obviously an outlier, even among other crazy recruiting classes, but their lowest-ranked player has a 5.8 Rivals Rating. 
Ohio State has experienced this too - Cam Burrows helped recruit other mega-recruits early, like Eli Woodard, Jalin Marshall, and others.  
In summary, it really pays to start off your recruiting class in the best way possible, because has the potential to influence the overall trajectory of the class itself. Begin by recruiting a vocal leader that other players will want to play with, and good things will follow. 
Brady Hoke used this strategy with Shane Morris and it's already paying dividends. Of course, we'll still let Urban and his great recruiting classes settle it on the field.