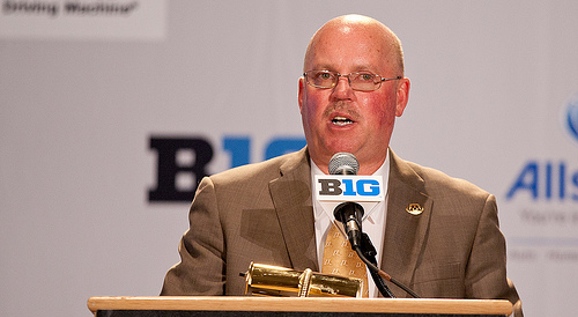 Be sure to follow 11W's Kyle Rowland and Chad Peltier, who will be on site for day one of Big Ten Media Days in Chicago.
Leaders Division Coaches
11:00am - 11:15am
Bret Bielema, Wisconsin
11:15am - 11:30am
Danny Hope, Purdue
11:30am - 11:45am
Urban Meyer, WOO-WOO-WOO
12:00pm - 12:15pm
Tim Beckman, Illinois
12:15pm - 12:30pm
Kevin Wilson, Indiana
12:30pm - 12:45pm
Bill O'Brien, Penn State
Legends Division Coaches
1:00pm - 1:15pm
Pat Fitzgerald, Northwestern
1:15pm - 1:30pm
Jerry Kill, Minnesota
1:30pm - 1:45pm
Brady Hoke, Michigan
2:00pm - 2:15pm
Bo Pelini, Nebraska
2:15pm - 2:30pm
Mark Dantonio, Michigan State
2:30pm - 2:45pm
Kirk Ferentz, Iowa
Big Ten & BTN Representatives
2:45pm - 3:00pm
Bill Carollo, B1G Coord. of Officials
3:00pm - 3:15pm
Mark Silverman, BTN President
3:15pm - 3:45pm
Jim Delany, Big Ten Commissioner
Live coverage begins at 11am ET on both BTN and ESPNU (streaming at BTN2GO and Watch ESPN).
If this is your first rodeo, the coaches will each get 15 minutes at the podium, followed by an hour from Big Ten and BTN representatives. Wisconsin's Bret Bielema gets the kegger started, while Urban Meyer will take the stage at 11:30am. You won't want to miss the electric Pat Fitzgerald/Jerry Kill/Brady Hoke combo because Bo Pelini, Mark Dantonio and Kirk Ferentz will end the coaching carousel in an angry and boring fashion. But mostly angry. 
Finally, the conference commissioner will answer 30 minutes of nothing but Penn State questions to wrap up the day's events.
Immediately after a head coach leaves the dais, he heads into the hallway and answers 10 minutes or so of questions with his school's beat contingent and other interested regional and national writers. Sometimes, this means a dozen or so writers standing around the coach. In the case of stars like Urban Meyer or a coach the press is eager to speak with — think Bill O'Brien — the crush of reporters can be suffocating. At any rate, this is a good time to  be paying attention on Twitter as quotes and information will continue to flow.
While all of this is going on, coaches and the players that have traveled to Chicago with them will do the TV and radio circuit, which essentially means two additional hours of Q&A. Meyer, Zach Boren, Etienne Sabino and John Simon will sit with TV from 12pm – 1:15pm and they'll sit down with radio from 1:30pm – 2:30pm. Again, although these sessions won't be carried live anywhere, it's a great time to follow along on Twitter.