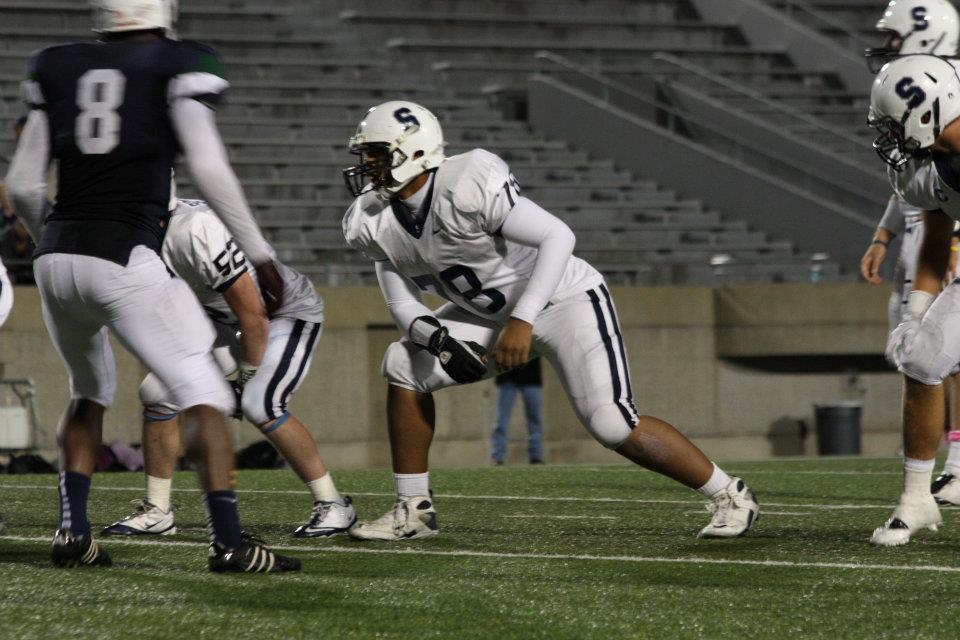 As the recruiting class of 2013 winds down, the staff has begun to shift a heavy focus towards pursuing the rising juniors in the class of 2014.
One of the more sought after prospects in the class is Fort Worth (TX) All Saints Episcopal OT Demetrius Knox. Knox is already rated a four star prospect by 247 Sports and holds offer from the likes of Ohio State, Alabama, Michigan, Nebraska, Baylor, TCU, Texas, Oklahoma State, Texas Tech, Texas A&M, UCLA, and others.
The good thing going for the Buckeyes is that the 6-5/300 tackle grew up in Springfield, Ohio as a fan of the Buckeyes and even has admitted to having an Ohio State snuggie. Knox's time in Springfield has given him the pleasure of knowing two other highly rated 2014 prospects on Urban Meyer's radar, including WR Thaddeus Snodgrass, who also was offered by OSU, and LB Davonte James. The three played together during their youth football days for the Springfield Broncos and their reunited friendship could bode well for OSU down the road.
In addition to his Springfield ties, the Buckeyes continue to make their presence known in the state of Texas under the new staff. A more focused emphasis has been placed on the state, lead by Tom Herman, and has resulted in the commitment of QB JT Barrett, a possible pending verbal from LB Mike Mitchell, and interest from many other 2013 and 2014 prospects.  
Could Demetrius Knox be next in line to give Ohio State another Texan on the recruiting trail?  Keep reading to find out.
How has your recruitment been going?  Are you finished taking visits for the summer?
I am probably finished taking visits for the summer.  I am still trying to get to Oregon, but that will probably not happen.  I have already been to Texas, TCU, Texas A&M, Baylor, Oklahoma, and Oklahoma State.
Are there any schools beginning to emerge for you?
I actually do have a top eight list of schools.  My top eight is Texas, TCU, Ohio State, Alabama, Florida State, Oregon, UCLA, and USC.
You have said on your twitter account that you have your mind made up of where you want to attend college.  Is that true?
I have a pretty good idea of where I want to go.  It is not set in stone though.  I will keep taking visits to help me validate my choice.  I don't want to commit to a coaching staff unless I am 100% certain.
It seems that you have struck up quite a relationship with some other 2014 recruits. The term "super team", in regards to teaming up those other recruits to go to the same school, has been mentioned a few times.  Is that something that you are considering?
No matter what I am going to make the best decision for myself and choose what school is the best scenario for me.  I would love for it to play out so that we all go to college together, though.  It is something that I am going to definitely going to consider.  We all want to win.
Do you have a time frame in which you plan on announcing your college decision?
I intend on announcing at one of the All-American games, probably the Under Armour Game.  I don't think that will change.
HIGHLIGHTS: