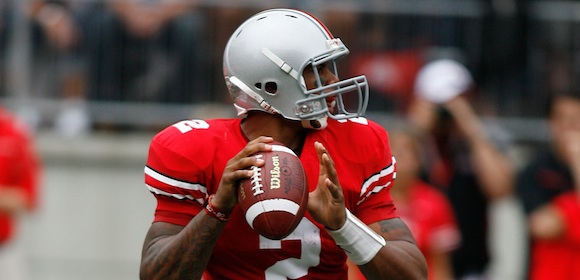 Sometimes you can't see a warning sign for what it is, until it's too late for it to actually be a warning. Instead, the slightly-tipsy story of an ordinary happy hour turned odd just begins to make more sense over time.
As a Southern California native, it wasn't until I was 22 that I moved to Columbus to attend graduate school. In fact, I moved to Ohio on September 1, 2007, a day most of you probably remember well. My family flew out there with me, and my brother and I chuckled at the fact that Michigan was down 28-17 to Appalachian State as we boarded the plane. Surely that lead wouldn't hold, but... Appalachian State!
We began our final descent into Columbus, flying over the Ohio State campus. A gorgeous scene of hundreds of thousands of scarlet and gray clad dots, watching inside the Horseshoe and at Hineygate, as the Buckeyes beat the Penguins 38-6. I had never before been so close to Ohio State football, while in a place that I could officially call home. I got the kind of goosebumps you get when you realize you're in the midst of one of your life's major turning points.
We landed at Port Columbus International and I was just taking it all in, but my brother turned on his phone with more important things on his mind. Mountaineer safety Corey Lynch had just blocked a 37-yard field goal on the final play, sealing one of the greatest upsets of college football, as Appalachian State beat Michigan, 34-32. In some bizarre way, it made my new home feel like home, and I hadn't even reached baggage claim yet. I wanted to yell in the middle of CMH, "People of Ohio, I am one of you now! Let us revel in the misery of Michigan together (for at least two years)!"
Over the next few months, I walked from my apartment to the Horseshoe on Saturdays to watch the Buckeyes. This new tradition was a huge upgrade over rolling out of bed at 8am PST to watch the games with a couple hundred Ohio State fans, 2,248 miles away from Columbus.
With the exception of the Youngstown State game the day I moved, I only missed one other home game during that 2007 season: Illinois. To this day, I still think it was the fact that I didn't eat a Brutus Dog at halftime that lost it for the Buckeyes (but don't get me started on the officiating that day).
I even traveled to a couple road games. I took a picture with the Joe Paterno statue, reportedly being removed this weekend, just hours before watching the best game Todd Boeckman ever played. I had an Ann Arbor bar full of people chant "trailer trash [redacted]" at me, the night before Beanie Wells racked up 222 yards and two touchdowns as I watched Ohio State beat Michigan for the fourth straight year, in freezing cold rain.
For someone who had spent years watching Ohio State from a sports bar across the country, it was incredible to be so close, physically, to something I loved so much. Football season eventually ended, as they tend to do, and other priorities started to get the attention they deserve. There was a certain buzz, however, during winter quarter final exams, as a 6-6, 230-pound quarterback from Jeanette, PA announced on March 19, 2008 that he would be attending "University of Ohio State." My exams had finished a bit early, so I watched from home in Orange County, while on spring break. In a way, it seemed fitting that I'd be so far away from Columbus that day, seeing as how the majority of my lifelong relationship with Ohio State athletics was that way.
The next day, I joined my girlfriends for happy hour at Billy's At The Beach in Newport Beach. I was drinking a Mai Tai (don't judge, Billy's makes a fantastic Mai Tai), watching the sun set over the water, and couldn't possibly be further removed from Ohio State at that moment. A sketchy-looking, middle aged man in a Steelers shirt approaches my table and begins to chat us up. We're not interested. Well, most of us aren't. Upon hearing that he's from Pennsylvania, my friend Kat decides this could be fun to watch.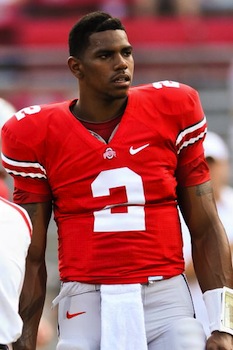 "You're from Pennsylvania?" Kat asked. Upon confirmation that he was, "That's great! Elika here is from Ohio," she responded. (Thank you, Kat.)
I have no idea what will get this guy as disinterested as possible, as quickly as possible, so I just put my own lack of interest on display as I correct her with, "I'm actually not from Ohio, I just live in Columbus."
This doesn't work, as he replies, "Oh really? One of my good friends is moving to Columbus soon," he says.
"Great." (One word answers are a sure sign of do-not-want, right?!)
He continues, "Yeah, he'll be attending Ohio State."
"Nice." (Did I ask? And why is this creep really good friends with a high school kid? I don't want to know.)
He continues, "Yeah, he's the top ranked quarterback recruit in the country." (Ok, ok... I still think he's a creep, but NOW I want to know....)
"So you're from Jeanette?" I ask. "Yeah! You know of Jeanette?" he said. "Well, I assumed, considering you're name-dropping Terrelle Pryor," I replied. (The can of worms was open, there was nothing I could do.)
He goes on to tell me that he got Terrelle in to Ohio State. "That's funny," I practically snorted, "I could have sworn it was his 4,000 passing and rushing yards that did that."
He corrects himself, "I mean... I convinced him to go there." My stomach turns and I tell him this conversation is over, I don't want to know more. This Steelers fan clearly understands "no" about as well as Ben Roethlisberger, as he presses on. I adamantly tell him I'd like to get back to my conversation with my friends.
What's creepier than a middle aged man who insists he's friends with a high school kid? One who pulls out his phone, pulls up his contacts, and scrolls over to said-high school kid, and hits "send" so that he can prove this alleged friendship to a woman who's practically begging him to leave her table. The phone was shoved into my face, as an 18 year old answered the phone.
"Hi, your friend here decided to name-drop you at a bar in Newport Beach and then shoved the phone in my face," I said, to the voice that just said hello to me. Meanwhile, the sleaze ball is practically yelling at me, "Frank the dentist! Tell him it's Frank the dentist!"
As I think to myself, "Is this real life?" I tell Terrelle that it's Frank the dentist, and hand the phone back over to Frank. It's happy hour, and I'm now playing secretary to a Roethlisberger-esque dentist who likes to name drop 18 year olds. "Frank" and Terrelle chat for about 30 seconds. About money. I don't want to know. And then they hang up.
"So... you're his dentist?" I ask. "Well," says Frank, "I'm his dentist AND his mentor." So much for being removed from all things Ohio State that evening. I wished Frank a great night, and turned back towards my friends.
With the exception of retelling the story of "Frank the dentist" to a couple close friends, I never really gave him much thought after that night. Until May 30, 2011, when I was even further removed from Ohio State in France, and got a barrage of texts letting me know that Jim Tressel resigned. I couldn't help but think of a certain dentist from Jeanette, who decided to "mentor" a hometown kid.