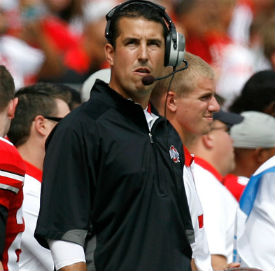 Urban Meyer has had great success on the recruiting trail since taking over Ohio State in late November 2011. 
Walking into a class that was a borderline top 25 ranked group in the class of 2012, Meyer pulled a rabbit out of his hat, placing the Buckeyes amongst the top 5 when Signing Day rolled around.
This year, Meyer has done a great job building another top 10 class for 2013 so far, even with limited scholarships due to NCAA sanctions. When talking about his 2013 success, you can specifically look at the defensive side of the ball, where 9 of the 15 current verbally committed players line up.
While the defensive unit is stacked with national talents like Joey Bosa, Eli Woodard, Michael Hill, Cam Burrows, and others, if you look a bit deeper, you will notice the linebacker position has a void or two. Like with wide receiver on offense, the linebacker position has been a bit of a challenge for Meyer this recruiting cycle, and as the summer goes by the players left for the picking are becoming more scarce with each and every day.
Today, we take a look at the linebacker situation when it comes to Ohio State recruiting and how the staff may turn their luck around. Join us after the jump to find out how the final cards may play out when it comes to Luke Fickell's unit on National Signing Day 2013.
Who's In?
As mentioned above, the simple answer is nobody is in right now, but at one point that wasn't always true.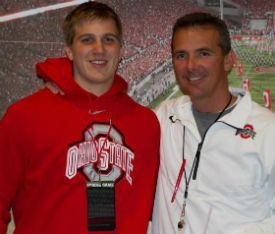 Following Ohio State's spring game in April, the Buckeyes not only hit the jackpot once when it came to linebackers, but twice, all within a few days of each other.
Eleven Warriors had the word shortly following the final gun of the spring game that Wyomissing (PA) Area LB Alex Anzalone had pulled the trigger on a verbal pledge to the Buckeyes. Long thought to be favoring OSU and Florida, the talented four star prospect cited the strong academic program and feeling of comfort with the coaching staff as the reason for his decision.
The tables turned quickly when it came to Anzalone, as turmoil hit when it was leaked that the Pennsylvania native, as well as two other prospects were seen in a picture at a campus bar with registered sex offender, Charles Eric Waugh. It seemed the Anzalone family panicked a bit and Alex decommitted from the Buckeyes, with it later said the rising senior jumped into a verbal pledge too quickly in the heat of the moment.
Anzalone committed to Notre Dame at Nike's The Opening a couple of weeks ago, continuing to leave a void at the linebacker spot for the Buckeyes.
As for the second strike of lightning that weekend, Wilson (NC) Hunt LB/DE Lewis Neal gave his pledge to the OSU coaches upon returning home from the spring game visit. The Neal commitment came out of left field and didn't last long, as the hybrid athlete retracted the pledge, just a week later, conveniently after LSU offered and he wanted to explore all of his options and not jump into a commitment so quickly.
It turns out the LSU offer is what may have done it for Neal, as he committed to Les Miles and the Tigers in the first week of July, once again leaving the Buckeyes with no linebackers in the class.
Who's Out?
In addition to Anzalone and Neal, there were a number of other linebacker prospects that decided to take their talents elsewhere after being offered by Ohio State.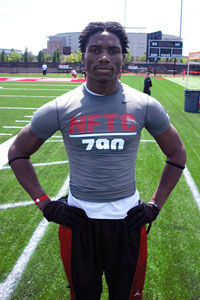 Prospects with offers that are currently committed elsewhere include Ben Gedeon (Michigan), Jaylon Smith (Notre Dame), Deon Hollins (UCLA), Matt Rolin (South Carolina), Mike McCray (Michigan), Courtney Love (Nebraska), and Peter Kalambayi (Stanford).
The two that hurt the most on this list are Jaylon Smith and Courtney Love, and for different reasons.
Smith stings because it was long thought that he would be a Buckeye, once his brother Rod Smith committed to Ohio State a couple of years ago. Factors including Smith's lack of production since arriving in Columbus, as well as Jim Tressel's departure from OSU lead to Jaylon looking to make his own path, ultimately leading to the in-state Irish. Smith is a big time talent and would be a great get at outside linebacker, but will be leading the green and gold in a couple of years, rather than the scarlet and gray.
Love is an interesting situation as reliable and multiple sources told 11W that he was silently committed to Ohio State and was even telling other prospects during spring practice visits that he had committed to the Buckeyes. That information didn't look good when the Youngstown Cardinal Mooney product committed to Bo Pelini and Nebraska in April. Love was reportedly sold on the thin depth chart at linebacker for the Cornhuskers and fell in love with everything Lincoln had to offer upon his visit.
Besides those who went elsewhere with offers, there were a few prospects in the waiting that have decided to move on and commit to other schools. Those would include Tim Kimbrough (Georgia), Devaris Brunson (East Carolina), and Darrien Howard (WVU).
Kimbrough had long said OSU was his favorite, but as more and more linebackers decided to spurn Ohio State, his offer never came. He became tired of waiting and committed to Mark Richt last weekend at Dawg Night.
Brunson is a stud on the field, but rumors of academics/test scores not being up to par have been floated around. He gave his verbal pledge to the Pirates, but let's see if that holds up if his scores are in order.
Finally, Howard was someone the Bucks appeared moving in on, but he too did not want to wait any longer and pledged to West Virginia. He says he will not take any other visits and is done with his recruitment, showing loyalty to a Mountaineers staff that believed in him from the start.
Who's Left?
With all of those players off the board as things stand today, there isn't much left to pick from, but it appears Ohio State is in great shape with two talented linebackers still on the market.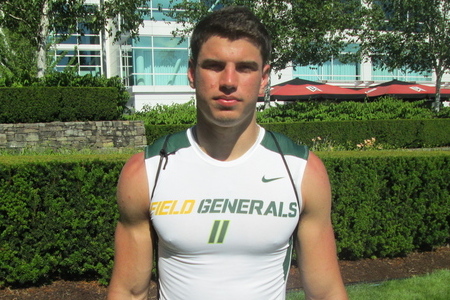 Mike Mitchell had been a name familiar to Buckeye fans for a few months, but jumped to the forefront of their minds when he established that Ohio State was his leader following a record-setting combine performance at The Opening. 
The Plano (TX) Prestonwood Christian Academy star is capable of playing all three linebacker positions, but is likely to fit in the middle for OSU if he pulls the trigger. Word is a weekend visit is on tap in the next few days with a mid-week visit to Florida State coming next week. He is then expected to announce at the Gridiron Kings event in Orlando, Florida next weekend and I expect the Bucks to come out on top.
The other prospects the staff feels good about landing is Tyquan Lewis of Tarboro High School in North Carolina. 
The 6-4/225 Lewis earned a committable offer from the Buckeyes when he attended their senior camp in June and jumped up the big board to become one of the main targets. Lewis is being recruited for the Viper position at OSU, which is a hybrid spot in which an outside linebacker plays with his hand down at the line of scrimmage at time (think Bobby Carpenter). 
Lewis is down to three schools in UNC, Ohio State, and LSU. He is set to visit Chapel Hill this weekend and Columbus again for Friday Night Lights, with the big thing being that he is bringing his mom this time. He says he'd like to make an LSU trip before deciding sometime between now and early September, but I think if all goes well with mom at FNL that Lewis could close out linebacker recruiting for the Buckeyes this season.
Finally, one prospect that has not been offered, but has high interest in Ohio State is Larry Butler II.
Butler is originally from Baton Rouge, Louisiana, but after having poor academics coming out of high school, he went to Sacramento City College to hone his craft both in the classroom and on the field. For this upcoming season he has transferred to Eastern Arizona to finish up his JuCo ball and plans to sign with a Division I school in December (JuCo signing period) with two years of eligibility remaining.
Butler claims to be favoring the Buckeyes, LSU, and USC at this point, and claims all three programs have been in constant contact despite none of them offering. He does hold offers from Alcorn State, Arkansas State, Kentucky, Mississippi State, Purdue, and Tennessee, so he is definitely someone to keep an eye on moving forward.