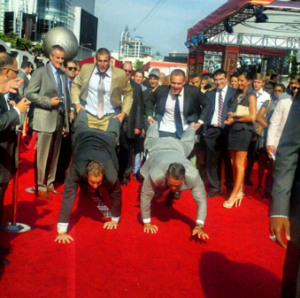 Good afternoon, ladies and gents! I hope you missed me at least a tiny bit on Fridays, because I missed you all a lot, and now you'll be forced to either read or scroll past me every Friday, from now on.
So first, a confession. I started to write about the Freeh report and the now tarnished legacy of Joe Paterno. The biggest scandal the sports world has ever seen continues to unfold as we make our way across the seemingly-endless bridge from one football season to the next. (Is it September yet?!)
The situation that Penn State faces escalated as a result of a problematic culture that allowed it do so. A culture pushed by people who seemed to have forgotten the beauty of sports. People that failed to understand that the platform sports creates can be used to shed light on the issues that need our attention.
I figured this week I could either continue to pile on a topic of conversation that dominated the day yesterday, or I could instead write about my week at the ESPYS, hopefully creating a brief respite from the story of an institution that bastardized the power that sports can hold. I preferred, instead, to briefly shift the focus onto something that celebrates the positives in the power that sports has.1 Additionally, for reasons you're about to find out, I experienced some entertaining moments along the way.
Three days out of the year, I work the ESPYS as an athlete escort. I can assure you, "escort" is not what it sounds like. "Host" or "babysitter" would be a more appropriate title. I have also gotten pretty lucky in that I usually have a friend hook me up with a ticket to a party or two, since my work obligations don't extend into the parties.
Last year was the first time I worked and played at the ESPYS. While it would be tedious to name drop everyone I saw or met that week, (or tell all the stories I have from this week) I will say that it was pretty awesome last year to meet Michelle Beadle at an ESPY pre-party at 1:30am, and have her tell me to call up my brother so she could chat him up, when I told her that he wants to marry her one day.
I also couldn't help but introduce myself to Rece Davis before last year's show. His southern charm melted me into a pile of swoon as he asked my name, said it was a pleasure to meet me, and then introduced me to his daughter. "This is Elizabeth, my date this evening," he said, in a way that only Rece Davis can. Elizabeth couldn't have been more than ten years old. Did I mention I swooned at his Alabamaness2? 
Needless to say, I was excited to come back to the ESPYS this year and do it again.
MONDAY MORNING
I was pretty excited to see what this year had in store. I walked into my first meeting Monday morning and was told within a few minutes that I was assigned to Evan Longoria, third baseman for the Tampa Bay Rays, an assignment I was pretty excited about. I had met Longoria briefly once before, and he seemed like a nice guy. We also happen to both be Long Beach State grads, so I was looking forward to the next couple of days.
About five minutes later, I'm told there was a mix up, and that Longoria actually wasn't my assignment. I stand by as my boss-lady flips through her notes, trying to remember who my assignment was. As my rarely seen pessimism starts to creep in, and I'm on the verge of thinking my assignment will be a major downgrade from what I thought it was... "Gronkowski. You have Rob Gronkowski," she tells me. I ask myself, "Is this real life?"
"Oh, and Elika," she says, "he'll be with his brothers. I picked you because I knew you would be able to handle them." If she was right, and things ran smoothly, I figured I had hit the assignment jackpot. Who would be more fun than this family? And so began my assignment for the week: Gronkowski family chaperone.
TUESDAY AFTERNOON
I greeted Rob and his dad, Gordy Sr., when they arrived from the airport on Tuesday afternoon. I could tell right off the bat they were nice, fun guys. As they went to get settled and rest up, I worked a check-in desk assisting other athletes and their guests. There I met Santonio Holmes, who I had a brief Ohio State conversation with, and he said he's excited for the upcoming season.
As I checked in Jared Barnett (Iowa State QB) a few minutes later, I apologized for my alma mater stealing his offensive coordinator. (Truth be told: I wasn't that sorry.) Shortly afterwards I met RGIII, and asked if he had his socks picked out for the show the following evening. "Of course," he said, but with a look that let me know he wasn't about to tell me what he had planned.
As I wrapped up at the check-in desk, I chatted with Vince Young for a few minutes. He seemed more than happy to converse with me when I said I thought he was robbed of the Heisman. "I know, right?!" He referred to it as a heartbreak, and I admitted that I couldn't feel too much sympathy for his heartbreak, considering I'm an Ohio State grad... and I felt a certain heartbreak that season too. "Ohio State?" he asked. "Man, I have so much respect for y'all's stadium!" I asked if it was the loudest place he's played. "Absolutely," he said. He also added that he'd had bottlecaps, or something of the sort, thrown at him quite a bit that night, but he didn't really seem to mind.
Later that day I went back to my duties as the Gronkowski hostess (note: it was Rob who so chivalrously said we needed to come up with a more appropriate title for me), and met three of Rob's brothers that were there with him, Dan (Cleveland Browns), Chris (Denver Broncos) and Gordie Jr. All the brothers were also really nice guys.
As I chatted with Rob I mentioned I had heard he visited Ohio State the same week Troy Smith won the Heisman. "How'd you know that?" he asked. "Yeah, I did. I loved Ohio State, it was great!" I refrained from prying into why he chose to go to Arizona instead, and just told myself I couldn't blame the guy for not wanting to play for Bollman.
Later that day, as Rob and his family were about to head to dinner, I took him to go get his tickets for the ESPN the Magazine Body Issue party that night. As we got back into the elevator, he handed me a ticket for the party and thanked me for being so helpful.3
the pre-party
The ESPY pre-party is always a great time. I had gone last year as well and it was phenomenal, this year was no different. Open bar, great food, and solid entertainment. I hung out downstairs for awhile, having a couple drinks and stuffing my face with food while Miguel performed. Also: I saw Mr. Belding, who is now the size of school bus.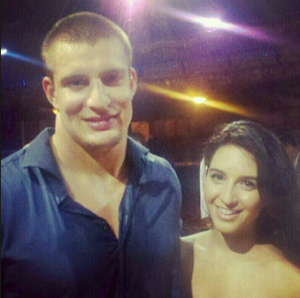 Eventually I made my way upstairs, where Eddie George was DJing4. I grabbed a drink from the bar, and then ran into the Gronkowski brothers and Gordy Sr., who had all formed a dance circle. It was like a real-life Deadspin video, only with shirts on. And I was somehow in the middle of this dance circle at one point, I think I did it justice. Watching the Gronkowskis let loose at a party was never really on my bucket list before, but it should have been. They obviously get their fun-loving nature from their dad, who was having just as much fun as anyone. The highlight of the evening was when the Gronkowskis and Michelle Beadle engaged in some good-natured smack talk.
On the way to the party bus shuttles back to the hotel, a boisterous Rob stopped and got a few danger dogs from a street vendor and passed them out. I was one lucky recipient. We boarded the shuttles, and I turn next to me and realize I'm sitting next to Holly Rowe. On a party bus. On a Tuesday night.
THE RED CARPET
Wednesday was show day, and I had to round up the Gronkowskis and take them over to the athlete lounge before it was time to head over to the red carpet in time for their interview with Jenn Brown. While they were doing their interview, I passed by Eddie George and gave him an O-H. He smiled and responded accordingly. I did the same thing last year on the red carpet too, so it's now officially my annual tradition... and I'm expecting a restraining order around this time next year.5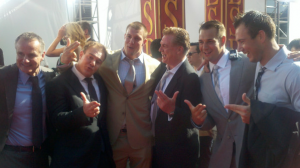 As we continued to make our way down the carpet, and through various interviews, Rob yells, "Shootah!" And we turn around to see Christopher McDonald aka Shooter McGavin from Happy Gilmore. Awesomeness ensued as the four brothers and Gordy Sr. pose for a picture with Shooter.
Once we passed through all the TV interviews on the red carpet, it was time to walk down the second half, where the paparazzi waits to take photos. Apparently, according to the Gronkowskis, it's boring to just walk straight through. Their solution? A wheelbarrow race. No, I'm not kidding. More awesomeness ensued.
the espys
I'll address the elephant before you do: I completely understand that there's a growing anti-ESPN bandwagon, and that bashing the awards show is what all the cool kids are doing these days. To each their own. I dig it.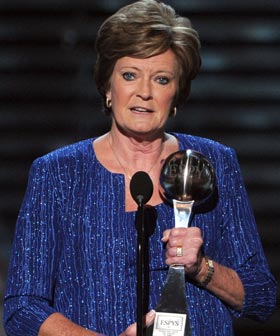 In my opinion, the ESPYS provide an opportunity to relive the exciting moments of the past year, while giving a spotlight to the stories, causes, and inspirational human beings that deserve one, for an evening that's otherwise void of any sports.
The show creates an opportunity for more people to hear the story of Eric LeGrand's injury and road to recovery. It gives Eric a chance to explain the motivation behind the impressive resolve he shows every day to conquer his situation, as he accepts the Jimmy V Award for Perseverance.
"Now you see me sitting here in this chair, and my dream is to get back up on my feet and walk again and inspire millions of people in this world to not take anything for granted and be the best person you can be," said Eric. "You can best believe that I'll never give up, and I will rise from this chair. And I'm going to be walking all over this world, dancing, and having a great time." How can you hate on this?
Pat Summitt was awarded the Arthur Ashe Award, and there was a beautiful tribute to her legacy at Tennessee. Did you know that in her 38 years as head coach of the Lady Vols, every single one of her players has graduated? This is in addition to eight NCAA titles, 1,098 career victories and seven NCAA Coach of the Year Awards.
After the video, Summitt went to accept her award from Peyton Manning and gave a brief speech. "If I'm not leading by example," she said, "then I'm not doing the right thing. And I want to always do the right thing... Tonight, I am deeply touched. As all of you heard my story, I'm gonna keep on keepin' on. I promise you that."
Between Eric LeGrand and Pat Summitt, I was tearing up faster than Dick Vermeil.
The post party
Shortly after the show was over, a friend gave me a ticket to the post party, apparently a difficult ticket to come by. Unfortunately, it wasn't terribly exciting. The food was pretty great (I'm always a sucker for bacon wrapped dates and risotto balls with truffle oil), the drinks were free, and it gave me an opportunity to catch up with some friends that were there, but it was nothing to write home about. Certainly nothing like the pre-party.
Lauryn Hill performed, and she's pretty impressive, but it wasn't exactly the vibe a lot of the attendees were looking for. Other than some interesting people watching, and realizing after the fact that I had just met Christopher Reid aka Kid of Kid 'n Play, the party was a let down. Proof: The Gronkowskis kept their shirts on and left early.
1 I hear you groaning, you ESPY-hating bandwagoners, just wait until we get to that part of the story, and hear me out.
2 Yes, I said "Alabamaness" and made it a good thing. Moving on...
3 Did I mention... super nice guy?
4 Yes, that Eddie George. Yes, DJing.
5 Eddie has never left me hanging on an O-H, and I hear he always responds with an I-O, in case you were wondering.