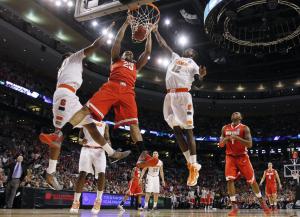 Ohio State has been in this situation before. Four separate occasions to be exact. In Thad Matta's eight seasons as head coach, a big man has turned pro half the time, with Jared Sullinger being the latest to leave Columbus early.
The replacement game hasn't always been easy, but waiting in the wings this season are Amir Williams and Evan Ravenel. Williams, a former McDonald's All-American, came to Ohio State last season expecting instant results. Instead, he averaged less than two points and a shade over two rebounds in 6.6 minutes per game.
Still, Williams' experiences – playing critical minutes at Kansas and in the NCAA Tournament – will pay dividends as his career progresses. Despite his modest numbers from Year 1 in Columbus, Williams is expected to be a key part of Ohio State's post-Sullinger world.
"I'm still trying to become physically stronger and work on my post-up moves finishing around the basket," Williams said Saturday at the Battle for Ohio. "I've never been intimidated by playing against another big man. I just go out there and play my game and don't worry about it.
"(Playing last season) gave me a great deal of confidence. That's the one thing that has really helped me, just becoming a more confident player. I hope to build upon that and take it into this season."
A shot-blocker, Williams has beefed up to 255 pounds, the most he's weighed since he arrived on campus last summer. The added weight will help him on both ends of the court. Williams has one of the best defensive big men to play in the college game in the past 10 years to learn from – Greg Oden. The former Buckeye and All-American is currently taking classes at Ohio State as he gets healthy for a return to the NBA. Williams said Oden has observed some open gyms and he plans on picking the seven-footer's brain about life in the post.
"We've been doing a lot of work with our coaches," Williams said. "The work we've put in in open gyms is refining our skills and working on stuff we'll do in games."
There is another big man for Williams to draw knowledge from, and he's in the same locker room already: Evan Ravenel. In 10 minutes per game last season, Ravenel averaged 3.7 points and 2.3 rebounds. It was Ravenel – not Sullinger – who had must-need baskets and defensive stops against Michigan State on the last day of the regular season to help the Buckeyes win a share of the Big Ten championship.
Williams and Ravenel might not be David Robinson and Tim Duncan, but they are a formidable unit nonetheless. How much they play together remains to be seen.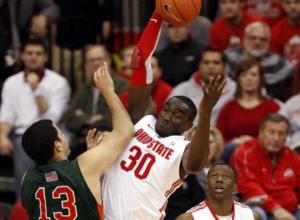 "It depends on how coach (Matta) wants to play," Williams said. "If coach wants to play big, then he'll probably put me and (Ravenel) in at the same time. He could utilize us a lot being out there together.
"If you move (Deshaun Thomas) to the three a little bit, which he's a dangerous weapon, that could also be a possibility for us."
Said Ravenel, "Coach (Matta) has expressed the changes he wants to do this year now that we have different players. We'll just tweak little things. We'll see how much we change once practice starts."
When practice gets under way in October, Williams and Ravenel will likely be competing against one another for playing time. Any semblance of egos for either is nonexistent, though. After being a part of a 2011-12 team that got closer as the season stretched on, Williams and Ravenel understand what it means to defer to the other and play within the team.
"He's my guy," Ravenel said of Williams. "I've always been a fan of (Williams) and Trey (McDonald), our young posts. (Williams) is a great shot-blocker and great shot-changer. He's getting better every day offensively. (McDonald's) a little more polished offensively, but he has to work more on knowing the game.
"(Williams) is progressing real well. Even (McDonald), he didn't get much playing time last year because we had so much depth. But I think we're going to get a chance to see every one this year and see what they can do."
This offseason Ravenel has kept busy working out, lifting weights and running. He's lost weight (added muscle) and said he's trying to play stronger. When asked if he was using Sullinger's weight-loss plan, Ravenel joked that it was the other way around – Sullinger used his system. If Ravenel cam replicate the on-court success, the Buckeyes won't experience much of a dropoff.
In his first year in the Big Ten – Ravenel transferred to Ohio State after two seasons at Boston College – he proved that he could compete with anyone, whether it was physical or finesse. Adding more weight to throw around in the lane is never a bad idea, though, especially when it comes to the black and blue Big Ten.
The duo of Williams of Ravenel will be instrumental in the Buckeyes' success, but no one carries more cache than point guard Aaron Craft. The reigning Big Ten defensive player of the year recently underwent surgery to remove bone spurs from his left ankle, but he hasn't let it change his commitment to the team.
"Aaron has been out with his ankle injury, but he still comes to every workout and everything, which is what Aaron does," Ravenel said. "But Coach (Matta) looks for me to fill a leader role because I'm a senior, but Aaron is still Aaron. He's still with us every day.
"I planned on being a leader last year. I was a less visible leader last year, but in the locker room, on the court and in the practice gym, I took on a leadership role. I was definitely there."
In his freshman season, Craft showed how valuable he was to Ohio State and it only become more apparent in last season's run to the Final Four. Whether it was creating offense or giving opponents a headache on defense, Craft was front and center.
When Gonzaga threatened the Buckeyes in the second round, Craft responded. When Cincinnati made a run at Ohio State in the Sweet 16, Craft slammed the door shut. And in the Elite Eight against Syracuse, with the season on the line, Craft put OSU over the proverbial hump.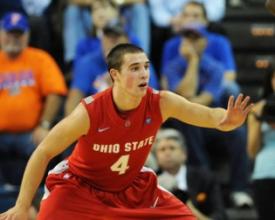 "Having (Craft) puts you in the Top 10 teams," Ravenel said. "Aaron Craft is a one-of-a-kind as our point guard: tough on defense, gets the offense going. He's working a little more on his offensive game. Aaron Craft, I think he's the best point guard in the country, personally.
"Aaron Craft changes the outcome of practice; Aaron Craft changes the outcomes of games; Aaron Craft changes our team outlook in general – Aaron Craft is our leader. We follow Aaron's lead, his energy, his positivity; we follow it."
The outpouring of admiration Craft's teammates have for him is proof positive that there is no more important piece to the Ohio State basketball program than the Findlay native.
The most intriguing player on the roster was also highly regarded freshman who came in with Williams: LaQuinton Ross. The Mississippi native arrived in Columbus last summer but ran into eligibility problems and was not re-enrolled at Ohio State until winter quarter. The time off hampered Ross's effectiveness, however, and limited his playing time to just nine games, despite the Buckeyes' lack of an outside shooter.
Ross is a deadeye shooter, though he only converted two of his seven three-point attempts last season. He's expected to be inserted into the starting lineup this season and provide instant offense, alongside Thomas.
"(Ross) is going to be something special for us this year," Williams said. "He's going to be a weapon for us, most definitely. A lot of people didn't get to see him play, and he'll definitely do some great things this year."
Asked if there were any other areas of Ross's game that impressed in open gyms, Williams responded, "It's going to be a surprise this year. I'm not going to give away all the surprises."
During the NCAA Tournament, Thomas played at a level Buckeyes fans had not seen him reach yet. The third all-time leading scorer in Indiana high school basketball history, Thomas was, unfairly, supposed to be a 20-point per game scorer. He finally lived up to that billing in the 2012 postseason.
"(Thomas) is a player who can open up the floor with his shooting ability and being able to offensive rebound," Ravenel said. "I think he's one of the best offensive rebounder in the country. He's getting his knowledge of the game up even more. I think if guys on other teams have to worry about him that helps everyone else out."
With a head coach who's seen success in literally every season he's coached, along with a point guard that gets the best out of everyone, maybe life without Jared isn't looking so bad. 
"I feel like we have another shot to go the Final Four," Williams said. "We still have guys that can fill roles. We had guys on the bench last year that people were sleeping on. I think those guys are going to step up, including myself, and we're going to have a great season again."