Happy Fourth of July everyone and I hope you all had a good holiday. I know I certainly did, as not only did I get to watch fireworks on the Hudson River in New York City, but I also got plenty of preparation in for The Opening which kicks off today.
The Opening is an event sponsored by Nike that takes place in none other than Beaverton, Oregon. Taking place July 5-8, it is described by Nike as "four days of dynamic training, coaching, and competition for many of the country's most elite high school football players".
The event is widely considered the biggest single recruiting event of the year, as it is televised, current and former NFL players are on hand to coach positions, members from all over the national media cover it, and college coaching staffs from around the country keep close tabs as they watch the country's elite prospects compete head to head for four days.
This year the Buckeyes have six players with invites to Oregon that have already given verbal commitments. The lucky six are TE Marcus Baugh, ATH Jalin Marshall, RB Ezekiel Elliott, DB Cam Burrows, DB Jayme Thompson, and DB Eli Woodard.
In addition, remaining targets participating in the event are WR Laquon Treadwell, RB Derrick Green, RB David Williams, WR Levonte Whitfield, RB Taquan Mizzell, DB Vernon Hargreaves III, CB Jalen Ramsey, LB Mike Mitchell, DE Jordan Sherit, DE Jason Hatcher, DE/LB Tyquan Lewis, WR Ra'Shaad Samples, DB Quin Blanding, and DE Da'Shawn Hand. You can see a full list of attendees here and a solid preview here.
It should certainly be an exciting event as fans, media members, and coaches across the country will get to see how the top players stack up against each other and give the players a great opportunity to meet their counter parts, while also getting great coaching.
With this being the one exciting recruiting event left until Friday Night Lights at the end of the month, I figured what better time to roll out a mail bag than now? Thanks to everyone who submitted questions and to those who didn't, feel free to add any others in the comments section below.
Let's say there are 20 spots in this class. What sort of break out do you see in terms of position for the remaining six spots for 2013?
I do think the class will number around 20, so I have thought about this since Hill gave his pledge. I think the staff definitely wants to add two receivers, one offensive lineman, and one linebacker at the very least. I think then with the remaining two spots you either look at another offensive lineman, a defensive back, a running back, or an athlete type player. Obviously spots are being held for guys like Vonn Bell, so you have to factor that into consideration and you just don't know how things will shake out before February, so I think you work with the first four positions I named and see where the other two spots shake out to.
Kyle Meadows seemed to have a great showing at OSU's camp. Do you think he did enough to earn an offer? What is your take on our offensive line situation overall in this class?
First looking at Meadows I think he had an outstanding camp and probably could not have done more to earn an offer. Fact is there are still players out there they like better and it's way too early to reach. Dennis Finley from Cass Tech is the top player on their board. If he chooses to go elsewhere, maybe the staff goes back to Meadows, but I think they would be perfectly fine moving someone like Donovan Munger or Billy Price to offensive guard and looking at more tackles come 2014. I really don't see Meadows in this class.
As for the offensive line overall, sometimes people forget we have a really good one in Evan Lisle. I definitely think someone like Price or Munger, if he joined the class, could move to offensive line, but the roster is fine as is for 2013, especially with Chase Farris recently moving over to that side of the ball. There are more offensive linemen, especially in the state of Ohio, that the coaches like in 2014, so don't be surprised if they wait on them.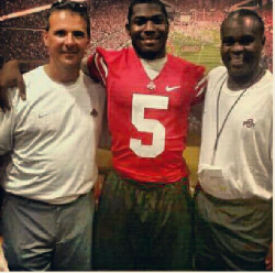 Do you think the Bucks will take a linebacker in this class? If so, who will it be?
As mentioned above, I do think a linebacker will be added to this class. Right now the smart money is on Tarboro (NC) DE/LB Tyquan Lewis, who the staff is looking at for the Viper position that Bobby Carpenter played while in Columbus. Lewis says his top three are OSU, UNC, and LSU, and with the Tigers getting Lewis Neal yesterday, you have to think it is a Buckeye-Tar Heel battle. Lewis plans to make a second trip to Columbus with his mom in July and I think a commitment could come either on or right after that trip.
How many wide receivers are we looking at for 2013 and who is in the mix?
I think you are looking at three total wide receivers, and that is counting Jalin Marshall as one, so two more will be added. Names in serious consideration are Shelton Gibson, Robert Foster, Devon Allen, Marquez North, James Quick, and Levonte Whitfield. Any of those players would be great pick ups.
What is the real situation with Robert Foster? It seems we lost interest but now it is back?
The Bucks and Foster had high mutual interest before the staff saw some stuff they didn't like on one of his trips. Rumor has it the scholarship was pulled by OSU (and some other schools), but now signs point to Foster doing the right things to get back into the staff's good graces. It seems this is a OSU-Pitt-Alabama battle right now and I think if the Bucks decides they really want Foster they get him. Just have to let this one unfold.
What are the Buckeyes' chances with James Quick?
It looks like a Louisville-OSU battle for Quick at this point. He is from Louisville so there is the home town team thing going for the Cardinals, and Charlie Strong is building up a nice foundation there. Ohio State right now is the "sexier" draw and Urban Meyer's use of play makers can only make it that much more enticing. I think Quick will wait until the season to see how things shake out on the field and maybe take an official to each of the schools to get a better feel for what it would be like to call either place home for the next four years. Right now I think UL has the lead, so it is imperative that Ohio State gets him on campus again.
The staff seems to be recruiting the Mid-Atlantic region heavily. How much do you think they can expand Ohio State's recruiting footprint into that region?
I think a lot of the coaches on this staff have had success in the region in the past. Whether it be Meyer at Florida, Withers at UNC, or even Fickell during his time with OSU, the region has been covered and successfully recruited in the past. I think not only in this region, but in other regions of the country too, you will see the Bucks try to expand their recruiting footprint, as Meyer wants not only the best players in Ohio every year, but the best players in the nation. To accomplish that you need to extend your recruiting prowess outside of the Midwest.
How much will the 2012 team's on-field success impact the class of 2013 recruits?
I think there are a few players who may look to see how they will fit in the new system, but most of the 2013 kids will already have their minds made up by the time the season is over. Of course, you can flip players or get the late commits in January, but I think on-field success this year will have more of an impact with the 2014 class, and only in a good way.
How interested is 2014 DL Da'Shawn Hand in coming to Ohio State?
Hand is the consensus number one player in the class of 2014 and probably would even push to be named top overall player in the country regardless of class right now. Ohio State has done a great job early in impressing him and if he comes as expected to Friday Night Lights that will bode even better. Right now the Buckeyes, Alabama, Virginia Tech, and Clemson are looking really good for Hand and OSU has a very realistic shot. He isn't expected to make a decision until his senior year, so there is plenty of time to impress the big guy.
Are the Buckeyes interested in Galion's Dareian Watkins? Can he possibly be a quarterback in Columbus?
OSU is very interested in Watkins and it would actually surprise me if he didn't get an offer somewhere down the line, as he is one of the best in the state. The difficult part with Watkins may be finding a position as he works out at quarterback, receiver, and defensive back and is good at all three. I don't think he's a quarterback at Ohio State, but I do think there is a place for him somewhere as the kid is a flat out play maker.