This is Kip Richeal from Beaver Falls, PA. He loves college football.
Obviously, he's a Penn Stater. Class of 1987; Arts and Sciences with an emphasis in journalism. Kip was born with hip dysplasia, but he gets around just fine. He takes care of himself. He also takes care of others.
As a matter of fact he's in his 31st year of coaching youth baseball. Just about the only time his condition has slowed him down was at Penn State, when he had to take a significant amount of time off from school to undergo and recover from hip replacement surgery.
And like all Penn Staters and so many others, Kip has closely followed the Jerry Sandusky tragedy with both great sadness and interest.
Perhaps with greater sadness and interest than even the average, rabidly-loyal Penn Stater. That's because he co-wrote what's now perhaps the most unfortunately-titled biography in history.
Kip is the author of Touched: The Jerry Sandusky Story.
---
You might remember seeing Kip on television or hearing him on the radio around last November when the story broke that Penn State's most famous former assistant coach not named Joe Paterno had been charged with 40 counts of sexual abuse to boys, some of whom were molested on university premises.
There was universal outrage and indignation accompanied by pockets of disbelief and people wanted answers. Kip co-authored Sandusky's memoirs and the media came scurrying in his direction hoping he would have them. Could the man who co-wrote Touched have had some insight into the darker side of the beloved coach he had profiled?
He did not. He was never suspecting of or actively looking for a predator. As with most people close to the Penn State football program, he was genuinely surprised by the news - as a proud Penn Stater, as an author of two books about his alma mater and as a former member of the football program.
No, Kip's involvement with Penn State football didn't just formally begin a dozen years ago when Touched was published. It began 22 years prior to that. He wanted to take care of the program he grew up idolizing.
"I was a three-sport equipment manager in high school," said Kip, "and when I was accepted into Penn State I knew I wanted to be a football manager. My high school coach knew Bob Phillips (Penn State's QB coach at the time) and helped arrange a meeting with him."
So in May of 1978 Kip went up to State College with his parents to meet with Coach Bob to discuss the idea of being a football manager for the Nittany Lions.
"It was almost like a recruiting visit," said Kip. "I was in Rec Hall with my parents and Coach Bob when Joe Paterno came in and we were introduced. My dad was much more in awe of meeting him than I was. I loved the guy, but I wanted to be a football manager and just wanted to be cool about it."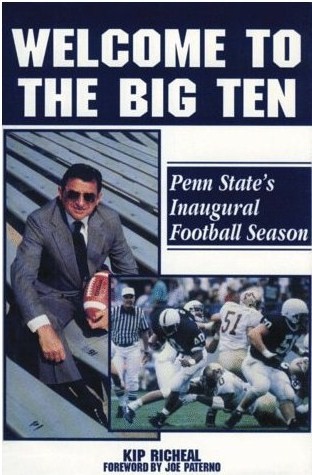 Coach Paterno didn't waste much time sizing up the high school senior.
"I want you to be a part of this team," Paterno told him. And just like that, Kip would enter Penn State as a freshman football manager that summer.
He wasn't given any free passes by the staff: Penn State's renowned defensive coordinator immediately challenged him to a boxing match upon his arrival, demanding that Kip gain enough weight so they could spar in the locker room in front of everyone.
"Jerry told me I had to get to 100 lbs so we could fight," said Kip. "At the time I weighed 96 lbs. We checked my weight every day until I finally got up to 101 lbs. The fight would go on as scheduled, in front of the entire team.
"You ready now?" Asked Sandusky condescendingly, getting down on his knees so that he would be the same height as Kip. All of the Penn State players gathered around; every one of them cheering for their equipment manager. A "well-rehearsed" right hook from Kip knocked Sandusky off of his knees and the locker room went wild.
He would spend both the 1978 and 1979 seasons with the team, before leaving school at the age of 20 to undergo hip replacement surgery that would keep him out of school for a year. Kip then eased back into college life, starting classes at a Penn State branch campus in 1981.
By 1982 he was back with the team as equipment manager. That's one of the holy years in Penn State football history.
"We beat Georgia 27-23 in the Sugar Bowl," said Kip, referring to the school's first consensus national championship. "My friends watched and will rewatch the game and say 'I saw you on the sidelines!' I've never seen myself on any game tape. I just don't look for myself."
The following year - his senior year as a manager - Kip got to attend the second-ever Aloha Bowl, in which the Nittany Lions defeated Washington 13-10.
"We went to Hawaii my senior year," said Kip. "That was pretty cool."
The sun, the moon & the truth
When Kip graduated from Penn State in 1987 he decided it would be easier for his family if he walked at the ceremony at the branch campus where he had attended following his hip surgery. His family was joined by a visitor from main campus.
"Jerry drove three-and-a-half hours from State College to come to my graduation ceremony," said Kip. "He drove back that night. That's a seven-hour round trip. That stuck with me and I never forgot it."
Four years later, Kip found himself having more hip surgery - he had been a little too active, apparently - and Sandusky called the hospital to check in and see how he was doing. He knew Kip could take care of himself. It turned out he had more on his mind than Kip's recovery.
"Jerry told me, 'I've been jotting down notes and I was hoping you could write something about my life'," recalled Kip. "He said, 'it's been a crazy ride and I just wanted to write something about growing up in Washington, PA and wanted to see if you could take a look at it and how it looks to you. It's yours - you can do what you want with it'."
Kip had shown a passion for writing from an extremely early age: He used to read the Raggedy Ann & Andy books his mother would buy him and then throw sheets of paper into a typewriter to re-type the pages of those stories. He was a child, but typing those pages made him feel like a professional writer.
In high school he got the opportunity to work under Joe Tronzo at the Beaver Falls News Tribune. Tronzo was one of those classic cigar-chomping sports editors right out of central casting. He gave Kip the opportunity to cover high school sports, including his high school's varsity basketball and baseball teams.
This meant that in addition to being equipment manager for those sports, Kip was also the team statistician while covering the beat for the local paper. He was a triple-threat, and that time served as a very fortunate on-ramp into his writing career.
The chief architect of Linebacker U was now requesting his services. Kip was confined to his hospital bed recovering from his surgery.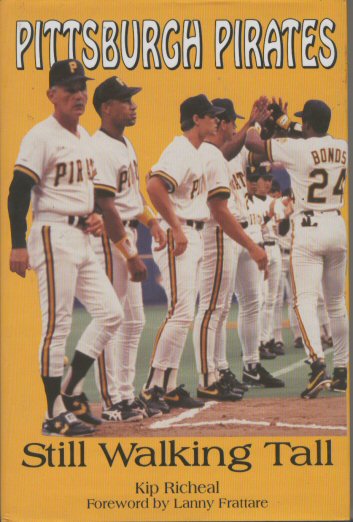 "I have you as my prisoner now," Sandusky joked over the phone. "This means you have to look at my notes."
Kip accepted the offer to act as the custodian and builder of his memoirs, and Sandusky immediately mailed over a box of his notepads to him for review.
"They were really just tablets packed with writing that had very little indentation and no paragraphs," said Kip. "It was going to take a lot if I was going to redo anything. Then Jerry called again and said that he had the name of a publishing company that wanted to take a look at a couple of chapters."
So Kip was now chartered with constructing what was basically the pitch to a publishing company. To make matters more complicated, Sandusky was not at all interested in producing a football book.
"Jerry wanted the book to be about The Second Mile," said Kip. "I told him he had to make it 50/50 football if he wanted to sell it to Penn State fans. He eventually agreed, and I wrote two chapters from the notes he gave me, starting with President Bush (41) making The Second Mile one of his 1000 Points of Light."
He edited those chapters and sent them to the publisher along with some columns he had written for the Beaver County Times, to subtley communicate the fact that he was an accomplished and published writer. A couple of weeks later he heard back from the president of the publishing company.
"He really liked what I put together from Jerry's notes," said Kip, "but he wasn't interested in printing a book about a college assistant. It would have been different if the book was about Joe Paterno."
What he was interested in was Kip's writing style; how he had woven what came across as an adventure out of some notebook scribbles. He wanted Kip to author something else instead: A book about the Pittsburgh Pirates. The publisher had already locked up Pittsburgh Post-Gazette beat writers for similar books about the Steelers and Penguins and were offering Kip their Pirates project.
"How would I tell Jerry they turned down his book that he asked me to write, but they still wanted to hire me?" Recalled Kip. "I asked him if he was cool with it and he understood, saying it was a great opportunity for me. I told him I wasn't abandoning his project and that I'd keep pitching it."
So Kip asked Sandusky to keep sending him his stories, but with one change: He didn't want to decipher the scribbles on those notepads anymore, so he asked him to record his thoughts on cassette tapes instead. It would be easier to transcribe that way.
So Sandusky spent the next few years driving around Pennsylvania on recruiting trips talking into his tape recorder and sending the tapes to Kip, who got to spend the 1992 season following the Pirates all the way to the NLCS against the Atlanta Braves.
The Pirates lost a heartbreaking Game Seven in Atlanta and Kip conducted his final interviews with the team ("except Barry Bonds," recalled Kip, "he wouldn't talk to me.") He completed the Pirates book right around the same time that Penn State was joining the Big Ten.
Kip pitched the idea of a book on the decisions that lead to the university's break from 100 years of independence to join the conference. The publisher liked it and immediately greenlit the project: Kip would be authoring book number two.
The foreward for that book was written by none other than Paterno himself. ("I'm sure the SID actually wrote it," chuckled Kip, "but Joe still signed off on it - he's a busy man.") Paterno gave Kip unrestricted access to the entire team during the Lions' inaugural season in 1993, even traveling with the squad for their first visits to Iowa City and Columbus.
"So Jerry asked me to write a book about his memoirs," said Kip, "and as a direct result, I wrote two other books that weren't about him first."
"touched" was not to be touched
"When Jerry retired in 1999 - and I think we understand the circumstances a little better now as to why he retired so abruptly - I went to the publisher and pitched his book again."
It had been eight years since the Sandusky project had been serendipitously transformed into the Pirates and Penn State books and Kip knew that Pennsylvanians as well as Penn State alumni all over the world would be interested in buying a book about the best assistant the Nittany Lion football program ever had. The publisher agreed and Kip had his third book deal.
"I asked Jerry why he was retiring at 55 and he told me it had something to do with 'a window of opportunity where the state was offering him a good pension' and since he hadn't landed a head coaching job he was going to take it and focus on The Second Mile and fundraising," said Kip.
He had plenty of material already. The book was nearly written by the time it was finally greenlit. He just had to work with Sandusky to fill in a few gaps, which was done via email (no more mailing scribbly notebooks or cassette tapes by turn of the century) with either Sandusky himself or his wife Dottie.
They never worked side-by-side on the book. It was all done either by email or telephone. They electronically relived some of Penn State football's greatest moments.
"That's just what I think about with Jerry so much, those two biggest games in Penn State's existence," referring to the 1983 Sugar Bowl and the 1987 Fiesta Bowl against Miami, which resulted in another consensus national title.
"That he could devise a system to beat them like he did. It's just so amazing. A mind like his can do that, and then..." Kip's voice trailed off, as Sandusky's horrifying reality crash-landed on the recollection of their collaboration.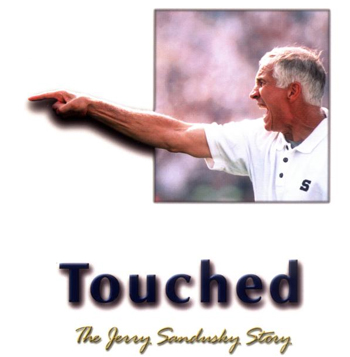 "I thought we could maybe call one chapter Touched but Jerry wanted that title for the whole book. Deep down, I didn't like the title. But I wasn't the subject."
Sandusky explained the title to Kip as being in reference to all of the people and organizations that had affected him, from The Second Mile to his players to Penn State. But once the scandal broke, it obviously took on an ironic, sinister meaning.
"I thought the title could have been a play on words," said Kip, "but not like that. He was a famous assistant; we could have figured assistant into the title somehow. We never argued about it, but he'd say, like joking around, 'I'm touched in the head!' like he's goofy. He was always self-deprecating and trying to get people to laugh at his expense.
Last November Kip watched the tragedy unfold on television like everyone else. When he saw his book from nearly a dozen years earlier illuminated on his screen, he immediately groaned. Oooohhhh...I know that book.
"The whole experience has just been one wow after another," said Kip. "One disbelief after another. And it doesn't seem to be stopping. Now it looks like Coach Paterno is being implicated in this, and that hurts me as much as anything that's been reported."
Through the past eight months Kip still hasn't revisited the book that circuitously launched his writing career. He's often asked if he's gone back to look for clues into Sandusky's behavior, but he isn't interested in doing so.
Besides, his feelings for Paterno dwarf any he might have had for Sandusky. Kip took care of Penn State's players, and Paterno in turn took care of him.
"In 1982 I was back with the team for camp and there was some fear about the potential for me getting injured (due to his condition) on the field during games," said Kip.  "They were going to keep me off the field, away from all of the action." (this was a full decade prior to the Americans with Disabilities Act)
Paterno found out and abruptly put an end to it, insisting that Kip join the other managers on the field for all of the games. As a result, Kip had a sideline view for Penn State's title run.
"I'd run through a brick wall for (Paterno)," said Kip. "He impressed me so much. He had so much on his mind, yet he'd check on me throughout my rehab time. I wasn't his star quarterback. I was his manager. He later recruited a player from my high school and the kids came out to meet him and asked about me. Joe said 'sure, of course I know Kipper'..." and Kip's voice trailed off again.
"I feel bad. I thought he just was an older guy who felt like he was doing the right thing (regarding Sandusky's behavior) but it doesn't look that way anymore."
As is the case with many who were genuinely blindsided by the tragedy, Kip has described Sandusky as "a big kid."
"Before this was all discovered people would say he was charming," said Kip. "Boxing me in the locker room, stuff like that. Now they say it's creepy and, well, that's hard to argue. People examine the book to see if they can identify victims, like 'this is this victim' he's describing here. I wouldn't be able to do that."
Over the years Kip met several kids from The Second Mile through Sandusky but to this day does not know if any of them were victims of his assaults.
"I have had dinner at (Sandusky's) house," said Kip. "I'm still amazed that a person can be two different people. It's so disturbing to me. Last week a guy from TruTV asked me if I felt like I was duped. It's not just me; a lot of people do. Thousands of players do. Hundreds of thousands of fans do."
The life in your years
Today Kip runs a family business in Ambridge, PA. He's been coaching Pony League baseball since he was 22 in his square-mile community of West Mayfield.
He may write another book, but if he does he'd like to write pure fiction rather than covering a team, a program's decision to break independence or a prominent defensive coordinator's memoirs.
You can find Touched on Amazon.com for prices ranging from $500 to $650. It's like buying the Charles Manson's toothbrush.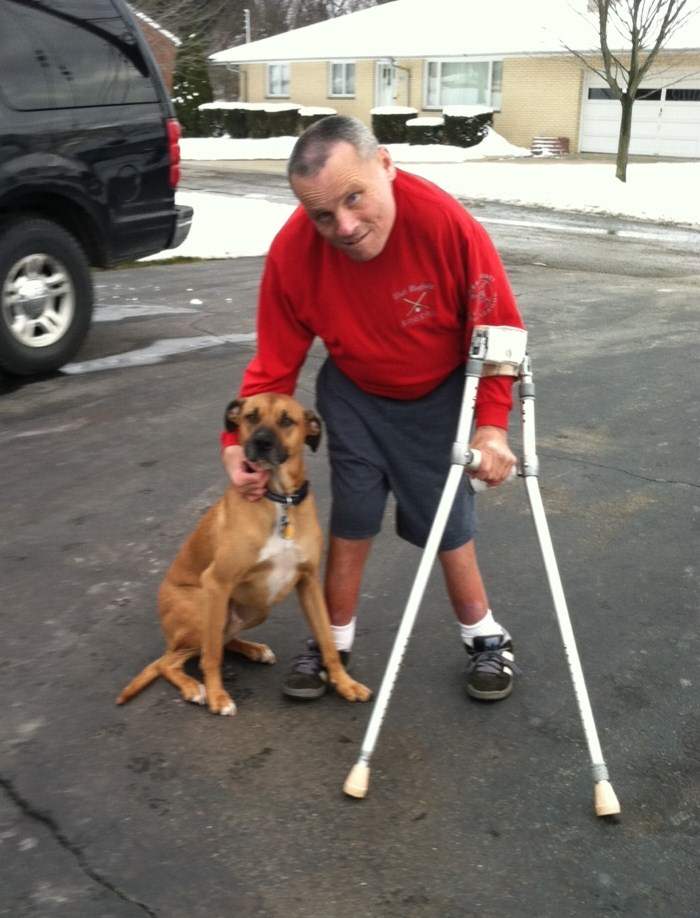 "I wish Joe would have stepped down a few years ago," said Kip. "I wanted him to go out on better terms, and he didn't. I'll always respect him for the opportunities that he gave me. When I coach my baseball players I think of the lessons he taught me."
Those lessons are the foundation of a legacy that is growing bleaker as more evidence surfaces to Paterno's knowledge of Sandusky's pedophilia: Behave like gentlemen. Wins and losses aren't ever as important as how you represent yourself.
"Don't mope and cry about officiating," said Kip. "You're responsible for what you do. For the most part my baseball players have been good kids that have been consistently complimented when we travel. Handle your business with class and dignity and play the game right."
Kip paused to collect his thoughts.
"I learned that from my days at Penn State. I learned that from Coach Paterno. I learned that from my parents."
He's continuing to foster positive behavior while fielding an exceptional squad. Last night his undefeated team won its second-round playoff game 12-0. Thursday they'll play in the division championship game. Their opponent, whomever that might be, will have to beat Kip's boys twice in order to advance.
Sure, wins and losses aren't ever as important as how you represent yourself, but wins and representing yourself are optimal.
"This is where I started coaching," said Kip. "My neighbor was managing the team when I was 22 and I asked him if I could help out. At first he didn't take me too seriously, but eventually he saw my commitment. He eventually stepped down and there were two other head coaches. In 1998 I finally got my first managerial shot and I've held it ever since."
That neighbor who gave him his first break into coaching eventually returned to be his assistant. Kip also volunteers his time with the high school football program as a coach with the freshman and JV squads.
He keeps himself busy in spring and summer with baseball. As with his days as a Penn State football manager and student, he takes care of himself. He takes care of others.
His legacy is intact, despite the book he helped craft without the knowledge of the monster he was profiling. Kip is a master of paying forward. Like so many other beleaguered Penn Staters, he's also just looking forward to football.
"I think (the 2012 Nittany Lions) will be okay. I hope that they can get to seven or eight wins with this roster. I hope that people will support them. Those players had nothing to do with that stuff. This coach (Bill O'Brien) had nothing to do with that stuff."
For now, Kip is focused on winning a championship with his own team. Penn State will just have to take care of itself.