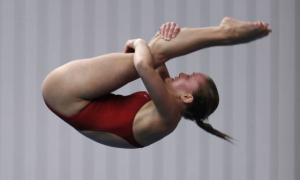 Since she was three-years-old, Katie Bell knew one thing about life: she would compete in the Olympics. The event was in question, but the ultimate goal was undeniable. Beginning as a gymnast, Bell eventually forged an identity in the sport of diving. 
"I started with gymnastics when I was three," Bell said last week. "I started diving at Olympic (Swim Club in Clintonville) for summer league when I was eight. I started doing that just so I could have another chance at the Olympics. When I was 13, I switched from gymnastics to diving."
Growing up in Clintonville, Bell became fascinated with the Olympics during the Centennial Games in Atlanta in 1996. Many Americans were swept up in the Olympic madness during the '96 Games because they were played in their home country and one sport in particular: women's gymnastics. The U.S. team, stocked with teenage sensations, instantly became national darlings.
Nicknamed the "Magnificent Seven," the group became the first American women's gymnastics team to ever win the gold medal. Russia had captured the gold medal in every Olympics it had competed in since 1952.
"Watching Kerri Strug and Dominique Moceanu and their stories (inspired me)," Bell said. "I had every possible book about them, and I just wanted to be like them."
For Bell, the 2012 London Games have been circled on the calendar for years. At the United States Olympic Diving Trials in Federal Way, Wash., on June 24, all the make believe moments that the Ohio State graduate practiced in Columbus pools became reality.
"I'm still in shock," said Bell, who will compete with the U.S. Diving team Aug. 8 and 9 in London. "People keep asking me if it feels real and how I'm feeling, and I don't know. I don't think it's going to feel real until I'm at the Games and in the Village and at the pool with USA behind me."
Not only did it take nearly a lifetime of training and practice to make her Olympic dreams come true, but also sacrificing the most formative years of her life. College is a giant playground for many, the last stop before adulthood officially takes over. When you're an athlete at Ohio State, however, and you're aiming for the Olympics, life is much different than the four years of debauchery the history major from Mansfield experiences.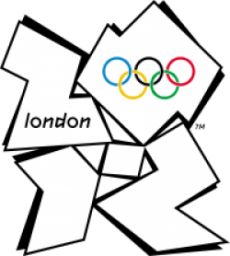 "Since I came to Ohio State, (head coach) Vince Panzano always told us, 'You are not normal. You can't go out with all the other kids at Ohio State and get in trouble,'" Bell said. "It took me a while to figure that out in college. You kind of want to go a little crazy, but as I got older, I realized I wanted to focus all my time on diving. When I'm done, then I can hang out and have fun."
The fun times will likely include Bell's family and close circle of friends, one of which bought a plane ticket to London over a year ago. When Bell told the friend she wasn't yet qualified, she received reassurance that it was already a foregone conclusion.
Bell will also have a close friend nearby during competitions and in the Olympic Village. Upper Arlington native Abby Johnston, also a member of the diving squad, has been a friend of Bell's since the two met as young kids at gymnastics. 
"I think I get more nervous watching her than when I compete," Bell said laughing. "I was sitting next to Kelsey Ryan's mom during (Johnston) and Kelsey's event. We were cheering and yelling so loud, and there event was so intense. They won by .4 of a second. Watching them really got me excited to go out and compete."
The duo was at the London pool that will host Olympic swimming and diving in February and made a pact that they would return – together – later in the year.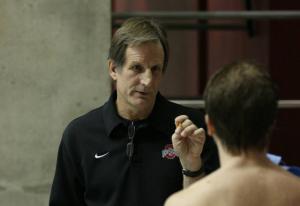 "Just seeing it and being in that environment already, I think has prepared me to be back." Bell said.
When they leave London in August, they would prefer to do so with gold around their neck, and not in the form of a chain. China has recently taken a stranglehold on the sport, dominating world class events. Still, Bell's confidence from her strong performance in the trials could act as a springboard for herself and the team.
"I think with all the best dives I've done, I'm competing right up there with everyone," she said. "I know the list I did at the semifinals of the Olympic trials, if I do that same list, I'll definitely be a contender for a medal."
That Bell had to qualify for the Olympics is challenging enough. Overcoming injuries that make car accidents look mild made it all the more challenging.
At the 2007 Big Ten Championships, Bell , a freshman at the time, landed flat on her stomach after attempting an arm-stand triple during her second dive. The resulting injuries nearly ended her career for mental and physical reasons.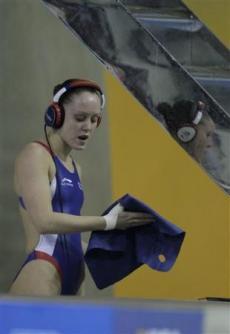 "I had a collapsed lung, separated chest cartilage and popped ribs out of place," Bell said. "It took a really long process when I got home to figure out what really was wrong. It took me about two years to come back from that. I still have problems with my ribs, I get them adjusted.
"Coming back from the accident, I didn't know if I'd be diving at all. I almost transferred schools and quit completely. One of my diving teammates who was a year younger than me, the other day she said she remembered I would come in, do one or two dives and cry or get upset because it was so hard."
Bell would eventually return, but not without scars etched in her memory and on her body.
"I went and talked to psychologists, did rehab with some of the best people at Ohio State, and having that team behind me brought me back to diving," Bell said. "It made me a better person because of it. I wasn't very open and didn't have good communications with people. After that, I learned a lot about myself and other people around me."
But just as soon as she came back, Bell suffered another setback, this time a torn labrum and rotator cuff damage – injuries you'd expect a pitcher to suffer, not a diver.
"They think it was from that injury just because I had a hard time moving my ribs, (so) I was overcompensating and putting more pressure on my shoulder," she said. "I ended up having shoulder surgery.
"It was another process back. A lot of diving is mental. Coming back from all of that and getting up there and doing those dives again, there's always a risk of getting hurt. I just learned to always think about the positives that come with it. Even the dive I got hurt on, I've done that dive a million times and gotten nines. But there is that one chance I could get hurt, and that's with every dive I do. Being up there mentally helped me come back a lot faster."
Every step along the way, Bell has turned real life experiences into learning experiments. Her unique upbringing – Bell's family is self-described "Hippies" – contributed to her future trail of success. Bell attended The Graham School, which focuses on experiential learning. Students attend classes only three days a week with the other two days reserved for internships.
Bell used the internships to get more time in the pool – or on the board. Working at her diving club, she was able to practice more frequently than others.
"I was able to practice in the morning, learn the business and help young kids with diving, so that gave me a lot more practice time than other kids," she said.
Seniors at the Graham School take part in a program that allows students to participate in a trade that is near and dear to them.
"So my senior year I did a lot of diving,"  Bell said. "I went and dove with (Olympic Gold medalist) Laura Wilkinson for a week and pretty much practiced eight hours a day."
It was during that senior year that Bell came to a firm decision on her future endeavors; she would attend Ohio State University and chase her Olympic diving dreams. She joked with her father that the sparkling McCorkle Aquatic Pavilion was built specifically for her.
In England, they did build the London Aquatics Centre for her (and the other competitiors), and in August, Bell can complete her fairy tale journey by crafting a happy ending and bringing a 21-year captivation of the Olympics to fruition.