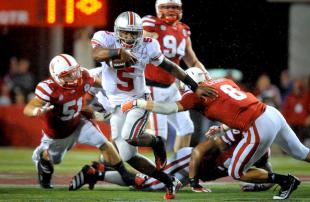 Oh, okay Jeff Beck. I see your little game. You fancy, huh? Build us all up to think that Ohio State is going to go undefeated one week, and then pull the rug out from under us the next? How do you expect us to handle that, mentally? Seriously, after the past 15 months or so, the collective Ohio State fandom has suffered mental blow after mental blow, and frankly I don't know that our collective consciousness can handle this kind of psychic taunting.
"But Johnny, didn't you do that last week? You know, get in Jeff's face about him saying how OSU could go undefeated and then you proclaiming that they'd go 0-6 to start the season, apparently out of pure spite?"
Shut up. No I didn't. Well, yes I did, but that's beside the point. All I'm trying to do is reach back to our contrarian roots as a fanbase, you know? Reach into that dark pit that we call a soul and find that familiar voice that says "NUH-UH," like so many arguments about Luigi being in Super Mario 64 (not everybody's uncle can work for Nintendo. It's just not possible.) So is it hypocritical to say that Ohio State will steamroll through its' final six opponents in 2012 like ice cream through my lactose-intolerant intestines when I predicted the opposite last week? Kind of, but just roll with it.
It all comes down to this: last week I brought you despair, so this week I will bring you hope. Not to distress you, but I bring this token of light because if there's anybody who can replicate Jim Tressel's absolutely insane late-season prowess (29-4 in November as the Ohio State head coach), it's Urban Meyer. And also to rub it in Jeff Beck's face GOD I just hate him so much.
AT INDIANA- 10/13
Ah yes, Bloomington. Lake Havasu for Ohio State fans. Indiana was 1-11 last year, 0-10 against the FBS, and 0-0 against teams that felt that they didn't have at least a shot at beating the absolute living crap out of them. The Hoosiers are supposed to be better this season in Kevin Wilson's second year at the helm, but I feel like "better" will entail something like "nobody got knocked out by an errant bocce ball thrown by grandma over Thanksgiving." I fully expect Indiana to become the L7Weenies to Urban Meyer's Squints Palledorous over the years (read: we will beat them a lot).
PURDUE- 10/20
Toot toot Purdue sucks. Yes, they beat Ohio State last year, but yeah, woo, huge accomplishment. If you need overtime and a missed extra point to beat a team you might as well have lost to them.  Most of the principals on last years' Boilermaker team comes back (including Danny Hope's mustache, which gives him his power), which is good because they  are going to walk into an Ohio Stadium filled with 105,000 hateful, angry people looking for revenge for what they did to poor little Luke Fickell. I guess Caleb TerBush isn't that TerRible (thanks, that's the 1000th time that joke has been made, I just won a free Denny's Grand Slam breakfast), but his big goofy butt should be kept busy by the OSU d-line.
Also, I'm pretty sure no one wants to see a Purdue with any kind of swag or bravado ever again. How would they even handle that kind of success? Pocket protectors with naked babes on em? Using Amazing Fantasy #15 for rolling paper? Lightswitch rave in the testing lab? Blech.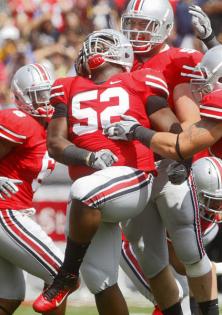 AT PENN STATE- 10/27
Oh God, this is just going to be awful. Last week I pointed out that it was going to be hard to make jokes about Penn State, and that was before I realized that we're going to play these idiots right before Halloween. All I'm going to say about the Nittany Lions is that I feel bad for Bill O'Brien because he's like a dude who walks into a room right after a person ripped a massive fart and ditched, and now he's going to get dirty looks for no real reason. Except in this case it's not a fart, it's a pedophile that the previous head coach covered for and allowed to continue raping children. Crappy team aside, O'Brien is walking into a minefield and his only hope of coming out unscathed is if Silas Redd is the second coming of Ki-Jana Carter. And if he is, as a Bengals fan that will make me very nervous.
ILLINOIS- 11/3
Look, I like Tim Beckman a lot. He's like a diet Ron Zook, in that large doses of him are still fun to have, but it won't kill you slowly over several years of continuous consumption. Which is unfortunate because since WR AJ Jenkins is gone, Beckman will somehow have to find a way to make up literally half of Illinois' receptions from last year (I think that's the most hilarious stat I've found while writing these things). Also QB Nathan Scheelhaase isn't that great and RB Donovonn Young probably won't be... wait a minute.
"Scheelhaase"??? "Donovonn"? Do these dudes get more scholarship money for extra vowels or something? What the hell? Anyway, Illinois will be a mess, and I'll laugh pretty hard if they show any part of a pre-game speech where Beckman is telling his guys that they can walk into Ohio Stadium in November and take it to the Buckeyes.
AT WISCONSIN- 11/17
I was going to say, "Oh cool, another Wisconsin QB sprung up from their clone army" but Bielema decided to go Hessians again and get another transfer, Danny O'Brien from Maryland. O'Brien isn't Russell Wilson, and OSU's d-line isn't going to be the d-line from last year, but in a good way. Yeah that's right, I said it, I'm a Montee Ball skeptic, and if he doesn't get rolling then basically the only dude they have to throw to is WR James Abbrederis because they're trying to break in a new TE and the other projected starter is a guy named Jeff Duckworth. Yes, really.
"QUACK QUACK MR. DUCKWORTH," said CJ Barnett as he slammed the junior WR to the turf for a 4 yard loss.
MICHIGAN- 11/24
Football Armageddon. You know how that 1 vs 2 game in '06 was supposed to be The Big One? I tend to disagree with that statement. Not because it wasn't a blast (it was) or that the game wasn't good (on the edge of my seat), but because it was more like a huge party, tempered with Bo's death, that was a culmination of a season we had been stoked about from the beginning. It was simply a lot of fun and a celebration of college football.
That's not what this game is. This is 2004, when Ohio State came into The Game as 6-4 home dogs and pissed off. Never in my life have I seen that kind of rage in that many people; if we had lost that game I'm pretty sure Ohio State fans as a collective psychic entity would've turned Columbus into a black hole of firey death. Jolly Brady Hoke and his team will bumble into a cauldron of 105,000 furious Ohioans wanting to exact vengeance for last year, for Jim Tressel, and for a ridiculous bowl ban that never should have been. It will be a bloodbath.
And that's it! It's going to be one hell of a ride and I hope you all enjoy it, whether we finish 0-12, 6-6, *cough9-3cough* or 12-0.