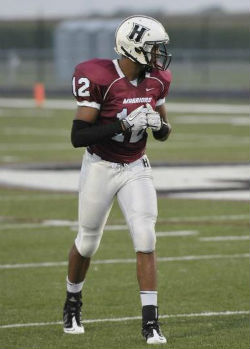 The Ohio State staff has been looking for play makers at wide receiver for the class of 2013 and is off to a great start with Jalin Marshall, but there are still at least two spots left to fill at the position.
While players like Shelton Gibson, Robert Foster, James Quick, Devon Allen, and others are still on the board, the Buckeyes have been keeping tabs on a local product who has turned some heads over the least six months.
Zach Yousey of Harvest Prep in Columbus was at OSU camp last Sunday and the staff continued to like what they see from the 6-2/190 receiver. Yousey got a slow start on the recruiting process, as his school isn't exactly known as a football powerhouse, but the Buckeye coaches are definitely aware of his potential and ability, despite not offering a scholarship to this point.
We caught up with Yousey to hear the latest on his recruitment, what Urban Meyer said to him, what visits he has on tap, and more. Join us after the jump to hear about a potential wide receiver target in Harvest Prep's Zach Yousey.
How did the Ohio State camp go last weekend?
It went great. I got to perform a little bit in front of the coaches and feel I did very well overall.
What coaches did you speak to while at camp?
I got to speak to coaches from the staffs of Toledo, Bowling Green, Ball State, and Kent State, as well as Coach Zach Smith, Coach Luke Fickell, and Coach Urban Meyer from Ohio State.
What did the Buckeye coaches tell you?
Coach Smith and Coach Fickell both just said that I did really well at camp. Coach Meyer told me I have "freakish abilities", but that I have some work to do before I can earn a scholarship from them.
What do you think your chances are of earning a scholarship from Ohio State?
I think it's definitely a possibility down the line. It all depends on how my senior season goes.
Who was the best wide receiver you saw at the camp?
I'd have to say Caleb Day impressed me the most in the group.
Who was the most impressive defensive back you went against?
Vonn Bell from Georgia was by far the best. I heard going in he was nationally ranked near the top in our class and he showed it.
What current offers do you have right now? What other schools are showing you interest?
I have offers from Ball State, Bowling Green, Toledo, Miami (OH), Eastern Illinois, and Eastern Michigan. I am getting interest from Wisconsin, Indiana, West Virginia, Kentucky, Notre Dame, Nebraska, and Ohio State. I think Wisconsin and Indiana may be close to offering.
Do you have any favorites right now?
Right now I'd have to say Bowling Green, Toledo, and Ball State stand out, but it's early in the process. There were reports I committed to Miami (OH), but that was an error. 
What trips do you have planned?
I'll be at Indiana this Sunday and West Virginia in July. I have nothing else planned right now.
If Ohio State offers where would they sit on your list?
I'd probably commit there if I was offered, although I'm not 100% sure of that. I definitely would need to look at the whole picture and make sure it was the right fit for me, but I like them a lot.
HIGHLIGHTS: