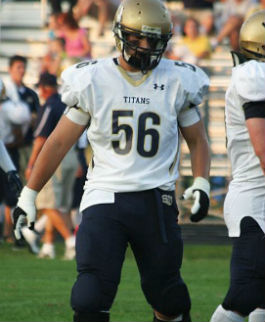 It's not common for two brothers to play against each other at the college level, but it's even more unusual for them to be across from each other in the sport's biggest rivalry.
That could change soon if all goes according to plan for Toledo St. Johns Jesuit OL/DL Matt Miller, who was one of the many prospects to attend Ohio State's football camp last weekend.
The 6-5/255 Miller plays both offensive line and defensive line for his high school team. Some schools are still talking to him about strong side end on defense, but most are thinking offensive guard, including Ohio State who is very interested in him of late.
With offers from around 10 schools already, Miller's list continues to grow as more schools see him up close and personal to get a peek at what he can do on the gridiron. After battling some injuries last season, he is fully healthy and working back towards becoming one of the highly recruited prospects in the state, a situation he was pegged for after his sophomore season.
We caught up with Miller to hear how his Ohio State camp experience was, what the coaches told him about a scholarship offer, where else he plans to visit, and more. Join us after the jump to hear the latest on Toledo St. John's star, Matt Miller.
How did the camp at Ohio State go?
It went good. I think I performed really well and it was a great opportunity to compete with some good players and show the coaching staff what I can do.
What coaches did you get to speak to while you were there and what did they say to you?
I got to speak to Coach Warinner and Coach Herman. I asked them some questions about recruiting and we really just talked about developing our relationship. 
Did they say anything about a scholarship offer?
I first spoke to Coach Herman a few weeks ago and he was very interested to see what I could do at camp. After camp he said I thought I did well and to call him some time this week. I ended up speaking to him initially through Facebook and then finally we connected on the phone. They told me that I am definitely in the mix at guard, but that space in the class is tight and there were other positions like punter that they wanted to see how they shook out before taking another guard. It's good though that I am on their short list after they figure out the situation.
What are your feelings on Ohio State?
It's a great place. Being an Ohio kid, I've been around the program and fans my entire life. I have a good understanding of what it means to be a Buckeye and just seeing everything they have to offer and the new staff there, it's really an impressive place. Most importantly, the degree you earn from the university is great.
Your brother Jack plays for Michigan. Would it be weird being on opposite sides of the most heated rivalry in sports if you were to go to OSU?
It would definitely be interesting for my family and make for a great story. Jack being at Michigan is great and it's been cool to see both sides (Michigan and Ohio State) through his experiences and my recruitment. Jack wants what is best for me and if that is playing for Ohio State then he is happy.
If the Bucks offer will they be tough to say no to?
It's tough to say right now. Anybody who offers is high up on my list, so we'll see what happens. 
What position is Ohio State recruiting you for?
Most likely they see me as an offensive guard, although they think there's a chance I can play some tackle. They also said maybe defensive line, but I have no preference so wherever the coaches want is good with me.
What offers do you currently have?
I have about 10-12 offers right now. Some schools that have offered are Boston College, Cincinnati, Illinois, Indiana, Kentucky, Miami (FL), Miami (OH), Michigan State, Purdue, and Toledo.
Do you have any other visits planned?
I am planning to get out to Wisconsin and Iowa, but nothing else planned right now. I think both of those schools are close to offering.
HIGHLIGHTS: