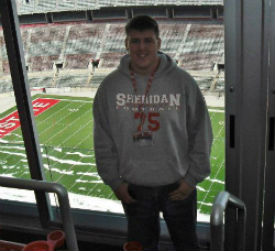 As Ohio State continues its pursuit of landing two more offensive linemen in their recruiting class of 2013, there are some new names emerging as prospects are starting to come to camp to try and earn one of the remaining scholarship offers for the position group.
One of the players who was at OSU's camp this past weekend and is trying to show the coaches he can play at a high level is Tate Leavitt of Thornville Sheridan. 
At 6-7/280, Leavitt has great size to excel at tackle at the college level, but needs to prove he has the skill to play high level Division I football. Currently viewed as a MAC prospect, Leavitt is starting to make the rounds at camps across the country to earn more offers to a list that is just starting to develop.
It's no secret that Leavitt is a fan of Ohio State and would love an offer from the Buckeyes. His camp performance on Sunday went a far way in getting him closer to that dream and his name is now at least on the mind's of the Buckeye coaching staff.
We caught up with Tate to hear how his camp experience was, what he feels are his chances of landing an offer from OSU, what other visits he has lined up, and more. Join us after the jump to hear more about one of Ohio's fast rising prospects, Tate Leavitt. 
How did the Ohio State camp go on Sunday?
It went really well. I felt like I performed really well during all the drills. We did some agility drills, had a little bit of a combine, and ended with some position drills and 1-on-1s so it was fun.
What Ohio State coaches did you speak to while on campus? What did they say to you?>
I spoke to Coach Warinner and Coach Herman. Warinner said I performed really well and that my camp helped me out greatly. Coach Herman said the coaches would be meeting early this week and to contact him in the middle of the week and we'd go from there. When I call I expect to know where I stand from them in terms of chances of a scholarship offer.
What do you think your chances are of landing that offer?
I would really hope to get an offer from them. I feel like I performed really well, as well or better than some of the other players going for offers that maybe people thought had a better chance going into the camp. I would love to get an offer from the Buckeyes.
Who was the best player in the offensive line group (other than yourself) at camp?
I would have to say Sean Welsh of Springboro or Kyle Meadows of Lakota West.
Who was the best player on the defensive line you went against?
I would definitely say Tyquan Lewis of Tarboro in North Carolina. He got an offer there and it was well deserved.
What schools have offered you so far?
So far I have three offers from Kent State, Western Michigan, and Toledo. Bowling Green and Ohio are showing a lot of interest and could be close to offering as well.
What visits do you have planned for this summer?
I went to Pitt's camp already and that went great. This week is packed with visits as I will be at Toledo, Indiana, Kent State, Akron, and West Virginia each day through Sunday. I might go to Iowa or Illinois at some point as well.
When would you like to make a college decision?
Things are just starting to get rolling with me. I originally thought I would make a decision before my season, but since I am starting to get more attention I think I will wait until after the season or maybe early winter to decide and see what offers come my way.
HIGHLIGHTS: