Capping a five part series in which we select the four Buckeyes from each decade that are most deserving of a spot on Mount Buckmore, the final installment examines the 2000s. 
Last week, we took a look a the 90s and those that separated themselves from a talent rich pool included the best lineman in the history of college football, Orlando Pace, a Heisman winner in Eddie George, a Thorpe Award winner in Antoine Winfield and a sack master by the name of Mike Vrabel. 
The 80s foursome was led by Chris Spielman along with the acrobatic Cris Carter, the steady and curly Marcus Marek and the multi-dimensional Keith Byars. 
The disco decade wasn't at a loss for talent with the one and only Archie Griffin joined by John Hicks, Tom Cousineau and the 'seven'-fingered Randy Gradishar. 
Finally, the 60s showcased three members of the Super Soph's in Jack Tatum, Rex Kern and Jim Stillwagon plus bruising Bob Ferguson. 
Today, we look back on the most recent decade and this one might have been the toughest of them all with so many Buckeye greats to evaluate. Without further adieu..
James Laurinaitis - Linebacker - 2005-08

The OSU media guide sums it up nicely labeling James Laurinaitis as the most decorated linebacker in school history. 
One of just eight three-time All-American's in school history, Laurinaitis claimed the 2006 Nagurski Award as the most outstanding defensive player as a sophomore and backed that up with the 2007 Butkus Award, given annually to the nation's top linebacker.  
Little Animal was a two-time B1G Defensive Player of the Year and after leading Ohio State in tackles three straight seasons, he finds himself 7th on the school's all-time tackles list with 375 and 4th in career assisted tackles with 216. 
Laurnaitis went 4-0 against Michigan and his 18 tackles against LSU in the 2007 BCS National Championship game are still the most in history. 
The St. Louis Rams drafted Laurinaitis with the 35th pick in the 2009 NFL Draft and he's started every game since (48), racking up 310 tackles and all-rookie honors in three total seasons.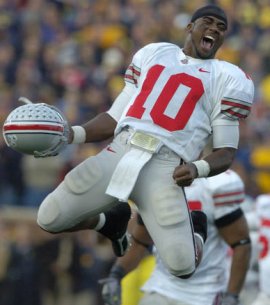 Troy Smith - quarterback - 2003-06

While Laurinaitis might be the most decorated, no player was more valuable in the 00s than Troy Smith. 
Midway through his redshirt sophomore season, Smith seized the starting quarterback job at Ohio State and proceeded to go 25-3 over the next two and a half years collecting much individual hardware while going 3-0 against Michigan.
Smith's dominance of the maize and blue will forever ingratiate him to Buckeye fans. In his three straight wins, Smith amassed over 1,100 total yards of offense with nine TDs.
Smith was an abolute beast in 2006 winning the Heisman by the 2nd largest margin of all-time (86.7% of vote) behind 2,542 yards through the air with 30 TDs.
Unfortunately, his Ohio State career would end on a sour note as the Florida Gators held him to four completions and two turnovers in an ugly loss. 
For his career, Smith ranks the 2nd most accurate passer in school history at nearly 63%, 2nd in Passing Efficiency with a 157.1 mark, 4th in TD passes with 54 and 7th in total Passing Yards totaling 5,720. 
A.J. Hawk - Linebacker - 2002-05

The 2005 Lombardi Award winner, A.J. Hawk was one handsome tackling machine in his days at Ohio State. In his stellar '05 campaign, Hawk led the team in tackles in 10 of 12 contests as the Buckeyes led the conference in every major defensive category. 
The Kettering, Ohio native led the Buckeyes in tackles three straight seasons and ranks 5th all-time with 394 stops. 
Hawk was the 2005 B1G Defensive Player of the Year and Fiesta Bowl MVP and garnered All-American honors as both a junior and senior. 
He of the flowing locks, Hawk was the 5th pick of the 2006 NFL Draft and been elected to the Pro Bowl and won a ring with the Green Bay Packers. 
Mike Doss - safety - 1999-2002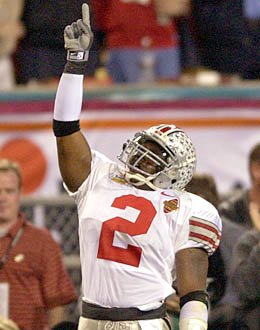 A John Cooper recruit, Doss arrived in Columbus in '99 and after a earning a starting spot late in his freshman campaign, would go on to solidify the safety position for the next three seasons. 
Doss led the team in tackles in both 2000 and 2001, highly impressive for a non-linebacker. 
A clutch playmaker, Doss had an interception and picked up Fiesta Bowl Defensive MVP honors when the Buckeyes shocked the world turning back the Hurricanes 31-24 in double overtime. 
For his career, the Canton product stands 11th all-time in tackles and 5th in solo tackles with 228. 
He is also one of just eight Buckeyes to win All-American honors three times and was a 2nd round selection in the 2003 NFL Draft. 
Oh, and there's that one time when he damn near separated Kurt Kittner's head from his body. 
The Notables

What a long and distiguished list when you start breaking down the numbers for guys that didn't make the monument. 
Malcolm Jenkins tops my list of those on the outside looking in. Only a three star coming out of New Jersey, Jenkins made the most of his opportunity in Columbus. A four year starter, Jenkins was a 1st team All-American and won the Thorpe Award in 2008. 
Beanie Wells was a bone crushing runner putting up 1,609 yards rushing in 2007, the 4th best season in school history. He currently ranks 3rd all-time with 3,382 rushing yards and feasted on Michigan running for a 52 yard score as a true frosh before posting a 222 yard effort as a sophomore. The Akron native was a 1st rounder in 2009. 
Ted Ginn Jr. ranks 8th all-time in all-purpose yards and his six punt return TDs are a school record. Santonio Holmes sits 3rd all-time with 25 TD catches and he's 5th in both career receptions and receiving yards. 
I could keep going on mentioning studs like Will Smith, Maurice Clarett, Mike Nugent and some other kid who used to wear #2 though his name escapes me.