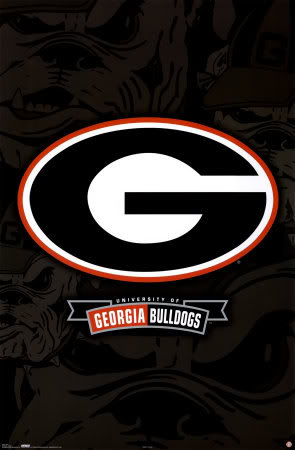 To quote wrestling legend Ric Flair, "to be the man, you gotta beat the man." If Ohio State or any Big Ten cohorts want to be the man, this isn't the way to go about it. 
According to the Athens Banner-Herald on Thursday, OSU cancelled a planned home-and-home series with the University of Georgia that was set to begin in 2020. The two schools had just reached a memorandum of understanding back in December. That sort of cancellation is like SEC speed in dog years.
The cancellation, reported to be on account of the new Pac-12-Big Ten scheduling agreement, is not as perplexing as the series was to begin with. The schools concocted the game only a little over a month after OSU had backed out of a series with Tennessee in 2018 on account of the addition of a ninth league game. But one wonders what changed in less than five weeks.
With Ohio State now backing out of games with two major SEC opponents, critics will have a blast. The Buckeyes last played an SEC opponent in the regular season Sep. 24, 1988, which was the second of a two-game set against LSU. Ohio State's SEC drought will end next August when Vanderbilt pays Columbus a visit, but that game -- the Little Giants against the New York Giants -- will do little to sway the doubters. 
Undoubtedly, it takes two to tango. There's little questioning that Ohio State's 23-year hiatus from scheduling the SEC was as much as the southern schools not wanting to step foot north of the Mason-Dixon line as it was OSU dodging high-caliber opponents. After all, OSU has taken on nearly all-comers recently; Miami, Texas, Southern California, to name a few.
But perception is reality. And Ohio State has now given the haters more ammo. Ohio State's noted troubles against the SEC in bowl games does nothing to aid the perception.
Financially, the Big Ten can and will go toe-to-toe with the SEC. In fact, B1G Commissioner Jim Delany said last month that by 2027, Big Ten teams will be pulling in well over $15 million each from the Big Ten Network alone. That's about as much as the ACC's total media compensation is expected to be with their new rights agreement with ESPN.
Some experts believe that the Big Ten will far surpass the SEC when their own tier-1 rights contract lapses with ABC/ESPN in 2015. 
On the ledger, I anticipate the Big Ten being able to have a conversation similar to the one Billionaire T. Boone Pickens had with rapper Drake on Twitter this week.
"The first million is the hardest," Drake tweeted to his nearly 7.5 million followers.
"The first billion is a helluva lot harder," the 84-year old oil tycoon, who inexplicably was following Drake, responded succinctly. 
The exchange is fitting in a way, because the two are about as diametrically different as the SEC and B1G. The SEC is the popular hip-hop artist with worldwide fame. The Big Ten is the old, conservative entreprenuer with little flash but a lot of substance.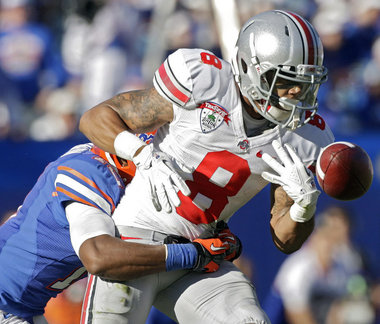 But as both interesting and meaningless as the rapper-philanthropist dichotomy is to dissect as a metaphor, on the football field the results have been totally different. It's more like Justin Bieber trying to go three rounds with Floyd Mayweather. 
It looks like Bieber is using the Pac-12 to dodge that bout.
There are many advantages to a scheduling partnership with the Pac-12. It creates additional exposure for the league west of the Rockies. It strengthens prospective rivalries and markets future Rose Bowl games. And, if you believe Delany is as shrewd as he is domineering, it might help nurture a landscape where the golden goose, Notre Dame, is gently nudged into conference affiliation. 
For as many strategical explanations as there is for the series, nothing would help Ohio State or other Big Ten schools as much as proving they are the man. The SEC, as pompous and sensationalized as it may be, has won six titles consecutively. The Big Ten cannot be seen as running away. And that's what Ohio State looks like it's doing here.
The Buckeyes are left with future matches against Oklahoma and North Carolina -- still a formidible slate -- but we know Biebs can go mano-y-mano with Joe Jonas. Until he can land a right hook from a heavyweight champ, comparing profit-loss statements will feel a little bit empty, even in such a witty, engaging 140-character environment as Twitter may be.
Some say the SEC became king by avoiding all-comers and insulating itself from other heavyweights. That might be true, but to quote another wrestling icon: "they've been to the top of the mountain, brother."
The ramifications of losing a game with Georgia goes well beyond the university. College football scheduling, quite honestly, sucks. Fans have to set their alarms to go off at the first of October because, frankly, the first four weeks are a snooze-fest. 
Few teams are willing to play other major-conference schools because no one can afford the loss. That's a product of the BCS system, yet we're supposed to believe the regular season means something. 
It will mean a lot more when teams aren't compelled to load their September slate with sacrificial Sun Belt schools. 
I hope Ohio State reverses course, though I doubt it. They could do itself, its conference and the entire college football landscape a favor by setting a precedent. Much will depend on what happens with the BCS and a possible four-team playoff this month as to how teams schedule going forward. Nonetheless, I'd rather OSU is part of the solution than part of the problem.
Bottom line is Ohio State hasn't beaten the man. They won't beat the man if they're unwilling to play him.