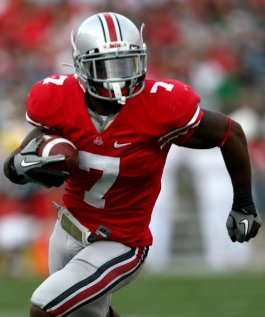 The release of Urban Meyer's first Ohio State depth chart drew lots of attention but unfortunately only tells part of the story.  The chart is simply too static to accurately capture some players' roles for the Buckeyes this fall.  Some coaches emphasize specialization.  Meyer is generally not such a coach.    
Meyer instead utilizes what I will call 'pivot players'--individuals who present a versatile skill set that can be put in a variety of positions to take advantage of their talents, confuse the defense's personnel responses, and allow the offense to present different looks with the same personnel in no-huddle situations.   This is perhaps best exemplified by Percy Harvin at the 'Percy position,' oscillating between the slot and backfield.
Ohio State does not have a generational talent like Harvin (nor do many teams).  Nonetheless, OSU does possess several players whose varied talents allow Meyer & Co. to increase the OSU's offense's versatility.  Assuming the below formation (pre-snap and motion) as OSU's base set, the Buckeyes can feature several players who can fulfill different roles.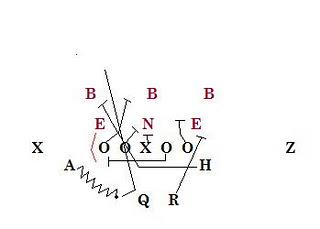 Jake Stoneburner:  Ever since his arrival on campus Stoneburner has exhibited potential versatility.  A tight end with a wide receiver's skills, Stoneburner will be a key player for OSU in one of two positions.  His primary placement will be as the TE in the 'H' position above in the slot, adjacent to the offensive tackle.  Stoneburner can also flex out, however, playing as the No. 2 WR (inside receiver) in three and four wide sets.  Not only does that allow OSU to feature one of their best receivers on the outside, it allows creates space for another one of OSU's pivot players below.
Zach Boren:  Boren inhibits the mirror role of Stoneburner.  Boren will also line up in same the TE slot position instead of Stoneburner.  Often, Boren will be used in this role when Stoneburner is flexed out.  Both Stoneburner or Boren are versatile enough, for example, to be utilized on the triple shovel option.  But while Stoneburner will move outside, Boren will move into the backfield, either as a fullback or halfback.  Indeed, Meyer has recently touted Boren's utility as a ball carrier, telegraphing that Boren will get the ball in a variety of ways this fall.
Jordan Hall:  Hall has perhaps gotten the most attention as one for the aforementioned Harvin role.  While it is unfair for Hall (or anyone) to be compared to Harvin, Hall nonetheless will work between the backfield and slot.  While he is the first string tailback and will primarily line up at that spot, Hall will also be utilized in the slot, either coming in motion in the backfield or filling the role as a slot wide receiver.   This allows Hall to be used on wide receiver screens and featured in space.   
Corey 'Philly' Brown:  Brown has not been as touted in a multi-faceted role as the three above, but spring practice nonetheless demonstrated that Brown will be utilized in both the backfield and the slot.  Like Stoneburner and Boren, Brown in many ways fills the mirror role of Hall.  Brown's primary position is in the slot.  However, he will often come in the motion demonstrated above, and run the option off of inside run action.  Brown has the speed and lateral quickness to fulfill this edge threat.
Thus, though OSU does not have one player like Harvin, they nonetheless have four players who can fulfill a variety of roles.  This will allow OSU, using the same personnel, to switch between 1 TE, 1 RB, 3 WR to 2 RB, to 5 wide, all while in no-huddle, and thereby stressing the defense.