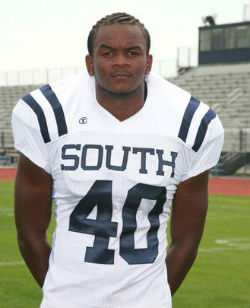 It is not uncommon for Ohio High School football stars to have grown up rooting for the Buckeyes. It is rare, however, to see top prospects from other states around the country growing up with a passion for Ohio State.
One of these rare cases comes in the form of 2014 Plainfield (IL) South LB Clifton Garrett. The 6-2.5/220 Garrett used to watch OSU on television while growing up and became a fan of the Buckeyes at a young age. That is paying off for Urban Meyer and the Buckeye coaching staff now that one of the nation's top linebackers in the class of 2014 is starting to get focused on his college recruitment.
While Garrett has just one offer in his pocket right now, things are starting to pick up from him. Some of the top programs in the Midwest have been checking up frequently on him and with the buzz surrounding him, it won't be surprising to see a nation wide pursuit of the Illinois star in the near future.
We caught up with Clifton to hear the latest on his recruitment, what his feelings on Ohio State are, what visits he has planned, and more. Join us after the jump to hear about a rising linebacker prospect on the Buckeye radar, Clifton Garrett.
How did your sophomore year go?
It went well. My team did OK with a 5-5 record, losing in the first round of the playoffs. Individually I had a good year with 78.5 tackles (5 for loss), 3 sacks, 3 forced fumbles, and 1 interception.
How is your recruitment going so far?
It's going pretty good. I have only one offer so far from Illinois, but I'm getting a lot of interest right now and other schools should be offering soon.
Who are some of those schools you are hearing from?
Ohio State, who I hope offers soon, Wisconsin, who is stopping by my school this week, and Notre Dame are really the three I am hearing from the most.
What are your feelings on Ohio State?
I grew up an Ohio State fan and watched all of their games on TV. It is a very good school and I like the coaching staff they have they and the program overall. The coaches are continuing to build a really good program there and they should be really successful moving forward.
What coaches from OSU are recruiting you?
Coach Vrabel is recruiting me. He stopped by two weeks ago and I got a chance to meet him in person. We talked about continuing to get good grades and about going to their camp. They seem to be really excited about seeing me come out there for camp in June.
When are you going to Columbus for camp?
I'll be there June 21-23. It's my first time visiting Ohio State. I'm excited to see the facilities, check out all of their trophies, meet the staff, see what the academic side of the school has to offer, and meet some of the other recruits that they're looking at.
Do you have any other visits or camps lined up?
All I have scheduled right now is to go to camp at Wisconsin and Illinois.
If Ohio State offers you where would they stand on your list?
I think that Ohio State would be pretty high up there at the top. I like Ohio State a lot.
When do you plan on making a college decision?
I am thinking right now I'll decide after my junior season most likely.
What are you looking for in the school of your choice?
Definitely academics. I think I want to study law and it will be important to have a good academic background as football may not work out forever. I also want a school with a staff I am comfortable with, a good environment on and off the field, and I'll be looking at the defense of each school and how it's run/how I fit in.
What are your strengths on the field? What do you need to improve on?
My strengths are my ability to attack the ball, my speed, especially my closing speed, and that I am a sure tackler. I want to improve on my lateral speed, getting even quicker to the ball, and my technique-squaring up and getting my hips more open.
HIGHLIGHTS: