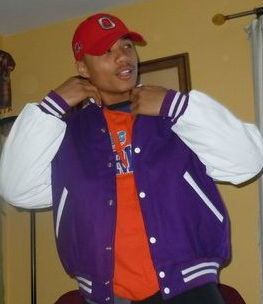 After looking at the quarterbacks and running backs, it's now time for the third installment of Forecasting 2013, as we take a look at some of the prospects at the wide receiver position that are getting a look from Ohio State.
It has been no secret to anyone who has heard Urban Meyer speak this spring that help is needed at the wide receiver position. While the number of receivers set to be on the roster this fall isn't an issue, it is the proven talent and play making ability of the players at the position that is making Meyer nervous moving forward.
While the players currently on the roster will have the chance to prove their worth in the new offense, the staff will certainly look to the class of 2013 to add some game changers that have the ability to alter the way opposing defenses think. Offensive Coordinator Tom Herman has spoken many times about wanting to have big vertical, down field plays and the recruitment of the position going forward will focus on players who can do just that.
Today, we take a look at the players on the board at wide receiver who have the potential to be Buckeyes when they sign on the dotted line in nine months or so. Join us after the jump to find out more about the current situation, including "who's in", "who's out", and "who's left" when it comes to wide receiver recruiting targets.
Who's In?
Looking at the roster when the 2013 prospects step on campus, the Buckeyes will have Chris Fields and Philly Brown as seniors, Devin Smith, Tyrone Williams, Evan Spencer, and Verlon Reed as juniors, and Mike Thomas, Frank Epitropoulos, and Ricquan Southward as sophomores (the former) or redshirt freshmen (the latter two).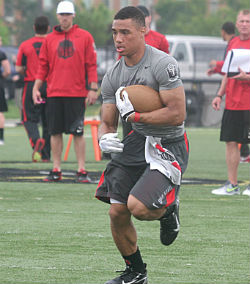 While those nine players make up a nice corps, the Bucks will look to add some play making talent to the group as previously mentioned and are off to a bang with their first and lone (for now) verbal in the class of 2013.
Middletown's Jalin Marshall committed to the Buckeyes back in January, becoming the second member of the class of 2013 at the time. A quarterback for the Middies, Marshall will get the opportunity to take some snaps behind center when he arrives in Columbus, but it's all but a foregone conclusion that his move out wide to receiver will happen fairly quickly.
Rated as a five-star prospect and the 15th overall player by 247 Sports, Marshall is expected to fill the "Percy Harvin role" in Meyer's offense. With legitimate 4.4 speed and great vision, Marshall will be utilized in a multitude of ways, including in the backfield, in the slot, and potentially, even under center in some sort of version of the wildcat offense. He has been donned with the nickname "Mr. Excitement", and it's not for no reason as you can see from his film below that he is a definite game breaker (especially at the 0:55 mark WOW).
The Buckeyes will definitely look to add at least two more players at receiver to compliment Marshall's skill set, but for now the Buckeyes have one of the best athletes they could possibly get at the position. The fact that Marshall speaks with the staff every week and has become a leader in the class by recruiting other players on OSU's board speaks volumes to what the staff is getting in this young man. It should be exciting to see what he does in Columbus over the next few years.
Who's Out?
It's becoming a common trend, but once again the good news for Buckeye fans is that so far the players the staff has "missed on" aren't back breakers for the program going forward.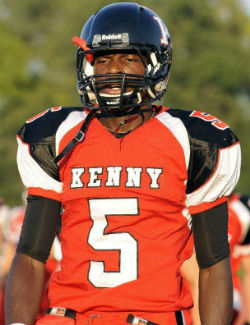 Players with offers that have committed elsewhere are Ahmad Fulwood of Jacksonville (FL) Bishop Kenny, Laquvionte Gonzalez of Cedar Hill, Texas, James Onwualu of Saint Paul (MN) Cretin Derham, and Jake Oliver of Dallas (TX) Jesuit.
Out of that list, Fulwood (Florida) was probably the player Ohio State had the best shot with, but he decided to end things early and become a Gator after previously stating he wanted to get out of the state for school. Gonzalez (Texas A&M), Onwualu (Notre Dame), and Oliver (Texas) all ended things pretty early as well, and the Buckeyes never really had a true shot to get into the mix with the three stand out receivers.
In addition to the names mentioned above, the Buckeyes didn't offer, but had their eye on two local products that have decided to go elsewhere. Those two players are Rob Wheelwright of Columbus Walnut Ridge and Jaron Dukes of Columbus Marion-Franklin.
Wheelright (Wisconsin) flirted with the Ohio State staff for a while, even taking in the Spring Game as early as a few weeks ago. His recruitment ended soon after when the Buckeyes didn't offer and Rob took a visit to Madison the following week, committing to Bret Bielema and the Badgers.
Dukes (Michigan) also had some contact with the Buckeye coaches, but he too didn't receive an OSU offer and took his big frame (6-4/200) up north, committing to Brady Hoke and the Wolverines back in February.
All in all, the Buckeyes haven't lost much in who they've missed on thus far, leaving a plethora of talent on the table to claim the open receiver spots left in the class.
Who's Left?
With so few prospects in the "out" category, the opportunity is there for the Buckeyes to take advantage in landing a couple of top prospects from a large pool of players.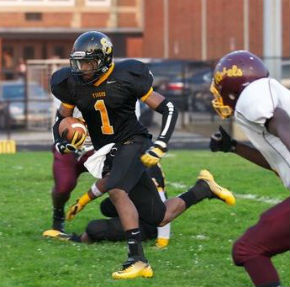 The first category of players we will look at includes players that both have high interest in the Buckeyes, with that interest being reciprocated, meaning there is a very realistic chance that a player or two from this group ends up in Columbus. These players include Shelton Gibson of Cleveland Heights, Laquon Treadwell of Crete (IL) Monee, and James Quick of Louisville (KY) Trinity.
Gibson has long been down to Auburn and Ohio State, but with time it has become more clear the the Buckeyes are the leader. While it has been rumored he is a silent commit to OSU, Gibson will make things official on June 20 when he makes his college decision public on his mom's birthday. I fully expect this announcement to be for the Bucks and will be shocked if it is for anywhere else.
Treadwell took his first visit to Ohio State this spring and really enjoyed his time there. The Buckeyes definitely had some catching up to do as programs like Michigan had a bit of a head start, but the good news for Urban Meyer and Zach Smith is that Treadwell is going to wait some time before making a decision. I don't see this one ending in favor of OSU, but you better believe they are going to fight till the end for Treadwell's services.
Quick was just on campus for the first time as well, taking in the Spring Game in late April. The word coming out of that trip is that Quick has the Buckeyes at the top of his list along with home town Louisville and this is likely to be a student-teacher battle with Charlie Strong and Meyer going heads up. Quick keeps quiet on his recruitment so we're not exactly sure when this one will be over, but you have to like Ohio State's chances as things stand today.
In addition to those three prospects, there are a number of other players high on the board that the coaching staff has extended offers to. These players include Robert Foster of Monaca (PA) Central Valley, Marquez North of Charlotte (NC) Mallard Creek, Devon Allen of Phoenix (AZ) Brophy College Prep, Uriah LeMay of Matthews (NC) Butler, and Demorea Stringfellow of Moreno Valley (CA) Rancho Verde..
Foster to Ohio State was all but dead until last week when Bill Kurelic of Bucknuts reported the flame may have been rekindled. The story here is that the Bucks lead for Foster, but when he came back for his second unofficial visit, something happened on the trip that caused the Buckeyes (as well as Michigan) to "pull his scholarship". Apparently the Foster camp has been working hard to get him back into the picture when it comes to OSU, and according to Kurelic it may be working. This is definitely one to keep an eye on, as if all things off the field can be worked out, the Bucks may end up with the nation's top receiver.
North claims Ohio State is in his top five despite never visiting the school, obviously a good sign. He is trying to get out to Columbus this summer and we should know more where things stand both with him and the receiver position in this class then. Everett Withers is recruiting North and has a good relationship with him from his time at UNC, but as of now I think either North decides to go elsewhere or the Buckeyes fill the position up before things get serious here.
Allen has ties to Ohio State, as his father went to high school in Columbus and played baseball for the Buckeyes. This prospect has made some serious waves on the track scene this spring, breaking state records and displaying blazing speed. He wants to get out to the Midwest to visit OSU, Michigan, Notre Dame and some other schools this summer, so this recruitment is kind of in wait and see mode before anything can be analyzed.
LeMay recently narrowed down his list of over 30 offers to 10 and OSU made the cut. He is expected to get that list down to five in the next month or so, but it not known whether the Buckeyes are secure here. I have always thought LeMay was a "Plan B" of sorts if the prospects mentioned above didn't shake out and still feel that way. I think he'll stay somewhere in the south, as Ohio State is the outlier in his top 10, being the only school north of the Mason-Dixon Line.
Stringfellow is a new player to be offered by the Buckeyes and received a scholarship after Tom Herman went out to California to see him work out last week. At 6-2/185 he has good size and play making ability to garner an offer list of some top programs around the nation. The Bucks are a little late to the party with Stringfellow, but he has mentioned he loves the OSU offense under Meyer/Herman and there is plenty of time left to get into the race as a decision isn't expected until after his senior season.
Finally the last group of prospects on the watch list includes players that are considered more of a long shot to end up in the class. This list includes players that have offers in Richard Benjamin of Tampa Bay (FL) Tech, Jordan Cunningham of Fort Lauderdale (FL) University School, Ra'Shaad Samples of Dallas (TX) Skyline, and Michael Parker of Nokesville (VA) Kettel Run. It also includes a group that has not been offered but is on the staff's board, such as Akron Fireston's Kevin Gladney, Cleveland Heights' DeNiro Laster, Westerville South's Garry Brown, Harvest Prep's Zach Yousey, South Bend (IN) Clay's Wes Thomas, and Corey Smith of East Mississippi CC (formerly of Akron Buchtel).
In short, I think the Bucks are looking good with Shelton Gibson as of now and if they can land one or two more players out of Quick, Treadwell, Foster, Allen, and North they will have a very successful year recruiting wide receivers. As of now, I don't see any players in the last group becoming Buckeyes, but keep an eye out for Corey Smith once his grades from this year come in, as well as a potential visit from Jordan Cunningham. All in all this should be a great group when it's all said and done and Urban Meyer should get a few play makers that he's looking for to add to Jalin Marshall.