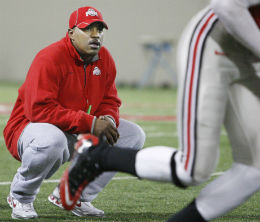 Last week we took a look at what class of 2013 quarterbacks could end up in Scarlet and Gray come next February, and now in the second installment of Forecasting 2013, we look at the prospects Ohio State is targeting to man the backfield in the future.
The current junior class is strong nationally when it comes to running backs, which bodes well for Urban Meyer and Stan Drayton as they look for two quality players at the position.
It was always thought the Bucks would be in the market for one "speed" back and one "power" back in this year's recruiting class, and the good news for fans is the former is already taken care of. The search for the power back is still in the works, and today we walk you through who could possibly be in line to fill the void.
Join us after the jump to get a glimpse at some of the top high school running back prospects that are on the OSU radar. Once again we take a look at "who's in", "who's out", and "who's left", and hopefully you learn a thing or two in the latest edition of our summer series "Forecasting 2013".
Who's In?
Taking one look at Ohio State's running back situation and you may question why there is even a need to add one running back in 2013, let alone two. Once the 2013 prospects arrive on campus, Carlos Hyde will be a senior, Rod Smith will be a redshirt junior, Bri'onte Dunn will be a sophomore, and Warren Ball will be either a sophomore or redshirt freshman.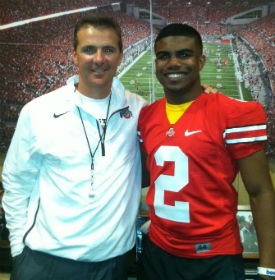 That being said, Urban Meyer is always looking for play makers and those types of athletes usually come in the form of running backs or wide receivers, thus the need to add to an already talented crop of players.
The first prospect to raise his hand and come on board the Buckeye Train was Ezekiel Elliott of John Burroughs High School in St. Louis, Missouri.
The nation's ninth ranked running back according to Scout, Elliott fills the void at the "speed" back position. With an ability to make plays lining up in the I-formation or in the slot, Elliott brings the versatility to the offense that both Tom Herman and Urban love to use in stretching opposing defenses both vertically and horizontally. Last season for Burroughs he rushed for over 1,800 yards on just over 200 carries and 34 touchdowns, while also catching around 20 passes for 400 yards and scores (not to mention his two return touchdowns), so you can see the talent and big time play making skills are there.
Right now, as the situation currently sits, the Buckeyes could close out their 2013 recruiting class at running back and be perfectly fine with Elliott as the lone ranger in the fold. Of course, satisfactory isn't enough when it comes to Urban Meyer, and the Buckeyes backfield could become even more of a potent weapon when a back with a complimentary skill set is paired with the St. Louis native.
Who's Out?
There were many committable and non-committable offers out to running backs across the nation, and while it's hard to track down which offers were legitimate or not, it's not that hard to see who will not be playing their college football in Columbus.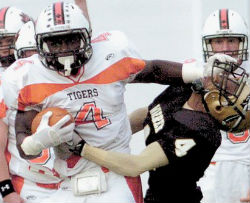 Players that claim offers from Ohio State that have committed elsewhere include DeVeon Smith of Warren Howland, Adam Lane of Winter Haven (FL) Senior High School, Keyante Green of McDonough (GA) Eagles Landing Christian Academy, Johnny Jefferson of Killeen (TX) Shoemaker, and Greg Bryant of Delray Beach (FL) American Heritage School.
From various information I have gathered, it seems that Adam Lane (Florida), DeVeon Smith (Michigan), and Greg Bryant (Oklahoma) were the three players on this list that probably had committable offers and were prospects Urban targeted and wanted. Green (UCLA) and Jefferson (Baylor) were likely players that needed to come to camp or be seen in person to get extended a committable offer, but they have decided to go in other directions.
Looking at this group as it stands today, you have to feel good about who the Bucks have "missed on" thus far. There are certainly going to be some big time names added to this list as the recruiting circuit shuffles out, but right now there aren't too many players off the board that were "must gets".
Who's Left?
As mentioned above, the good news is that there are plenty of prospects still remaining on the board for Ohio State to go after and pair with Ezekiel Elliott.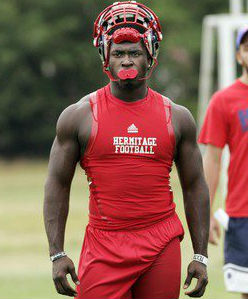 The players remaining with scholarship offers from the Buckeyes are Joliet (IL) Catholic Academy's Ty Isaac, Derrick Green of Richmond (VA) Hermitage, David Williams of Philadelphia (PA) Imhotep Institute Charter, Ryan Green of Saint Petersburg (FL) Catholic, Taquan Mizzell of Virginia Beach (VA) Bayside, Corey Clement of Glassboro, New Jersey, TJ Logan of Greensboro (NC) Northern Guilford, Corn Elder of Nashville (TN) Ensworth, and Dontre Wilson of DeSoto, Texas.
Starting with the players I think are long shots, I'd have to say I'd be very surprised if Isaac, Williams, Ryan Green, Mizzell, and Logan became Buckeyes. It appears Isaac is headed to USC, Notre Dame, or Michigan, Williams is thought to favor Penn State, Green has Florida, Florida State, and Notre Dame at the top, Mizzell is likely to stay in the Atlantic Region, and Logan hasn't had too much buzz regarding Ohio State surround him lately.
On the flip side, the prospects to keep an eye out for are Derrick Green, Clement, Elder, and Wilson. While Green is the only one of these players I truly see as a very realistic possibility, Clement has expressed over and over again that he is very interested in the Buckeyes, Elder is a newer offer and could be a sleeper candidate if Urban can get him on campus, while Wilson came out of nowhere to tell Marc Givler that he has OSU in his final two along with Oregon. In sum, while Green has wavered having Ohio State at the top, the Bucks have been recruiting him hard lately and I still think there's a great chance he ends up in Scarlet and Gray.
Finally, some prospects who are on the radar, but do not currently have offers include William Houston of Dublin Scioto, Aregeros Turner of Copley, Mark Dodson of Memphis (TN) Whitehaven, Khalid Thomas of Tallahassee (FL) Godby, and AJ Turman of Orlando (FL) Boone.
Dodson is the cream of the crop in this group and word is he is favoring Ole Miss right now. Ohio State has not offered yet, but it's not because of talent, so there must be some academic issues, or something of the sort that the coaches want to see first before offering.
The Ohio boys, Houston and Turner, are both solid players who have been in contact with the Buckeyes. Houston was at the Spring Game, but in my opinion he is far down on the list of targets and I see him ending up at a MAC school or lower level Big Ten school. Turner is an interesting prospect as he is a superb athlete who could play in the slot, but the commitment of Elliott may have ended his pipe dream of being a Buckeye. I could definitely see him landing somewhere like an Illinois, Tennessee, or Cincinnati.
As for Thomas and Turman, they both claim OSU offers, but I am 99% these are non-committable. Thomas has said he plans to get up to Columbus for Friday Night Lights in July, so we will learn more about his situation then. There is not much out there on Turman, but he does claim offers from some other good programs such as Wisconsin, Florida State, and Tennessee. I don't see either player as a Buckeye when it's all said and done.
Overall, the list of prospects still out there is pretty strong and as summer camp rolls along there will be more names added to the bucket. I think Ohio State can afford to be picky with the depth on the roster and Elliott already on board, so don't look for the staff to reach at all here. If I had to guess today I'd say the best bet of this list to end up in Columbus would be Derrick Green, as it seems if the coaches can show him enough love and that he is truly wanted, that OSU will win out over Clemson and the other suitors in pursuit.