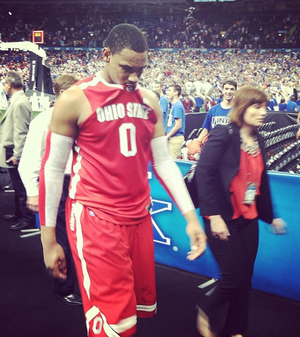 Attention: we interrupt your regularly scheduled Urban mania to talk a little Ohio State basketball. Coming off the school's eleventh Final Four appearance and the departure of expected NBA lottery selection Jared Sullinger, there's quite a bit to ponder.
It's good news/bad news for the Buckeyes in 2012-13. The good news is that OSU returns seven players from its rotation a year ago, including six freshmen and sophomores. The bad news it that the Buckeyes must replace William Buford, Sullinger and his bulldozer of a rear end. 
Sullinger's hiney, both the unstoppable force and immovable object, led Occupy Lane Avenue for the past two years, averaging 17 points and nearly 10 rebounds per game. He was the Buckeyes' 99 percent. Without his booty manning the paint next year, many pundits will have a bit of trepidation toward the No. 3-ranked Buckeyes.
But, every cloud has a silver lining.
OSU received some uplifting news in early April when sophomore DeShaun Thomas announced he was returning to Ohio State for his junior season. Thomas, who averaged 15.9 points and 5.4 rebounds per game this year, could wind up as the Buckeyes' loss leader this year in easing the burden for guards Aaron Craft, Lenzelle Smith, Jr., Shannon Scott, Sam Thompson and LaQuinton Ross. Thomas also elicits memories of Evan Turner, who stepped up as an impact player late his sophomore year and carried over his production to the following year where he wound up the Naismith Player of the Year.
With Thomas returning, the biggest question mark will be former burger boy Amir Williams. The 6-11 sophomore, who's arms seemingly stretch all the way to hometown Detroit, had a team-high 1.84 points per personal possession last season in limited action. Williams, though, is known for his shot-blocking and potential overall defensive presence.
The other pressing question: where will the perimeter scoring come from? Perhaps Craft can say a little prayer to help them in that department. 
Craft stepped up his own game this past year. As a freshman, he averaged 1.42 points per shot. This season, he improved to 1.5 points per shot. Like Craft, Smith flourished this year in his first season as a starter. He went from 1.2 points per shot last season in limited action to 1.42 PPS this season. In their third seasons, it's a good bet that Thomas, Craft and Smith will be dependable scorers for Ohio State. 
Just based on this past season, one might predict doom and gloom for expecting anyone else to emerge. After all, few defenders could guard Scott this past year, but the backboard was quite the impediment with several unwieldly clanks, even from point-blank range. Meanwhile, there's not a gymnasium on earth that can hold Thompson's high-flying antics. Dr. J has nothing on his leaping ability. But Thompson, like Scott, hasn't been the most proficient of shooters. Ross, a 6-8 sophomore from Jackson, Miss., has the most polished offensive game and is most likely capable of stepping up as an immediate scoring option, though Ohio State will lose a bit of defense with him in the game.
The most recent Buckeye addition, 6-4 Amedeo Della Valle, will be most likely to replace the transferring Jordan Sibert as so-called sharpshooter. Della Valle shot 53 percent from 3-point range this past season at Findlay Prep in Henderson, Nev., the nation's No. 1-rated team. A native of Alba, Italy, Della Valle has been in the states for only about a year and has not received a ton of exposure to the scouting services due to a lack of AAU participation. The knock on Della Valle is his defensive mechanics, as he reportedly doesn't move his feet very well or get low in a defensive stance. 
Athletically, Ohio State will be as good as it's ever been this season. OSU finished No. 2 in America in adjusted defensive efficiency, according to KenPom.com. With Sullinger being replaced with Williams and Thompson grabbing more of Buford's minutes, the Buckeyes will be longer, quicker and even tougher defensively. The pick-and-roll was OSU's kryptonite this past season with Sullinger in the game. Where the Buckeyes will likely lose some efficiency on the offensive end, they might gain most if not all of those points back on hidden plays defensively thanks to blocked and altered shots inside. 
But don't write OSU's offensive obituary just yet. 
Under Thad Matta, there has been one impressive trend develop. Thus far, 11 of the 12 freshmen that continued their eligibility as sophomores actually improved their PPS the following season. Interestingly, Sullinger is the only one who decreased (1.55 to 1.47). Of course, Sullinger had to battle more and more double-teams inside without Jon Diebler and David Lighty for opposing teams to fear on the perimeter. Of the 11 players that improved, they collectively averaged almost 0.17 PPS from their first to second season. 
This is especially good news for Thompson. His 1.17 PPS this past season was actually better than the departing Buford (1.16 PPS). Extrapolated to Buford's 34 minutes per game, Thompson actually averaged fewer turnovers per game and nearly as many assists. Emergence from Thompson and/or Ross would suddenly put the Buckeyes back in the neighborhood of their 117 offensive rating last season (No. 7 in the country), assuming only minimal improvement from Craft and Smith. And Scott's 0.6 PPS has nowhere to go but up off the bench. 
ESPN's post-draft deadline rankings have Ohio State No. 8 for next season. The Buckeyes are behind Indiana (No. 1) and Michigan (5) in the Big Ten, while ahead of Michigan State (9), Wisconsin (22) and Minnesota (25). The league, which could also see Purdue, Iowa, Illinois, Northwestern and Penn State play role of spoilers, figures to be easily the best in the nation next season. Though no one expects Ohio State to improve on the 31-8 record and another Final Four appearance, there's precedent for such an improvement.
First and foremost, expected winning percentage (known as the Pythagorean expectation), is based on defensive and offensive efficiency. The formula favors defensive teams. That is to say if two teams had an identical points scored/points allowed differential, the team giving up fewer points but scoring fewer would be expected to win more games. OSU will likely be the best defensive team in America next season, so any improvement by leaps and bounds will make them a potential juggernaut. 
In 2005, Connecticut finished the season 23-8 and lost Charlie Villanueva to the No. 7-overall pick in the draft. Thanks to improvements on the perimeter from Rashad Anderson and Denham Brown, the Huskies emerged the next season as the best team in the country and finished with a 30-4 record before losing to mid-major sweethearts, George Mason. Of course, UCONN's frontline of Rudy Gay, Hilton Armstrong and Josh Boone turned out to be hella good, but I digress.
Texas is another one that improved without a star. With sensational Kevin Durant and point guard D.J. Augustin, the Longhorns somehow managed a paltry 25-10 record and bowed-out of the NCAA Tournament in the second round (now called third round if you want to be technical). But without Durant's heartwarming defense, and a starting lineup consisting of players from their previous year's rotation, Texas actually improved to 31-7 before losing in the Elite Eight.
The best example, though, might have been Ohio State's foe, Wisconsin, who had a similar story in 2007. The Badgers went 30-6 behind controversial Big Ten Player of the Year, Alando Tucker. The Badgers wound up losing Tucker, the No. 29-overall pick in the draft, and 13-point scorer Kammron Taylor. Despite having mostly the same rotation the following season, Wisconsin wound up improving to 31-5 thanks to a defensive efficiency of 82.8, which is the second-best mark in 10 years Pomeroy has tracked the statistic. 
It's unmistakable that Ohio State's best friend this summer will be the 8000 series gun. If Ohio State can get 40 percent from behind-the-arc out of one or two of Craft, Smith, Thomas or Della Valle, the Buckeyes' offense should open up enough to be respectable. The defense will keep them in games, but the ceiling will be as high as the shooting takes them (provided Thompson doesn't blow the roof off).
The schedule will have plenty of landmines too. In addition to the bearish conference slate, the Buckeyes will host Kansas in a return from this past year's trip to Allen Fieldhouse; they'll head to Massachusetts for the Hall of Fame Tip-Off Classic where they'll meet Rhode Island in the first game, and either Seton Hall or Washington in the second; and according to the Twitter account of Mark Watson, publisher of Blue Devil Nation, the Buckeyes will indeed make their first trip to Cameron Indoor Arena in school history for the Big Ten-ACC Challenge. 
B1g deal
This past season, the Big Ten was arguably the best league in America. Though only six teams wound up making the NCAA Tournament, four of them advanced to the second weekend with Purdue having the heimlich maneuver performed on them against Kansas. With Thomas, Trey Burke, Christian Watford, Cody Zeller, Trevor Mbawkwe all returning, the conference is in for a renaissance not seen since the early 1990's.
Indiana is everyone's preseason No. 1 team next year. With four returning starters and the No. 6-overall recruiting class according to Scout.com, the Hoosiers are hoping to follow-up their Sweet 16 with their first B1G title in 10 years. The race for the 'on-paper' runner-up, though, is wide-open.
Depending on who you ask, Michigan, Michigan State, Minnesota, Ohio State and even Purdue get mentioned for the elusive consensus. I decided I wanted to find out, unscientifically, how the rankings look by way of talent. 
For each Big Ten team, I simply looked at the two-deep roster for this upcoming season. Using both Scout and Rivals' positional rankings, I averaged each team's starters and bench to find an average positional ranking of the top 10 players. I weighted the starters as receiving 75 percent of the minutes with the reserves getting 25 percent. Here is how the weighted average ranking stacked up the teams next season:
| | | |
| --- | --- | --- |
| 1. | Michigan State | 14.0 |
| 2. | Ohio State | 19.5 |
| 3. | Indiana | 22.2 |
| 4. | Illinois | 22.8 |
| 5. | Purdue | 24.6 |
| 6. | Michigan | 25.8 |
| 7. | Wisconsin | 30.6 |
| 8. | Minnesota | 32.2 |
| 9. | Iowa | 37.3 |
| 10. | Northwestern | 37.9 |
| 11. | Penn State | 39.3 |
| 12. | Nebraska | 40.0 |
It goes without saying that in practical terms, these ratings aren't totally indicative of the current talent levels. Illinois, for instance, had a bunch of players underachieve and got Bruce Weber canned. Depth will be a huge issue for Illinois, in fact, as they don't even have a back-up scholarship point guard. Wisconsin, on the other hand, is notorious for developing players far beyond their star rankings. Nonetheless, it goes to show that it's not who you lose, but who you have returning. 
The B1G is shaping up to be quite the bloodbath. 
futures game
Until last week, it seemed like an eternity since Ohio State's last commitment. With the roster set for this fall, recruiting the 2013 class will become a priority.
The Buckeyes have feelers out for no fewer than 30 prospects for next year's crop. Already with Toledo St. John's senior-to-be Marc Loving in the fold, OSU has four remaining scholarships to play with assuming Thomas turns pro after this season. Loving is a 6-7 forward ranked by Scout as the No. 7-overall player at his position.
Sometime later this month, Ohio State plans on hosting Mississippi State freshman, Rodney Hood. A former 5-star player out of high school, Hood averaged 10.3 points and 4.8 rebounds this past season for the Bulldogs. Hood is transferring to get away from one of the most dysfunctional programs in America, thanks to scholars such as Renardo Sydney who's hobbies include dieting and anger management courses. Ohio State is likely one of three teams involved with Hood, along with Duke and Florida State. The Seminoles were hot after Hood the first time around. He would have to sit out this season and be eligible in the fall of 2013 as a sophomore.
While Hood would be a luxury, and one the Buckeyes reportedly have a good shot at landing, the biggest priority this summer will be going after a post player. Among the candidates are Ohio native Maverick Morgan, DeMatha Catholic High School star BeeJay Anya and the recently offered Austin Nichols. Anya is the top-rated center in America and has been listing Ohio State prominently for the last few months along with in-state Maryland. Anya is 6-9, 255 with a stunning 7-foot-9 winspan. As you can probably imagine, he's a pretty good shot-blocker with those limbs. 
OSU is still chasing pie-in-the-sky candidates Jabari Parker and Julius Randle, arguably the top two players in the country, but the more intriguing target is wishy-washy power forward Chris Walker. The 6-10 Walker of Bonifay, Fla., has had Ohio State as a leader, off his list entirely, back on his list, at the top of the list and just 'in the mix.' Currently, OSU, Kansas, Kentucky and Florida are thought to be the primary contenders for the services of the No. 3-rated PF by Scout. Walker is a professed LeBron James fan, and gained some notoriety last fall when ESPN reported James may have been pushing Walker slightly toward the Buckeyes upon seeking LeBron's advice. Walker's athleticism makes him one of the better pro prospects in the entire class.
The Buckeyes are chasing several backcourt options. 
While OSU is involved with 6-4 guard Allerik Freeman, the Charlotte native might be hard to get away from Duke. Troy, Mich., star James Young, a 6-6 forward, just yesterday named Kansas, Kentucky and Ohio State as his leaders in an ESPN Insider interview with Dave Telep. Though the Buckeyes haven't offered a scholarship, they also continue to watch Garfield Heights' Tony Farmer. 
With Freeman, Hood, Young, Walker and Anya all having OSU among their top three schools at this point in time, the Buckeyes could wind up with a killer class. Still a long way to go for most of them.