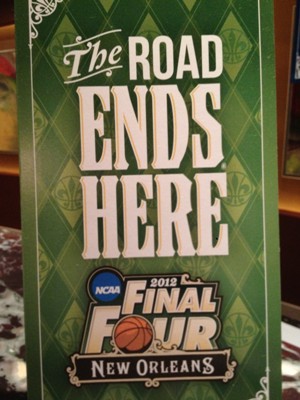 Last week I attended to some very important non-11W business in New Orleans (this is 100% true).
I had absolutely no idea when I made those arrangements that my visit would conveniently coincide with the city's Final Four festivities (this is 100% false - business travel shouldn't always have to be cumbersome).
Final Four week, for those who have experienced the buildup prior to the buildup, arrives in the opposite fashion that the famed simile of March does: It comes in like a lamb and goes out like a lion.
Immediately upon arriving at the New Orleans airport I was handed branded Final Four Mardi Gras beads in the terminal by one volunteer who was openly being coached on how do do so by, assumedly, another volunteer.
You represent the city. Smile. One at a time. Welcome to New Orleans. Repeat that a few times and you've got Bead Distribution 101 mastered.
I realized, once I saw other bead distributors, tertiary Final Four event producers and labor as well as airport personnel also being openly coached by their superiors that I had stumbled upon the dry run. It was only Wednesday morning. They weren't expecting actual fans until that afternoon.
The commercialization of the best postseason in college sports is equal parts nostalgia and hype. In 20 years we'll romanticize this tournament the way we look back at short shorts, high-top fades & C+C Music Factory Make You Sweat court entry anthems. The logo is constructed out of Big Easy schmaltz to look classic, dated and fresh simultaneously.
I've long lost count of the number of time I've been here. Fifteen years ago I stood in the endzone of the Superdome for three straight days working a technology trade show. I can tell you with great detail what the roughest side of the Orleans Parish Prison looks like. SPOILER: It's horrendous.
Between Mardi Gras road trips (eight?) Jazz Fests (more than that?) bowl games (two) work trips (couple dozen?) and bachelor parties (REDACTED) my Big Easy canvas was mostly painted so I knew what to expect: Expert event planning. Non-stop partying. Magnificent food. Filth on top of feculence wrapped in sewage. Festive sewage.
I took some notes and a few pictures and then got so caught up in the city's joviality that I practically forgot Ohio State was here (this is 100% false).
death is peaceful | life is harder
Of course, half of the Final Four's participants don't get to stay until the end of the festival. Four teams; two of whom leave winless and only one that leaves immortal.
It's that third school - the one that wins one game but then loses the ring - that might have the cruelest fate at the end. Ohio State's players watched last night's championship on television, just like you did - but they played on that commemorative floor hours earlier.
The Buckeye fans that refused to resell their tickets to those postmortem title festivities were all that remained of Ohio State there, along with the unsold branded merchandise which will now be marked down to a fraction of what it sold for last week.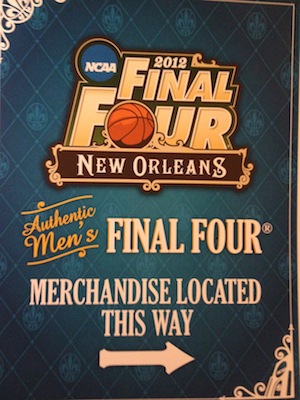 Kansas - and its fans, who were already out in full force last Wednesday - were shackled to the city through Monday. That's the funny thing about the Final Four; you're never quite sure how long you're going to be there. Every year some fans of the victorious check out on Sunday because they have to work.
Those fans don't exist in Kentucky. Basketball trumps real life in Lexington.
The city's hotels were at capacity on Wednesday night, according to the manager I spoke to at the Marriott, where several teams were staying - several because I saw coaches from schools ranging from Southern Illinois to Georgia Southern on their cell phones in the lobby.
When you're in the business, your business is the Final Four - even if you're not on the agenda.
Another thing not on the agenda: Name sponsors. The Final Four is just The Final Four. No insurance companies or dot-coms sully this naming convention. Yet.
And that tradition was entirely organic: Ed Chay of the Cleveland Plain Dealer first used the term Final Four in a 1975 newspaper article. A few years later the NCAA started using Final Four and then eventually bought the trademark. Brent Musberger is credited with coining the phrase March Madness which the NCAA now also owns.
Neither are likely ever going to be for sale, but that's because everything else associated with the tournament and its final stage already is (this is 100% true).
Corporations can snap up everything except for naming rights. They can even use the likenesses of players whose eligibility is exhausting this month while paying them as much as I paid for those beads at the airport. Isn't that nice for the free market.
Also a free market victory: My $175 room rate at the Marriott on Wednesday tripled on Thursday, and it would stay at that rate through the weekend in matching what I paid across the street at the JW Marriott back in 2008 to watch Ohio State allow LSU to go on a 31-0 run in the middle of the BCS title game and no I'm not still bitter about that at all (this, sadly, is 100% true).
The market for rooms would open up on Sunday when some Buckeyes, Cardinals - and perhaps a few Jayhawks (but absolutely no Wildcats) decided to cut their visits short. Eventually you have to go back home.
Rue Bourbon: La promenade
[Obligatory comment about New Orleans being much more than Bourbon Street and the French Quarter. Good, now that's out of the way.]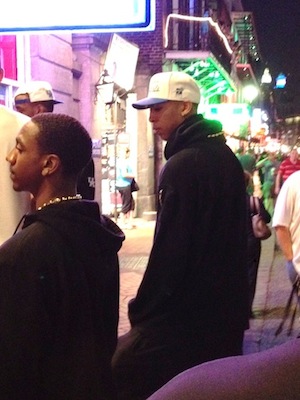 Bourbon Street is a smorgasbord of pornography, snacks, souvenirs and drinking. In warmer months the sewage and horse apples from the equestrian police force bake on the street, mixing with vomit and alcohol to create an odor all of its own.
It was pleasantly cool this time around and only sparsely crowded; Final Four tourists along with nurses and hospital administrators attending the AORN conference that was also in town - that I was not attending, but huge kudos to AORN for its skills in crashing the Final Four.
The clientele was tamer and generally more responsible than it is for the music and debauchery festivals I've seen in the past. The crowds still appear to be a fraction of what they were prior to August of 2005, even during the Final Four.
The economy isn't all the way back yet, and neither is New Orleans. Both took some pretty devastating shots, as you've probably read.
Usually when you see throngs of people on Bourbon Street running to a spot it's because a friendly female is performing spontaneous exhibition exercises. During Final Four week in New Orleans that usually isn't the case.
As you might imagine you didn't have to get up on the curb to see what the crowds were flocking to see: Basketball players. Newsflash - they're generally much taller than everyone else.
you're anonymous | Everyone else looks familiar
It would have been difficult to go to the Final Four - even early on in the week - and not see at least one recognizable face.
I saw Archie Manning in one of the restaurants during the trip. Unlike the visiting athletes during the week its the locals who fawned over and flocked to him, despite being one of their own.
The players from all of the teams walked up and down the streets of the French Quarter, passively taking in the environment while constantly reminding themselves, business trip, business trip, business trip (this is 100% true. Maybe).
College basketball coaches were everywhere; assistants as well as program stewards. I sat across from Jim Boeheim on my connecting flight from Charlotte. Appropriately, the coach sat in coach. (If you're wondering how those hours passed, this is what he had his face buried in throughout the flight, and yes - it does feel creepy to share that).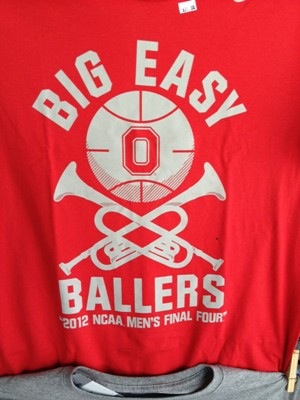 There were men in basketball warmups over 6"5 dotted throughout my plane, all around the hotel and walking throughout the city on Wednesday, just prior to all of that final madness descending on the Big Easy.
If you enjoy feeling shorter than seemingly everyone else in a major city, do yourself a favor and head to Atlanta next year on the Wednesday before Final Four weekend when the college basketball industry and insiders are invading town for their meetups.
It will be your own personal Eden, if the garden also came equipped with endless mile-wide freeways.
The bELLY RULES THE MIND
The Final Four is a traveling tradition, sort of like the BCS title game except for ha ha totally kidding it's nothing like the BCS title game.
Last year the culmination of the tournament was held at Reliant Stadium in Houston, which like the Superdome is a football venue. The area surrounding the stadium is not comparable to the Big Easy, but that's partially because nothing really is.
The year before last it was in Indianapolis, whose downtown seems to have been constructed specifically to expertly host landmark events like the Final Four and more recently, the Super Bowl. It is a terrific host city, despite rivaling Orlando in forced authenticity.
Recent history is littered with new stadium showcases and current parking lots: Reliant Stadium, Lucas Oil Stadium and Ford Field were all born this century. The RCA Dome - host just six years ago - doesn't exist anymore. Neither do the Kingdome or McNichols Sports Arena, which are now paved Final Four graveyards.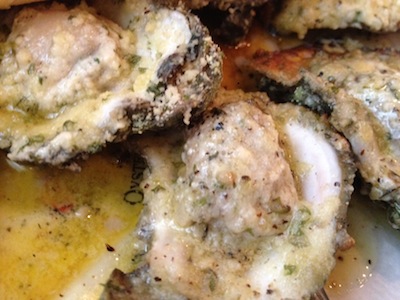 In two years the Final Four will be held at Jerryworld, which is roughly the size of Ohio Stadium. You could safely put that venue in the New Stadium Showcase category.
Kansas City has hosted the most Final Fours, but only one since 1955. It dominated the innocent years of the tournament that were ignorant to the possibilities of capitalism on the back of amateur athletics.
New Orleans falls into a column of its own; perhaps the only venue in Final Four history that has the charisma to overshadow the event for those that attend. It's gotten at least one per decade over the past four.
Only Indy in the heart of basketball's Bible Belt and the NCAA's headquarters - hooray, transportation cost savings! - has matched that hosting consistency, which speaks to the Big Easy's power as a draw.
Part of that draw is the food: You can get a steak dinner anywhere, along with whatever the local signature must-have happens to be. Getting through that culinary labyrinth in New Orleans might take you a week - if you're ambitious enough.
It's taken me the better part of two decades to check off the majority of a NOLA food bucket list that seems to keep on growing, in part because I always find myself back revisiting old favorites.
This time around, I was able to check off one new stop: Drago's in Metarie, which my NOLA cab driver flippantly told me "eez zee only reason to go to Metarie." I had their famous chargrilled oysters, which were as memorable as any local signature must-have. No chest pains; just a very satisfied palate.
Product, Price, Place & Promotion
Good morning, 25-foot William Buford: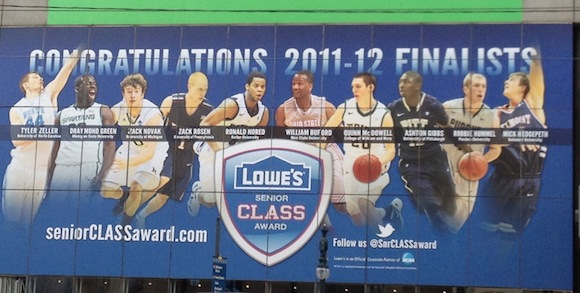 For an organization that has problems with so-called amateurs capitalizing on their own likenesses (remember - you cannot sell you own belonging, student-athlete) the NCAA sure has no problem selling those likenesses to its corporate partners.
One of the perks for four-year players like Robbie Hummel and William Buford beyond the fruits of their academic endeavors is being used to promote a hardware store brand under the guise of an award.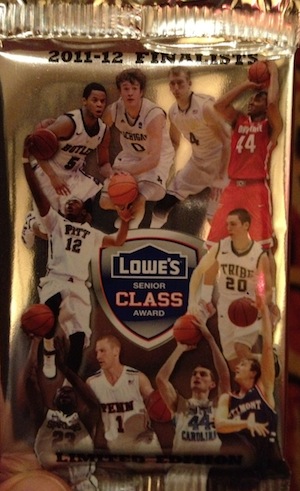 At risk of sounding skeptical, the "Senior Class Award" smells a lot more like an opportunity for agents of Lowe's to run around the city passing out Lowe's propaganda wrapped in the Trojan horse of unpaid senior basketball players than it is recognition for student-athletes, which in an of itself is an artificial and manufactured descriptor.
On three separate occasions a pack of collector's edition player cards were thrust into my hands without solicitation. Either Lowe's was curiously evangelical about spreading the virtue of the four-year player/high-performance contributor, or perhaps it was merely exploiting a convenient opportunity to put regional celebrities on its own promotional items.
There may be some soft benefits to being promoted individually as an amateur, but soft benefits don't pay bills. If a publicly-traded $50B company like Lowe's put your face on its promotions without paying you for it it's entirely likely you would take exception to that, unless you're an amoeba.
The Final Four is a commercial engine for both municipal and corporate interests at the expense of amateurs who are forbidden from the outset from capitalizing on themselves. The reason it isn't an entirely sour enterprise is for the same reason we love college sports so much: The sports themselves.
There isn't an adequate price tag that can be placed on such unique and remarkable memories. That is, if you're not living in squalor. /looks for championship rings on eBay
The revolution will be commercialized
NCAA has this down to a science. The Final Four may have taken decades to evolve, but these days it is absolutely mechanical.
It's not too dissimilar from your own family's traditions; it just operates at a much larger scale. Your Christmas decorations get packed into a box every January (*cough* February) and then they reconvene in your living room after Thanksgiving.
This repeats every year. Maybe you cycle in a new ornament that you picked up on vacation. Otherwise, your holiday routine is established and repeated because it works.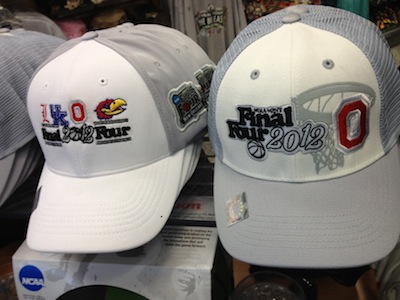 At some point prior to the NCAA tournament, generic hats are commissioned by suppliers with the most favorable bids. In the waning hours of Sweet Sixteen weekend as the Final Four participants are established one-at-a-time, the logos of those schools are dropped into
I'm an easy mark for consumer goods like these. There might be a concert t-shirt in the enormous pile of clothes I never wear, but I could easily go a month wearing different Ohio State swag each day without repeating.
You can find over half of the Dry Good Depot in my closet along with wearable bowl game mementos from the past three decades. You can now add a $40 Final Four shirt to the collection; admittedly purchased with some apprehension on account of carrying the logos of three other schools I neither live nor die for across the front.
Space was carved out in most gift shops to display the *official* Final Four gear, housing it amongst New Orleans, French Quarter, Saints and miscellaneous crass t-shirts that you'll find in businesses throughout the city with the frequency that you'll find slot machines in Vegas.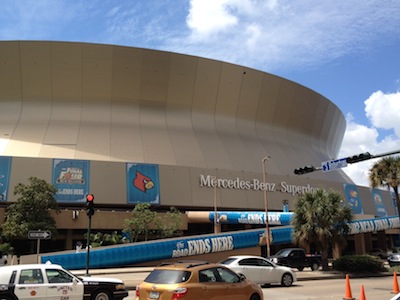 The definition of addiction is subject to debate. It can be argued that addiction has to be damaging in some way in order to be classified as such.
When I spotted Kansas fans wearing Kansas shirts sizing up Kansas Final Four merchandise, next to Kentucky and Louisville fans doing the same thing as I stood by the Ohio State rack (though not adorned in Buckeye gear - remember, this was a business trip) I briefly contemplated if NCAA was preying upon addicts.
None of us seemed unhappy. In fact all of the purchases carrying significant mark-ups were made with pleasure.
Those fans who find the means to follow their teams are the same ones who open their wallets at every stop. Yes, NCAA has this down to a science, and there's money in science.
Business trip | Pleasure Cruise
I cannot repeat this enough: New Orleans wins these events partially because of its charm but also on account of how strong its blueprint-fu is.
That's part of the reason why the aftermath of Hurricane Katrina is so mind-boggling: The city's non-catastrophic event planners would have seemingly been way ahead of that tragedy.
People here categorize their lives in two halves: Before Katrina and since Katrina. The stories - and on this trip I got to hear several - are still difficult to listen to, whether they're told through a Cajun, Creole or Yat accent (Yat has always been my favorite - close your eyes and you'd think you're in Brooklyn).
I had dinner with an executive at a hospital currently being built to replace one that was destroyed by the storm. There are a lot of storms that hit New Orleans, but whenever someone refers to the storm they're referring to Katrina.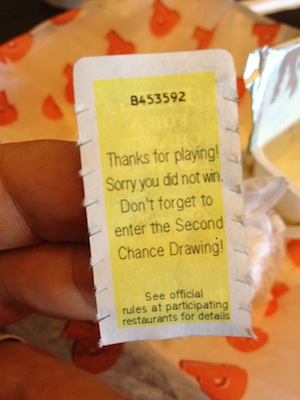 She recounted her experience back in that terrible August of 2005 when she found herself  frantically wading out of a flooded patient holding room up to her chest in water because snakes were chasing her. Because snakes were chasing her. Because snakes were chasing her.
It was interesting that seven years later she was still waiting for this new hospital to be built. I asked her if there might have been more urgency if the construction was of a stadium set to host an additional bowl game or tourist attraction. She smiled and said something in classic Yat snark that I'll keep private.
And that's the famous facade of New Orleans; the fresh face that it puts forward to benefit its burgeoning tourism enterprise while willfully obscuring the warts that spilled out into the streets during Katrina on television sets across the globe.
That's what the city, as any other with a legacy of profuse destitution, wants to keep away you. What it is willing to share with you is so beguiling that you find yourself willfully ignoring that indigence without shame, which is as impressive as it is sad.
The Buckeyes might have fallen short on the court in what has to be considered a season of overachievement, but they did as such in an indelible setting; far more so than their last two* Final Fours in the Georgia Dome or Tropicana Field.
In failing to leave the Final Four with the title, Ohio State matched the legacy of New Orleans itself: Pride and celebration with some degree of tempered shame. Such is the kill-or-be-killed nature of the cruelest postseason in college sports.
Hope you enjoyed coming along for the ride. On my flight out of New Orleans I sat across from the former Chocolate City mayor Ray Nagin (this is 100% true).