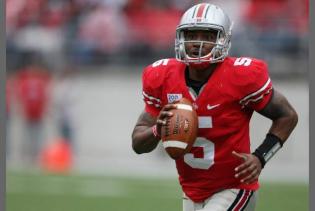 Braxton Miller is a soft spoken 19 year old sophomore from Huber Heights who has been tasked with leading the Ohio State football team out from the muck and mire that was the mediocrity of the 2011 season, and bring them to the eventual promised land of a national championship. Which really shouldn't be that big of a deal, right? He works out, throws the ball some, goes undefeated, passes for 3500 yards, runs for another 1000, wins the first of three Heisman awards, and then once OSU returns from the post season ban, wins back to back national titles.
Just like every OSU quarterback, his destiny has been planned out by a group of people who mostly haven't had to deal with 300 pound hippo-human hybrids trying to kill them while they attempt to do their job, and if he comes up short of that destiny, that same group of people will sit in judgment of him forever as they post dumb movie puns to the internet.
But that's part of the deal as an Ohio State QB. See, the truth of the matter is, we should expect extraordinary things from extraordinary people. Within reason, of course (I'm not going to become apoplectic if Braxton Miller doesn't master the nine chakras or ends up throwing a couple of picks against Nebraska), but Ohio State fans want to see growth. They want to see a team leader who has shaken off the cobwebs of last year and is ready to step up his game.
And that seems to be what Urban Meyer wants, too.
"[Braxton is] an average leader right now," Meyer said. "We need to make him a great leader. You have to raise the level of play of those around you. This summer, he has to do it. He hasn't done it to this point. He's been at Ohio State for a little over a year, and his leadership qualities are not where they need to be.

"I think he will get there, because he's sharp, he's smart and he's a competitor."
During the Spring Game this past weekend, I think all of the 60 thousand fans and their 20 thousand or so imaginary college football loving friends assembled saw a little of what Meyer has been talking about. But to really know how far it seems Miller has progressed in such a short period of time, it's important to look back at the 2011 season, and see just exactly who was talking the field at QB for OSU.
You would think that a hot young player with a wide ranging skillset such as Braxton Miller has would flourish under the tutelage of probable quarterbacking genius Nick Siciliano and offensive mastermind Jim Bollman, and at times last year you would've been correct (although some might say that much of that success is attributed to Miller's own freakish athleticism rather than actual coaching, but that is cynicism talking, sir/ma'am, and I will have none of it!).
Against Michigan, albeit in a losing effort, he was generally very good, throwing for 235 yards and two touchdowns while adding another 100 yards on the ground. Against Florida in the Gator Bowl, he completed over 75% of his passes, threw for two TDs, and didn't have an interception. Also we lost that game. And Braxton first started to show flashes against Nebraska, as he was 5 for 8 for 95 yards, a touchdown, and 91 yards on the ground before going down with an ankle sprain in the 3rd quarter, which is a weird coincidence because it feels like OSU started to watch that game slip away from them at around that time.
To be fair, it wasn't just in loses that Braxton decided to shine. He had 99 yards on the ground against Wisconsin, and though roughly half of his 89 yards through the air came by way of one ridiculous across his body huck downfield, that tomato can of a heave ended up winning the game.
The bigger picture wasn't as rosy, although that might be a result of how Bollman and company decided to gameplan for him. Against Illinois, Braxton completed one lonely, singular pass for 17 yards, rushed for 34, and pretty much made me want to tear my hair out for the better part of three hours. At home versus Michigan State, he completed 5 passes and recreated a Benny Hill musical number in the backfield with super angry linebackers replacing sexy ladies in bikinis.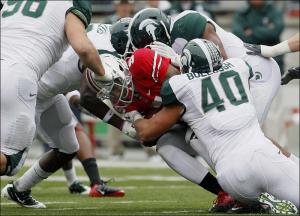 Urban Meyer recognized that this needed to change. Not just the Benny Hill part, but the idea that Braxton Miller was being utilized as a tool rather than a leader. Last year the coaches seemed reluctant to truly put the team on Miller's back and go ride or die; not a horrible plan when you've supposedly got a game changing back in Boom Herron waiting in the wings, but as he started to offer the team diminishing returns as the season went on, a similar uptake in responsibility was never given to the young QB.
Well, that ends as of now, and there are two things playing in Urban's favor right now wtih regards to his young protege: it's been repeated ad nauseam by now, but anyone watching the Spring Game on Saturday could see that Braxton Miller truly is perfectly suited for Meyer's offense. Having him throw on the run, short passes to Ent-like TEs, the possibility of triple options... everything Meyer has in his offensive cookbook uses whatever ingredients Braxton brings to the table. 24 for 31 and 258 yards may not become the norm next year, but at least we now know that it's within the realm of possibility.
The second thing is time. The goal for every OSU team is a national championship, but of course this is going to be the one season where not even the die-hardiest, Bellisari-believingest, Lydell-hopingest fan can expect that. So what's left is time, and opportunities. Meyer now has an entire season to mold Braxton into the quarterback that he wants him to be; not just a consistently good football player but a leader and someone who's shoulders you can rest the entire team on, in a way the team never did last year.
Because frankly, now is the time to take chances and see exactly what Braxton Miller is capable of. There's really no reason for Meyer not to stretch Miller's boundaries, turn him into Peyton one game and Vick the next, all the while trying to bring out his inner Patton. In the game of relatively low stakes poker that is the 2012 season, you bet the house.