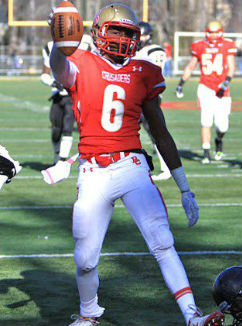 With the large number of prospects Urban Meyer and Ohio State are recruiting on the national level, it's difficult at times to keep track of all the names with OSU interest, and thus some news often gets lost in the shuffle.
A prime example of this comes in the form of Oradell (NJ) Bergen Catholic ATH Kyle Queiro (pronounced KAY-ROH), who has been hearing from the Buckeye coaches and recently took an unofficial visit to Columbus to check out campus and the football program.
The 6-2/190 Queiro is considered an athlete by most recruiting services, but is being recruited by colleges as either a wide receiver or defensive back. He had a good showing at summer camps last year and followed it up with an impressive season in the fall, leading to his stock continuing to rise as he approaches his senior season.
While he doesn't have an offer from Ohio State just yet, he does have offers from 13 schools and counting. He is definitely a power conference level prospect and the Buckeyes are showing interest as they continue to evaluate him.
We caught up with Kyle to hear how his Ohio State visit went, what the latest on his recruitment is, what position he thinks he'll play in college, and more. Join us after the jump to read more on recent visitor, Kyle Queiro.
How did your junior season go? How did you do individually and how did your team do?
I played safety and a little bit of wide receiver last year. As a safety, I had 44 tackles and 5 interceptions. As a receiver, I had 10 receptions with 5 touchdowns. Our team ranked 31st in the nation and second in New Jersey behind Don Bosco. Next year, I will go both ways and probably play corner back instead of safety.
How is recruiting going so far? What offers do you have and who do you expect to offer soon?
I have 13 offers so far. They are from Temple, NC State, Boston College, West Virginia, Rutgers, Pitt, Syracuse, Northwestern, Cincinnati, Duke, Colorado, Vanderbilt, and Yale. I am talking to 10 other schools and expect 5 to offer soon. I don't want to say who right now though in case something falls through.
You recently took a visit to Ohio State. Tell us what you enjoyed about that trip
The highlight was meeting Coach Meyer, but I felt everything is done with excellence at Ohio State. Every drill, the position meetings, the strength and conditioning, all support services are really excellent. I was very impressed.
Did you get to talk to any of the other  coaches? If so, which coaches and what did they tell you?
I met with Coach Meyer, my recruiter Coach Warinner, Coach Withers and a few others. Since I am an athlete, they are not completely sure what side of the ball I am best suited for, so they would like me to come to a camp so that they can test my skills as a wide receiver and a safety.
I know OSU was part of a little road trip for you. What other schools did you see? Do you have any other trips planned for the future?
This trip was during my Easter break. My brother Cameron who is a sophomore and my father drove with me to Syracuse, OSU, Pitt, and then I came home and went to Rutgers to check out the campus life there. In the summer, my high school team goes to South Carolina for the Palmetto 7 on 7. I plan to take the opportunity to visit South Carolina, Duke, West Virginia and Virginia Tech.
Do you have any favorites at this point in time?
There are some that rise to the top, but I have not really sat down with my parents and compared all of the schools yet.
When do you plan on making a college decision?
I am not sure when I will make a decision. We often talk about the end of summer, but I am not completely sure because I would like to take some official visits to places like Vanderbilt and Wisconsin which I have not visited.
What are you looking for in the school of your choice?
Education is important. An opportunity to get on the field early, a competitive environment with a potential to win a conference championship, and the overall college atmosphere also matter to me.
What position do you see yourself playing at the next level?
So far, half of the schools that have offered want me as receiver and the others as a safety, with some making it my choice. I don't care either way. I love football and just want to get on the field the fastest way possible. I am blessed to have these options.
What are your strengths on the field? What do you feel you need to improve on?
I believe I am a smart player with a good insight for what is happening on the field. Coaches always tell me I have good closing speed and good ball skills. On offense, I pride myself on yards after the catch. For things I need to work on, one would be to learn more about playing safety and corner back. I have only played safety one year and next year I will be playing corner. I have actually learned a lot through these visits by watching and asking defensive back coaches a lot of questions.
HIGHLIGHTS: