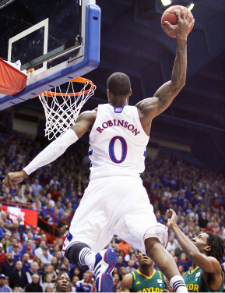 For the second time in six seasons, Thad leads his troops into the Final Four weekend, a place only a few of us believed they could go just a month ago.
After losing three of five and getting tossed from practice in February, Ohio State has won eight of nine and find themselves with a great chance to play for a National title.
First up is Kansas, a team that beat OSU, 78-67, back in December at their place and without Big Sully. Kansas leads the all-time series 5-3 and Ohio State is 18-21 against teams from the current Big 12.
Despite what the NCAA says, this is Ohio State's 11th trip to the Final Four and Kansas's 14th, their first since they won the title back in 2008. These two teams are very similar statistically speaking, coming within two percentage points of each other in PPG, D-PPG, FG, 3P, FT, rebounding margin, assists and steals.    
| # | Name | YR | HT/WT | PTS | REB | ASST | P | # | Name | YR | HT/WT | PTS | REB | ASST |
| --- | --- | --- | --- | --- | --- | --- | --- | --- | --- | --- | --- | --- | --- | --- |
| 4 | A. Craft | SO | 6-2/190 | 8.8 | 3.3 | 4.7 | G | 10 | T. Taylor | SR | 6-3/185 | 16.7 | 2.3 | 4.7 |
| 32 | L. Smith, Jr. | SO | 6-4/205 | 6.7 | 4.6 | 2.0 | G | 15 | E. Johnson | JR | 6-4/195 | 10.0 | 3.1 | 3.6 |
| 44 | W. Buford | SR | 6-6/220 | 14.4 | 4.9 | 2.7 | F | 24 | T. Releford | JR | 6-6/207 | 8.5 | 4.2 | 1.8 |
| 1 | D. Thomas | SO | 6-7/225 | 16.1 | 5.4 | 0.9 | F | 0 | T. Robinson | JR | 6-10/237 | 17.7 | 11.8 | 1.9 |
| 0 | J. Sullinger | SO | 6-9/260 | 17.6 | 9.1 | 1.2 | C | 5 | J. Withey | JR | 7-0/235 | 9.2 | 6.2 | 0.8 |
Opponent
Kansas breezed through the Big 12 season, winning their eighth straight conference title, by two games over Missouri and four games clear of Baylor and Iowa State. After losing two of three at the end of January/beginning of February, the Jayhawks have won 13 of 14, with their only blemish coming at the hands of Baylor in the Big 12 semi's, a team they had already beaten twice in the regular season.
During their NCAA run, they took down Detroit in the first round by 15 and then should've lost to Purdue, who lead the whole game until the :25 second mark, as the Jayhawks caused two late Boiler TO's and prevailed by three. NC State also gave KU all they could handle, 60-57, even though the Wolfpack shot just 28.4% for the game. And of course, they then took down an injury depleted Tarheel squad, using a 12-0 run to end the game and win by 13.
As is the case of all the Final Four teams, Kansas hangs their hat on the defensive end, giving up an average of 61.6 PPG on the season and 58.5 PPG in the tourney. Their overall team height and quickness makes it difficult to find open shots and teams have made just 38% of their FG attempts against the Jayhawks this season and that dips to 36% in the tournament. Kansas also does a good job of collecting those missed shots, grabbing 37.6 RPG, which is good for a +5.7 rebounding advantage per game.
KU hits 47.6% from the floor on the offensive side, including 34.5% from deep. Three of the Jayhawk starters are shooting at least 50 percent, lead by 7'0" big man, Jeff Withey, who has connected on 55%(109/199) of his shots, while Thomas Robinson(51.2% 247/482) and Travis Releford(50% 113/226) are the other two.
Tyshawn Taylor and Elijah Johnson are the leading 3-point specialists, hitting 38.5 and 33.5 percent from deep respectively. Though Johnson relies mostly on his perimeter shot, he can jump and will take it to the rack every now and then. Taylor however, loves to take it to the hole, attempting 192 FT's and putting up 298 more two's vs. three's this year.   
Kansas does a good job of getting in passing lanes and disrupting the flow of offense on the inside. The Jayhawks snatch 7.4 steals and block 5.6 shots per game, including 30 steals and 23 blocks in the tourney. If there is a slight weakness, it's in the assist/turnover department. They do a good job of distributing the rock, assisting on 15 buckets per game, but they average 13 TO's per contest, lead by Taylor's 3.46 and Robinson's 2.72. 
Bill Self has a veteran team, starting four juniors and a senior, but it's unusual that he doesn't have any under classmen seeing significant minutes. Conner Teahan, a 6'6" SR. and Kevin Young, a 6'8" JR. will see the most PT off the pine, though neither should hurt OSU scoring wise.
Teahan will take most of his shots from deep, but he's been ineffective in the tourney run, hitting just 5/20 from the floor, including 3/15 from behind the arc in an average of almost 23 minutes a game. Young, a Loyola Marymount transfer is tall and skinny, weighing in at 185 or five pounds less than Aaron Craft and is playing roughly 17 minutes a game in the NCAA. He has hit only 4/16 in the last four games, but had 8 boards against Carolina in 18 minutes.
One of the keys for Kansas tonight will be the Taylor/Craft matchup and whether or not Taylor can out play his counterpart. Taylor was 3/9 against OSU the first time around, including 1/5 with 6 TO's when Craft was guarding him, though he did dish out 13 dimes and played with a torn meniscus. He has also missed all 17 of his three point attempts in the tournament, so you know he will be trying to make one early or continue what he was doing against UNC, making 10/14 from inside the arc. As he found out in December, Craft is a different type of defender and is the last person you want to see when in a shooting slump.
Of course the other key for KU tonight is the ability of Thomas Robinson to put up numbers similar to the first matchup. Robinson hit 7/9 from the floor and 7/8 from the line without Sullinger in there and though Sully may not guard him at all times, it will be more difficult for him to equal his 21 points and seven boards. TR is 15 of 45 in his last three games, so he too might look to press early and get some rhythm going.
Any other player that gets to double figures tonight is going to be a bonus for Kansas, as I think Ohio State has more offensive fire power across the board. If OSU can keep Taylor and Robinson in check, the Jayhawks are going to have a very difficult time beating the Buckeyes.       
Buckeye Breakdown:
After getting ousted in the Sweet Sixteen the last couple of years, Ohio State played their best ball in Boston and earned a trip to the Final Four, beating Cincinnati by 15 and Syracuse by seven. The swagger, effort and confidence we saw reemerge the final week of the season, has only intensified the last couple of weeks and if this group plays like that tonight, I have little doubt they will beat Kansas.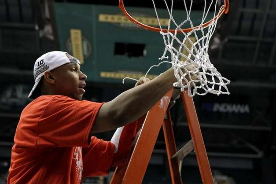 With all due respect to Sullinger, Deshaun Thomas should have been the MVP of the East Regional. The Tank leads all scorers in the tourney with 87 points and has grabbed 34 boards, including 19 offensive. The Kid has hit 7/17 from deep and 28/50 from inside the arc and I think the pressure falls on Kansas tonight in terms of who is able to guard Thomas.
Robinson is bigger and has three inches on Thomas, so he could cause DT some problems in the paint, as could Withey, but Thomas is relentless in his pursuit for the open shot or O-board and will have to use his quicks to get around the big fellas inside. Deshaun went for 19 the first time around and the way he's been playing, there is no reason why he won't do it again tonight, especially with Sullinger by his side. 
Sullinger hasn't been a slouch though, but he's been hampered by foul trouble in two games and has hit 21/45 shots, to go along with 33 boards. He's played unselfishly, forming a nice high/low combo with Deshaun or looking for the cross court pass out of the double team, instead of forcing a shot. He's had that look in his eyes the last couple of weeks and if this truly is his last weekend as a Buckeye, we can only hope the referees allow him to play.
In order for the Buckeyes to win again tonight, either Buford or Smith has to give this team at least 15 points. We don't need to rehash all of Willie B's struggles, we can only hope he regains his confidence in this final weekend donning the scarlet and gray.
He's gone for more than 15 just once in the last seven games and he hit two late threes to accomplish that. He lead the team with 21 points the first time against Kansas, but hit just 8/23 shots, including 1/6 from deep. With the focus on the paint, Buford should get some open looks, either off ball screens or ball reversals. He needs to relax and shoot the ball like the number top four all-time scorer at Ohio State is supposed to do. 
Lenzelle on the other hand caught fire in Boston last weekend, hitting 11/18 shots, including 6/10 from deep. He was also clutch at the line against the 'Cuse, making 7/9, while also snagging nine rebounds over the two games and turning it over just once in 70 minutes of action. He too has used a nice combination of outside shots and drives to the bucket to get his game going. He can't be passive tonight, his energy can ignite this team. On the defensive side, he needs to keep an eye on Elijah Johnson, knowing where the deep threat is at all times.
In terms of Craft, he has deservedly been giving more of the national spotlight this week, as he continues to emerge as the team leader. I know people want him to show more on the offensive side of things, but he is so smart, if the open shot isn't there, he's not going to force it. He's averaging just over 10 points a contest in the tourney and anything around that tonight, while holding Taylor to about the same, will be advantageous to OSU. He fouled of the first game and like Sully, we can only hope the refs let them play tonight.
I think this game really comes down to which team limits offensive put backs and turnovers. Both defenses will make shooting rough for each other, so the team that wins the battle of second chance points could come out on top. Also, both teams will have to limit their turnovers, as each possession takes on even more meaning when April draws near. Ohio State has 31 TO's the last three games, whereas Kansas has 29. It's going to be a tight game and that difference of two turnovers could be the margin of defeat.
In the end, I really think Ohio State has too much offense for Kansas and comes out on top. Either Buford or Smith is going to have a big game and I think the ability of Sullinger/Thomas is too much for them to handle. It's going to be a battle and hopefully with the refs blessing, we get to see a nice flow to the game and then one more Monday night. Let's say Ohio State 72, Kansas 69.
Etc
Jim Nantz, Clark Kellogg and Steve Kerr have the call tonight.
With 16 points, Jared Sullinger ties Clark Kellogg for 28th all-time in scoring.