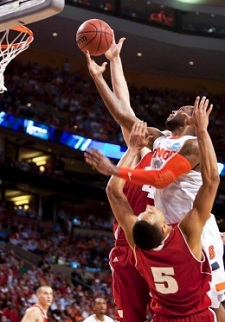 For the bracket engineers who designed the East Region, everything is working out the way it is supposed to. Tonight Ohio State takes on Syracuse in a battle of the #1 and #2 seeds in the East. The winner will cut down the nets in Boston's TD Garden and prepare for a berth in the coveted Final Four.
The Syracuse Orange(no longer men) took the hard road to the Elite Eight, having outlasted the insufferable Wisconsin Badgers on Thursday in a closer-than-expected 64-63 thriller. Meanwhile, Ohio State thanked Cincinnati for eliminating #3 seed Florida State by slapping, stripping, and mauling the Bearcats on their way to an 81-66 victory in the nightcap. 
OSU leads the all-time series with Syracuse 4-1, with the last meeting going to the Buckeyes 79-65 in the pre-season N.I.T. back in 2007. Ohio State has a winning record against all of the current Big East teams except Rutgers (0-1), South Florida (0-2), and West Virginia (8-8). Overall, OSU is 70-49 against the Big East teams, a mark that they improved with the victory over Cincy.
| # | Name | YR | HT/WT | PTS | REB | ASST | P | # | Name | YR | HT/WT | PTS | REB | ASST |
| --- | --- | --- | --- | --- | --- | --- | --- | --- | --- | --- | --- | --- | --- | --- |
| 4 | A. Craft | SO | 6-2/190 | 8.9 | 3.3 | 4.7 | G | 11 | S. Jardine | SR | 6-2/195 | 8.3 | 2.3 | 4.7 |
| 32 | L. Smith Jr. | SO | 6-4/205 | 6.3 | 4.6 | 2.0 | G | 20 | B. Triche | JR | 6-4/205 | 9.3 | 2.5 | 2.7 |
| 44 | W. Buford | SR | 6-6/220 | 14.4 | 4.8 | 2.7 | F | 32 | K. Joseph | SR | 6-7/215 | 13.8 | 4.9 | 1.7 |
| 1 | D. Thomas | SO | 6-7/225 | 15.4 | 5.0 | 0.9 | F | 5 | C.J. Fair | SO | 6-8/212 | 8.6 | 5.5 | 1.0 |
| 0 | J. Sullinger | SO | 6-9/265 | 17.6 | 9.2 | 1.2 | C | 25 | R. Christmas | FR | 6-9/228 | 2.5 | 2.6 | 0.2 |
Opponent
Jim Boeheim is in his 36th season as the head coach of the Orange, and he is currently 3rd on the all-time list in most victories, with 889. Among active coaches, Boeheim is 2nd only to Mike Krzyzewski of Duke who has 927. In many ways, Boeheim is the Joe Paterno of the NCAA basketball world, due to his longevity, his consistent record of success on the court, and...well...other things. Boeheim is known for using a match-up zone defense, similar to what former Michigan State coach Jud Heathcote used back in the 70's and 80's.  
Syracuse began the season by winning their first 20 games before being upset at Notre Dame on 1/21. They then proceeded to win 11 straight before losing to Cincinnati in the Big East championship game tournament semi-finals. The Orange have been one of the favorites to reach the Final Four since about midway in the season, but their hopes were somewhat dampened when center Fab Melo was declared ineligible for the NCAA's. After struggling to beat UNC-Ashevillie in their first tournament game, they rallied to beat Kansas State 75-59 before defeating the Badgers on Thursday.
The Orange will field a big, quick, and diverse group of players today and it is likely that many of them will see action at some point. The 'Cuse has 10 players who average 10 minutes or more per game, and so you can expect their starters to be well-rested and fresh when it gets to crunch time. Forwards Kris Joseph and C.J. Fair are tall but they have excellent quickness and the team as a whole moves well without the ball. Expect to see a lot of ball screens (what else is new) as OSU deploys their usual man-to-man defense. 
On defense, Syracuse has height and long limbs, which gives them a strong presence when they are defending in the lane or running out on shooters on the perimeter. As I mentioned, Boeheim prefers the zone, and he rarely switches to man-to-man. The team defends the perimeter well for the most part, but good ball movement will reveal vulnerabilities, as Wisconsin discovered on Thursday. Driving into the cracks and then making quick decisions with the ball (shoot in the lane or kick out for a triple) will be the key to solving the patented Syracuse zone.
In addition to the starters, one player might bear keeping an eye on. James Southerland averaged over 16 minutes per game throughout the season, and he averages 6.6 points and 3 rebounds per game. However, he played only 4 minutes against Wisconsin and did not score. It's possible that Southerland is banged up but Boeheim does not want to reveal it, but I think it's more likely that he's in a slump in practice and as a result we may see more of Fair and less of Southerland tonight.
Buckeye Breakdown:
The Ohio State offensive attack looked different against Cincinnati, and the main reason can be summed up in one word: Tank. Because of how effective Deshaun Thomas was against Loyola and Gonzaga, the offensive focus shifted toward getting him the ball vs. dumping it in to Sully. As a result, despite playing 37 minutes (one of his longest stints of the season) Sullinger took only 13 shots vs. 17 for Thomas. Tank has become "the man" in the Big Dance.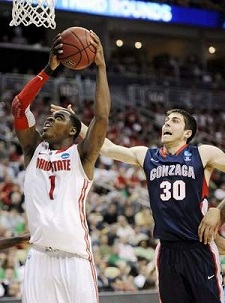 Prior to Thursday, OSU's offense typically would work through Sullinger, and any shots that went to Thomas were usually at least the 3rd or 4th pass of the possession and he would rarely see the ball before Sully would. But due to the change in focus against Cincy, most of Sullinger's points in the first half came on put-backs. Not only that, but on two occasions Sully deliberately passed up a shot in the lane so that he could get the ball to Tank.
This shift to get the ball to the hot man vs. always dumping it in to Sullinger has paid dividends in other areas as well. Now all of the other players understand that if they make shots that the coaches will adjust the gameplan to take advantage of it. Since the tournament started I have noticed a more aggressive attitude on the part of Aaron Craft when it comes to looking for his shot, and even Lenzelle Smith Jr. is now looking to shoot a bit more. They are taking what the defense is giving them, and defenses are increasingly struggling to stop OSU's attack.
On defense, what we saw on Thursday was a bit of a mixed bag. In the first half, the team frequently defended with a ferocity that is seldom seen in any situation other than the last desperate moments of a close loss. Cincinnati had a reputation as a dribble-drive team, and the coaches must have briefed the team on this because the guards, especially Craft, seemed to anticipate every drive and made life miserable for Bearcat ball-handlers.
On the other hand, coming out of halftime the team seemed to rest on their laurels a bit, and without that energy the defense lapsed into slow motion compared to the UC players. Fortunately, they stepped it up after their 12-point lead turned into a 4-point deficit. Starting from the point where they trailed 52-48 with 11:34 remaining, the OSU defense clamped down on the Bearcats so hard that UC scored only 1 point in the next 6 minutes. During that period Cincy logged 4 missed field goal attempts, 1 missed free throw attempt, and 5 turnovers.
Syracuse is a different type of offense than what UC brought to the table, and they should present some match-up problems for the Buckeyes. Aaron Craft might have a harder time getting 6 steals against Scoop Jardine, and the Buckeye bigs might find it difficult to deal with the quickness of Kris Joseph and C.J. Fair. But if they bring the kind of effort that we saw in the first half against Cincinnati, I have to like our chances to walk out with a victory.
Etc
Thomas entered Thursday leading the NCAA field in points in the paint, and now has 42 in the three games OSU has played. 
Verne Lundquist will call the game for CBS, with Bill "MAN-TO-MAN!!!" Raftery providing commentary. Lesley Visser will also be around to stalk interview the coaches right before and after halftime.