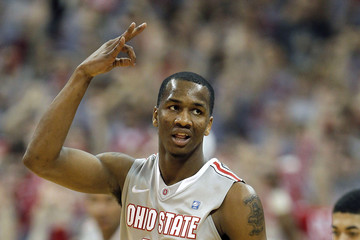 Back at the turn of the millennium, I was the sixth man for my middle school's basketball team. By the time my team was coronated as the best 7th grade team in Marion County, I was a less-talented version of Mark Titus. I can't I say I blame my coaches. I wasn't very good. I tried hard in games -- like all white players, I could've been described as "gritty" -- but I wanted no part of having the ball in my hands on the offense end of the floor. Also, Allen Iverson looked forward to practice more than I did. 
One time, in a rare moment of life-coaching I received from a Marion City Schools' employee, the 8th grade coach and program overseer -- a "Veterinarian War veteran" as I told my mom one day after school -- cornered me in a locker-room after practice and told me: "DJ, you need to start playing with confidence." At the time, I had no idea of what he meant by it. Hell, I was probably already dreaming about what I was going to accomplish during my nightly 8-hour EverQuest binge. That's probably why I don't remember anything after he said that. I'm pretty sure he walked off after I blinked blankly at him a couple of times.
This winter, it will have been a decade since I woke up one day and had an epiphany most middle class, white children have: "I'm never going pro in this. What's that? Why yes, I'll try your Natural Light." Now, after watching Ohio State knock Jim Boheim's bush-league ass out of the tournament, it's almost as if my basketball life has come full circle.
I've been a fan of William Buford, literally, since the first time I read his name. "McDonald's All-American", it said next to it. "Toledo, Ohio," his hometown read. I'm inclined to like anybody from the Glass City in the same way I will side-eye anybody who goes to the same church as Ben Roethlisberger in a satanistic town like Findlay. I have never wavered in my support of Willie Buckets, which is why it pained me to read this in the Washington Post:
Even before the first practice this season, Buford said he was still haunted by how poorly he played in the season-ending game last year.

He said he felt good about his career to that point.

"Yes, except my last game," he said last October. "I got over it a little over the summer. It's still with me, but I just don't worry about it too much now. I just won't ever let that happen again."Even before the first practice this season, Buford said he was still haunted by how poorly he played in the season-ending game last year.
I hate to be the bearer of bad news, or to get all philosophical like Wayne Gretzky, but the only way for Buford to ensure he doesn't ever fail his team again would be by sitting on the bench for the rest of his career. That's why I didn't mind sitting on pine: there was no way I could hurt my team from the bench, and I was okay with that.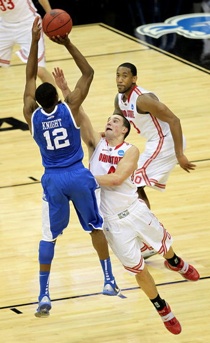 What I didn't recognize then is, failure is inevitable in the road to success. If William Buford is to fully harvest his basketball talents, he will fail at time en route to his ultimate destination. Failure is supposed to happen. To say he's "never going to let that happen again" is to set himself up for failure and gut-wrenching disappointment. The kind of gut-wrenching disappointment which can linger. 
Kobe Bryant has won everything from regular season games in Sacramento, pre-Olympic intra-squad scrimmages, Gold medals, Pacific division titles, and NBA play-off games. Take it from somebody who has watched his entire career -- Kobe Bryant has missed more in the clutch than he's made. And yet, with time winding down, I want the ball in the hands of the Black Mamba. (As would 74% of NBA players.) To taste any earned success by definition means to have tasted defeat. 
Kobe Bryant doesn't care about letting his team down, because he puts everything he has into games, and he's willing to live with the consequences. Haters can say what they will about my dude Willie Buckets, but one thing they can't say is he doesn't try hard.
The nine rebounds he hauled down against Syracuse can speak to that. And sure, DeShaun Thomas -- a gunner by his own admission -- has leapt into this tournament with both barrels bucking; but when it comes down to crunch-time, the ball is going to have to go into the hands of the Toledo Libby product. 
Aaron Craft can't create his own shot, and if he could, he couldn't hit it reliably. DeShaun Thomas can't set-up a crunch-time plays from the top of the key. Sullinger is great, but post players need perimeter players to get them the ball. No, it has to be William Buford, as it was against Tom Izzo and the Michigan State Spartans on the regular season's last day. 
Buford drifted left, towards the top of the key from the right wing, and he splashed a shot he's probably be hitting since he was a sixth grader playing on blacktop. There was no thinking behind it, William Buford simply received the rock, shrugged off a deploring DeShaun Thomas on the other wing, and did what Willie Buckets was put on this earth to do. He's the only one on that team -- who Matta trusts enough to put on the floor during crunch-time, anyway -- that can hit that shot. If it comes down to the final seconds, it will have to be William Buford. 
Buford was 3 for 11 7/13 before he took that shot in East Lansing that won Michigan its first basketball title-share since 1853, but you wouldn't know it by how he took the shot itself. He knew it was going in before anybody else did. If only he took every shot with such confidence. His shooting will never be confused with Jon Diebler's, but Ohio State doesn't need William Buford to shoot like Jon Diebler to win the title. They will, however, need Buford playing with confidence, in all facets of the game, to beat the bluebloods which stand between Ohio State and the 2012 national title.
It's much easier to type into the internet than it is to perform under the bright-lights, but if William Buford can find his confidence, then I'll take Ohio State against any amateur basketball team in the country. I hear some chalk-covered birds from the central plains of America are up next. That's cool. I think that dude Willie Buckets has something for them.