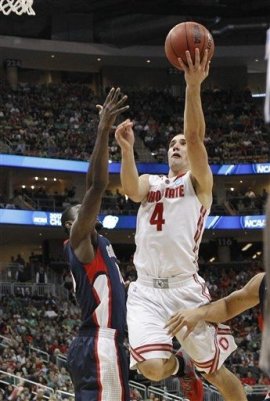 Ohio State used 18 points each from Jared Sullinger and Deshaun Thomas, a sensational 17 point (7/9 FG), 10 assist effort from Aaron Craft and timely runs to down Gonzaga 73-66 this afternoon in Pittsburgh to earn a spot in the Sweet 16 for a third straight year. 
Tied at 61 with 4:05 to play after surrendering a 13-3 Zag spurt, the Buckeyes closed the game on a 12-5 run behind seven points from Sully including the go ahead bucket off a textbook low block move. 
Ohio State also hit 8/10 from the stripe during the late charge and held Gonzaga to 1/7 shooting to keep Mark Few's squad at bay. 
A swarming defense led by Craft out top held Gonzaga to 39% shooting on the afternoon and Craft personally destroyed Kevin Pangos, holding him to 3/13 from the floor with two turnovers. 
The only chink in the defensive armor came as the Buckeyes were a little soft on glass allowing the Zags to turn 13 offensive boards into 15 second chance points. 
While the late run was huge in that the Buckeyes have struggled to execute in the final minutes of some games, it was a 24-9 spurt that really put the Buckeyes in a position to win. 
Down 30-25 with 6:16 left in the first half, Thomas and Craft went gonzo scoring Ohio State's next 24 points to put the Buckeyes in front 49-41 with 14:53 left in the second half. Thomas scored 12 straight points just before the end of the half and Craft scored nine in a row before Thomas splashed a triple to polish off the crazy two man run. 
The run was all the more lovely as the Buckeyes were forced to play the last 9:12 of the opening half without Sullinger after he picked up his 2nd foul against eight points. 
The Buckeyes shot a ridiculous 62% in the first half but couldn't create any separation as they surrendered a pathetic nine offensive boards that Gonzaga turned into 13 second chance points. Thomas was 5/8 in the opening half whle Craft was 4/5 with 10 points and seven dimes. 
With the Zags employing 3/4 court press and falling back into zone for long stretches, Craft simply took control after some early turnovers and either assisted on or scored 17 of Ohio State's 25 field goals. 
Once again defying the "this team will only go as far as Buford will take it", the Buckeyes overcame a 4/13 shooting effort though he did add 13 points. He also kept me from at least pushing my final bet of the Vegas weekend with a missed free throw with 8.8 seconds to go. Damn you, WB. 
Overall, there are certainly things to tighten up but congrats to this team as they stuck together today in what was a wild game early and really took over when it mattered most. 
The Buckeyes will take on either Cincinnati or Florida State this Thursday night in the East Regional semifinal held in Boston. UC and FSU play tomorrow night in Nashville.