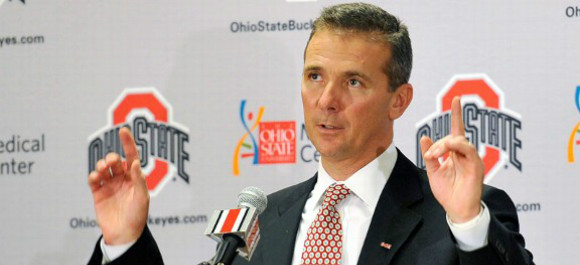 Ohio State's spring football practices, which started yesterday, will give Buckeye fans their first look at Urban Meyer's Ohio State football team. Though there will rightly be position battles to focus upon -- Meyer has said he wants his two-deep set by spring -- it will also be our first glimpse as to how Meyer's coaching staff will strategically deploy the squad.
With that in mind, lets take a look at four pressing x's and o's questions.
1. How will Urban Meyer and Tom Herman mesh their philosophies?
As I often point out, though spread-to-run offenses share some basic philosophical tenets, spread coaches have different emphases. The same holds true with Urban Meyer and Tom Herman. As I've discussed Meyer is less spread than some counterparts, using Tight Ends and H-Backs to create the leverage and numbers to run downhill one-back plays such as power and counter-trey.
Herman's background, by contrast, has been more true spread, with four-wide receivers, packaged primarily off the inside zone, and attacking the outside horizontally with wide receiver screens.   
Spring practice will give us the first glimpse of how these coaches meld their backgrounds together. We can also include offensive line coach Ed Warriner in this mix, who, at his last two coaching stops at Kansas and Notre Dame, was part of a pass-first spread orientation (compare Meyer and Mullen's base pass offense here). One question has already been answered -- Herman made clear that OSU will often feature no-huddle.
Meyer has always demonstrated at his previous stops, however, that the buck stops with him when it comes to his offense, and I imagine that the offensive base tenets will reflect what Meyer wants. Consider Herman's recent quotes in comparison with Meyer's initial press conference. Here is Herman:
We're going to be a [shot]gun, spread, run-oriented football team that has tremendous balance through the play-action pass . . . And we will huddle at times, too. I think that's important to deliver a mentality that we are a power, physical tough-running football team," Herman said. "From the gun, under center, it doesn't matter where are, that will be what our personality is going to be.
And here is Meyer:
There's different elements of spread offenses. You can say Texas Tech and all these different spread offenses. The one thing that our offense that we always tried to take great pride in is Big Ten I formation power football. We just do it from a unique formation, sometimes do it with a 240-pound quarterback. But the same -- if you look at our plays, it's the same plays that I was brought up on, split zone and off-tackle power. That's a staple here at Ohio State. Sometimes motion and fake a jet sweep, but we're still running hard, aggressive downhill football at you. We've added elements to it. But if you really cut it down and watch film and study, it's still I formation football.
Herman therefore appears to be singing from Meyer's hymnal. Spring football will be fascinating to watch, however, to see how the offensive coaches intend to build their spread offense.
2. What will the Buckeye Pass Offense Look Like?
The above-captioned quotes demonstrate that Ohio State's base offense will be using the shotgun spread to gain an arithmetic advantage to run the football. The secondary question, though, is what type of passing offense the Buckeyes feature, and how often they throw the football.
Without getting into the weeds of what run/pass balance means, it will nonetheless be fascinating to see how the Buckeye coaching staff approaches the passing game. As noted, Herman's Iowa State teams often attacked horizontally, while Warriner recent stops have based their offense upon "vertical stems" (meaning that the receivers always push vertically to prevent "pattern reading". Meyer's Florida offense fell somewhere in-between, drawing its basics from the original one-back offense, with a heavy emphasis on option cuts.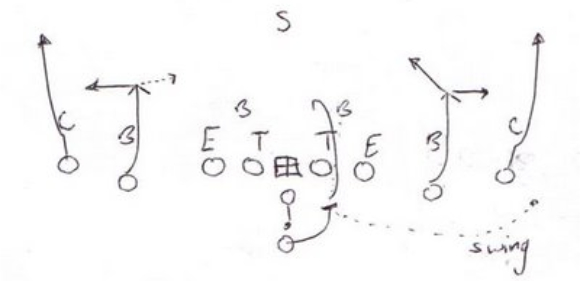 Meyer's base pass game may have gotten stale by the end of his Florida tenure, so look for Herman and Warriner to bring their backgrounds to bare upon the Buckeye pass offense. Play-action passing is generally more difficult from the shotgun. Given Herman's comment regarding play-action, look for OSU to employ, at least in part, many of the horizontal pass game concepts off of run action, such as flash screens.
3. How will Ohio State employ Tight Ends and/or Fullbacks?
The above strategic decisions will of course be tempered by the available personnel. Any good coach is going to adapt to make sure his best eleven players are on the field and in a position to thrive. For Ohio State, two of those players are TE Jake Stoneburner and FB Zach Boren. As noted, Meyer has ample experience employing a tight-end/ H-Back to create leverage and angles in the run game with someone who is a vertical threat. Stoneburner will fit well within Meyer's offense in a 'Aaron Hernandez' role.
Boren is the more interesting case. Though he is adapt at leaking out of the backfield in play-action, Boren's strength is as a lead blocker. The Buckeyes can rotate Stoneburner and Boren based upon situation, but such a move provides keys to the defense. In addition, if Boren and Stoneburner are two of your best players, you would like to get both on the field. But if you are in "21" personnel, you are no longer truly spread.
Meyer has previously shown the ability to utilize a fullback when he had a true lead blocker. Look for Meyer & Co. to utilize Stoneburner and Boren together in a variety of ways. OSU will surely use some of the H-back, Gun split backs seen in the Percy Harvin counter-trey clips above, as well as the offset pistol formations OSU occasionally showed last year. OSU will likely also flex Stoneburner out wide, moving Boren around in the backfield as a lead blocker.
Finally, as Herman stated, OSU will likely still feature some under center, I formation football. Boren is too well suited to completely ignore it. Meyer displayed some I formation at Utah, utilizing motion and reverse action to constrain the backside end. In this way, he can still utilize a downhill run game while honoring the spread's core concern of constraining a defense's unblocked defenders..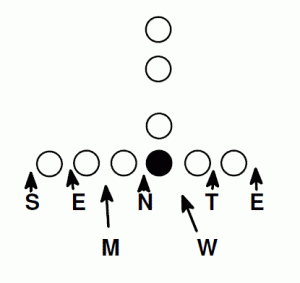 4. How will Ohio State mesh defensive philosophies?
Much of the focus (mine included) has been upon Meyer bringing his spread offense to Columbus. But it will also be interesting to examine the defensive's base outlook.
Meyer, Everett Withers, and Luke Fickell all come from the 4-3 under tradition. Yet, like the offensive staff, there have been differences in approach. The Ohio State defense Fickell was a part of with Jim Heacock excelled at forcing an offense go the length of the field. They did so through a conservative approach, basing out of a cover 3 shell and being chary in their blitz strategy. The defensive line was taught to control their gap, with only one true pass rusher in the form of the the weak end, termed the "LEO".
Meyer's defensive coaches, by contrast, have generally employed a more aggressive approach. Specifically, they often showed a two-high shell but then 'screwed' the safety down to create an 8-man look. Florida also played cover-3, from this 8 man look using 'pattern matching' techniques underneath..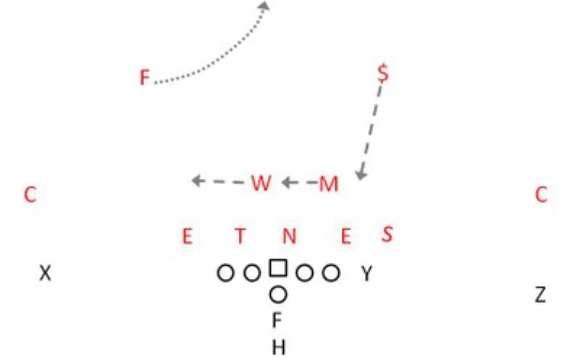 Both teams did, however, often use third down zone blitzing. As with the offense, this meshing of backgrounds and philosophies will be interesting to watch for this spring, providing a clearer picture of the Ohio State base offense and defense for the Urban Meyer led Buckeyes.