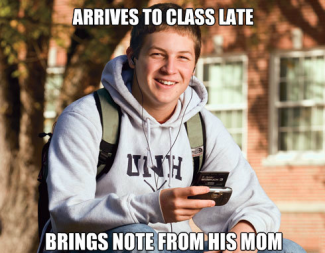 It's been a somewhat surprisingly good week! The weather is warm (which Johnny secretly hates), birds are chirping, and Ohio State basketball has looked like their previous competent selves in two consecutive games. With Aaron Craft as our guide, OSU fans have every reason to be happy and optimistic.
Onward and upward we go this week, as Luke and Johnny discuss the finer things in life, like 7 dollar an hour jobs, transferring into OSU from another college, and perhaps most importantly, beating the University of Cincinnati Bearcats. This is a personal game for Johnny, as his two childhood loves, not counting DinoRiders, are facing off in a battle for the soul of southwest Ohio. Decisions must be made, alliances will be broken, and Ohio State will be rooted for anyway because seriously are you crazy it's Ohio freaking State.
Joining us is the equally upbeat and confident Matt Opper from DownTheDrive.com, who can't help but be absolutely tickled at Cincinnati's recent success on the hardwood. Everyone's excited, everyone's cheerful, but someone has to lose. Find out who the gang thinks is going to pull it out on this week's Eleven Dubcast!
Spoiler alert: we think OSU will win.
0:50- Luke and Johnny discuss/bemoan the state of their brackets, and then move on to OSU's general performance in the tourney, put in their prerequisite gushing over Aaron Craft, and then move on to how they expect the Buckeyes to fare going forward. Also did you know that one of Jared Sullinger's legs is longer than the other? How weird is that!
12:40- Matt joins us to talk some Bearcat basketball, and in doing so unabashedly breaks down what has been going on with the team since the season-defining Xavier fight. Short version: Mick Cronin is a genius and Yancy Gates is a chill bro after all. Matt also shows us some surprising swagger, which doesn't throw me for a loop one bit, no sir.
26:35- Our incredible Ask Us Anything segment returns, and though no one has recently Asked Us Anything, we dip into the well of ol' reliable Yahoo Answers, help a kid get into college, defend the great state of Ohio for just a bit, and find a man a job. Helping America, that's what this podcast is really all about. Of course, if you'd rather us not help America, you're always free to e-mail us your petty concerns (which we will happily tackle) at elevendubcast@gmail.com.
The intro music is Soil to the Sun by Cage the Elephant off their debut album, followed by Gray by the Heartless Bastards, and the ending music is Don't Bother None, as sung by Mai Yamane from the Cowboy Bebop soundtrack (because I am a gigantic nerd).
It's the Dubcast! Have a listen.