If there is one advantage that Bowl Season has on March Madness (aside from football's overwhelming superiority as a sport) it's that half of its participants go home happy
Life is significantly better in bliss, and bowl season - for all of its disgusting corruption and mythical championship hand-wanking - sires a lot of happy fans.
March Madness still has wider appeal in part because almost everyone dies. A team may win to see another day, but that's how life is measured in the NCAA Tournament; you live and die in cruel 24 hour increments. Bowl season has nothing like it. Yet.
The lonely winner of March, of course, gets to live forever. That is the sole finisher's gift in college basketball: Irrevocable immortality. Kind of puts winning the Fiesta Bowl against a Notre Dame team that had no business getting a BCS bid into proper perspective, doesn't it.
Since 63 teams (or whatever it is now; those pointless play-in games are basically New Orleans Bowls without the benefit of football) end their season sullenly looking at their shoes, basketball has installed an unspoken tradition of recognizing Sweet Sixteens, Elite Eights and Final Fours as little blue ribbons by which 15 teams choose to remember their no-cigar March runs.
Ohio State basketball has a whole bunch of these ribbons. The Buckeyes claim 13* Sweet Sixteens, which include years like 1968 back when the tournament featured 28 teams with four having first-round byes, like Ohio State (do the math - the Buckeyes began the tournament in the Sweet Sixteen).
That should provide a revelation into the next set of shinier, more prestigious fake ribbons: The Buckeyes have 12* Elite Eights on the books. Yes, it is an achievement just to garner selection to the NCAA Tournament, but when the postseason begins with only eight teams - as was the case until 1951 - "Elite Eight" is a misappropriated capstone. Ohio State has a few of those abbreviated tournament advances shuffled into that ribbon pile as well.
So now you realize where this is going: The Buckeyes have ten* Final Fours. Only two of them are of the formula we're all accustomed to, i.e. winning four tournament games to get there. Without knowing the details, being presented with 13 Sweet Sixteens, 12 Elite Eights and 10 Final Fours you might conclude that Ohio State should have, maybe, a half-dozen titles?
As you already probably know - regardless of your previous intimacy with the backstory - the Buckeyes have one crown that came in 1960. So it's been 52 years since an Ohio State team lived forever.
Every run since has either left the Buckeyes partially-dead or mostly-dead, depending on if there was a ribbon attached to the corpse. Not one team since has captured irrevocable immortality
Among its Big Ten brethren, Ohio State isn't living too badly with its solitary championship. Indiana is without peer with five titles (on two fewer Final Fours than Ohio State; imagine that) while Michigan State has two. Michigan and Wisconsin also each have one. Then it gets ugly.
Purdue, the only school with a winning record against every other Big Ten team and the winner of the most regular season titles hasn't been to a Final Four in 32 years and holds zero titles on one title game appearance. Minnesota, as is the case in football, was awesome long before your grandparents were born, in an era that pre-dated March Madness.
Illinois never wins anything in any sport. Iowa shares the same Final Four drought as Purdue. Northwestern has never made the tournament. "Nebrasketball" is fun to say, but that's about it. Penn Sta-whatever; you already know.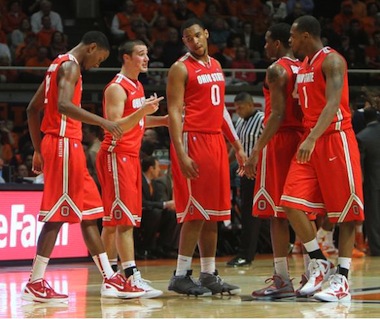 So it's all relative when you consider the relative success of a clearly-defined football school in the realm of (what used to be) winter's thaw with that which is orange, round and bouncy.
For all of the grief that Thad Matta gets over his lineup rotations, he has the Buckeyes in position to make deep tournament runs every year. It now requires six straight wins, which is two more than that 1960 team produced in climbing basketball's tallest mountain.
Fifty-two years ago Fred Taylor also had the Buckeyes in position to make a deep run. Their core was known as the "super sophs" eight full years before the same nickname would be applied to the football powerhouse that won the Rose Bowl in snatching irrevocable immortality of their own.
Those immortal Buckeyes featured Jerry Lucas in the middle; the top recruit in the country as a high school senior two years earlier. Feeding Lucas the ball and wreaking havoc on opponents was fellow sophomore and the quarterback of the offense, John Havlicek.
Nearly the entire 1960 team was from Ohio. Only Gary Milliken of Waynesburg, PA (barely an hour from a Welcome to Ohio sign) came from outside the Buckeye State.
They rolled through the season with only three road blemishes against an otherwise thoroughly dominated opponentry. Their tournament foes en route to the crown were Western Kentucky, Georgia Tech, NYU and Cal in the title game.
The closest contest was a 17-point laugher in the Regional Final against Tech. Ohio State was never challenged, and never ceded domination. As a result, the 1960 team gets to live forever.
Like its 52-year old predecessor, the 2012 Buckeyes won the regular season title, though not as cleanly. They're also led by their own group of super sophs with Jared Sullinger, the top recruit in the country as a high school senior two years ago with a havoc-wreaking quarterback in Aaron Craft distributing the ball to him, fellow sophomore DeShaun Thomas and senior William Buford.
Yes, parallels are great for stoking the irrational flames of optimism, but parallels don't play interior defense or knock down outside shots at crunch time. Just ask Mr. Buford after any of his past three NCAA tournament exits.
The difference between Ohio State securing another little blue ribbon for surviving until next weekend or finding itself standing atop sixty-some odd corpses late in the evening on April 2 is as great as the divide between that 1960 team and every single one that has taken the court since.
But because the Buckeyes have earned a two seed and a seemingly easier path to and through blue ribbonry than the one constructed for them last year via Gene Smith's keen selection committee stewardship, there is a healthy degree of optimism that Ohio State just might find itself playing all the way through March, which would produce the program's 11th* Final Four (Indiana is still not jealous).
Matta definitely has them in position to join the 1960 team in evading the abyss indefinitely. The first test arrives Thursday evening; each obstacle will be unforgiving and progressively more difficult, which means the Buckeyes will have to get sequentially better at a clip they have not demonstrated since very early on in the season.
Like a select few Buckeye teams before them, they can do this. It isn't impossible. As numb to his still-relatively new title standard that Buckeye fans might already be, Matta didn't exactly come to Columbus to settle for regular season conference titles.
Perhaps this is the year that the Buckeyes finally evade the death march of March. This team doesn't seem too anxious for a funeral, and it's been far too long since an Ohio State basketball team lived forever.