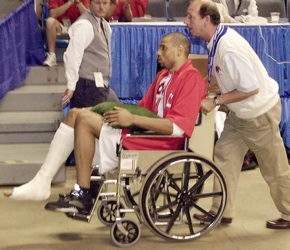 If you ever find yourself lost in a vortex of decadent decay... and thus find yourself attempting to Stump the Schwab in some bootleg ESPN Classic studio tucked away in a back-alley of Hell... ask the following question: "Who was the last American-born, four-year collegiate player to be taken #1 in the NBA Draft?"
Because the Schwab is the Devil wearing a human skin costume six times too big for him, he might know the answer to be "Kenyon Martin", the #1 draft pick of the 2000 NBA Draft; however, this is the best sports-related trivia question I have in my repertoire. 
Because I was twelve when he was at the heights of his powers, I have always associated Cincinnati basketball with Kenyon Martin. He's definitely a key rotational player on my "Guys I Love To Watch But Would Never Want Within 500 Yards of My Favorite Team" team, but Kenyon Martin is always bringing the ruckus, and for that, I respect him.
I loathe the entire city of Cincinnati and its greater metropolitan area, but I have always held a soft-spot in my heart for Cincinnati basketball. This game won't feature Kenyon Martin, but it will feature another boss hogg outlaw by the name of "Yancy Gates". Let's just say, the poor execution and refereeing which usually mire college basketball games won't deter me from watching this banger. (A midnight screening of The Hunger Games will. :-X)
Being such, Scott from the Bearcats Blog and I sat down over tea and crumpets to see what he thought of tonight's tilt. (9:45; CBS.)
11W: "The Brawl" was a turning point for your Bearcats' season. Looking back, do you feel it brought your team closer together? I feel like going through something like that in an environment like Xavier could only strengthen the bonds between a team.
UCBB: You would be correct about that. Pretty much to a man the Bearcats said that the events of that day brought them closer together. Many of the players said that they started playing for each other then. It was the jolt that this team needed. They were 5-3 after getting the brakes beat off by Xavier. The team without Gates changed their identity. For a while there, UC was a trapping, running team. They morphed again into a half court team later in the season.
The suspensions let the players define their roles as well. With Gates out of the picture, Parker, Wright, Kilpatrick and Dixon all had their chances to see where they fit in the offense. Once Gates came back, and the rotation was settled, this team had it's identity. 
11W: Yancy Gates didn't need to knock out a scrub from Xavier before I knew I would "go to war" with him. Am I right in that premonition? As a four-year stalwart who is often playing with four guards, can you crystallize what Mr. Gates means to his team?
UCBB: I think you are correct there. If you remember down the stretch last season, Gates was a beast and really carried Cincinnati to the NCAA tournament. This year, Gates has upped his game in the biggest moments of the season. Starting with the last regular season game against Villanova, he's been a different player. he scored 16 and had 9 boards in a tightly contested game. Against Georgetown in the Big East tournament, it was Gates who scored 10 in a row for the Bearcats as they made a big comeback and won in OT. Gates followed that with a big time 18-7 game against Syracuse in the victory over them. When UC needed points late against Texas, Gates scored 4 of the 6 points that decided the game. Even though he didn't have a flashy numbers game against FSU, Gates played very well defensively and scored big points when needed.
He's the heart of the team. Read anything Mick Cronin or any of the players say about him. Gates brings the team to another level when he steps up. If he's having an off game, the team suffers. Look at the Louisville BET final. He was tired and just didn't have gas in the tank. UC lost. For better or worse, Gates is the face of Cincinnati basketball.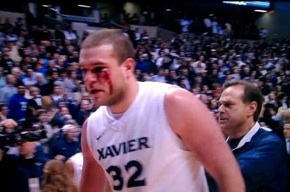 11W: There will be a lot of pre-game clucking about the Gates/Jared Sullinger match-up. How do you see this duel going down? 
UCBB: Normally when there is a lot of talk about a big time post matchup, one of the key players ends up in foul trouble and the whole thing is for naught.
It's going to be very interesting to see if Sullinger can get positioning on Gates. Both men use their bodies well offensively. Sullinger's ability to draw fouls could be the biggest part of the game. Gates doesn't have a lot of plays run through him. Rebounding is how he gets shots. If Sullinger keeps him off the glass, that could make Gates ineffective. I'm really interested to see how it plays out. 
11W: Ken Pomeroy says Ohio State is the best in defensive efficiency. (.084 points per possession.) Cincinnati is 22nd, giving up .91 points per possession. Does fifty points win this game?
UCBB: I don't think it will be that slowly played that the first to 50 would win it. I think the first to 60 will though. There are going to be no easy shots in the half court, that's for damn sure. It might not be a pretty game.
11W: This is only the second meeting between the two schools on the hardwood in 50 years. The last time they met, Ohio State ran the Bearcats out of the gym, 72-50, in the 2006 Wooden Tradition. How much would a W over the Buckeyes mean to Cincinnati and its fans?
UCBB: A win over Ohio State would mean a hell of a lot. The story in every UC fans head is that Ohio State refuses to play UC and the 1 time they did was when they knew Cincinnati was going to be horrible. It would be bragging rights for sure. Games against local powers like Ohio State and Kentucky get the fans a little more pumped up. The Kentucky game a few years ago in the second round of the tournament was a special game. The fact the teams will finally meet in the tournament after being teased with potential meetings in the early 2000s and one in 92 that Ohio St didn't hold their end of the deal on, pushes the excitement over the edge.
11W: Do you hate Aaron Craft? If not, do you realize how much you will come to hate him by the end of the game?
UCBB: Haha I don't hate Aaron Craft. I have already written rough drafts for the tweets, "that was a foul," "he flopped," and "Craft sucks." Between you and I, he's one of my favorite players to watch. His knack for turning people over by any means, specifically steals, is something you really don't see much. The thing I'm prepared to hate the most about him is how he will finish with something like 25 points and drive me insane. Know what, I kind of do hate Aaron Craft now.
11W: The Bearcats were the worst shooting free throw team in the Big East this year. Does that worry you at all?
UCBB: I can honestly say that it does not worry me. It terrifies me. The foul shooting in the Texas game was god awful, 8-16. It was a part of the reason that Texas got back in the game. Then out of nowhere, UC comes out the second half against Florida State and knocks down everything.
No one on this team is a great foul shooter. No one is over 80%. Only 2 guys are better than 70%, Kilpatrick and Dixon. Free throws aren't a big part of the Cincinnati offense, they take something like 16 a game, and they don't take advantage of them. If the game comes down to a free throw shooting contest, it probably wouldn't work out well for UC. Especially if it involved knocking down 1 and 1's late.
11W: Who wins and why?
UCBB: I think Ohio State is going to win. I think there is just a little bit too much talent on that bench. The UC offense needs second chance points to survive, OSU is a great defensive rebounding team. I think UC can turn OSU over enough to get some transition baskets. I think it will be a close game throughout. To your question above, I think if someone hits 60, they will win. I think it's going to be the Buckeyes.