Happy Leap Day, readers! Help yourself to some rhubarb. While Leap Day William is bursting from the sea and trading children's tears for candy, I think we can all agree that getting our eyes poked or our hair pulled is infinitely better than wearing blue and yellow.
For non-viewers of 30 Rock, or for those of you who are, like, four episodes behind, all you have to know is that February 29th is a magical extra day to do the things you normally wouldn't do.
Maybe that involves mulling an Indecent Proposal, or maybe it means attempting to spend a $50,000 Benihana gift card. Whatever the case, enjoy today because Leap Day William will soon return to his home in the Mariana Trench.
This year, I think we all need the bonus day to prepare for the month of March. Recently, it seems like an annual ritual to say, "there has never been so much parity in college basketball", but it doesn't make it any less true in 2012. Kentucky is basically the only team who can claim dominance this season, and I already took the necessary steps to break a curse1, ensuring that they won't win the NCAA championship.
For brevity's sake, let me just suggest that you fasten your seatbelts. It's going to be a bumpy March.
Meanwhile, thanks to Michigan State becoming the latest top five victim of Assembly Hall last night, Ohio State is still in the race for a share of the Big Ten title. First, though, they need to get past Northwestern tonight, a game which Corey will preview later this afternoon. 
SULLY PULPIT. Speaking of Northwestern, the first time the two teams faced off was the last time assistant coach Jeff Boals thought that Jared Sullinger played his own game. That was December 28th. Following yesterday's practice, Sully spoke to the press about his recent struggles on the court. Like most of us, he's frustrated by the seemingly double standard nature of fouls in Big Ten play.
As he told reporters, "I'm trying to not foul instead of playing defense, and on the offensive end I'm not being as physical as I used to be posting up because I'm scared of what the refs were going to call."
Despite some ominous thoughts from Matta after the Wisconsin loss, he talked to his star player on Monday and reminded the sophomore of how much he means to the team. According to Matta, winning still matters most to Sullinger.  
Sully, who has always been forthright with the media, acknowledges that his problems have been "strictly mental" and promises to focus more on earning W's and less on officiating2. If he, or the rest of the team, needs any further incentive, the fact that the Buckeyes control their own destiny for a conference title should hopefully help.
On the other hand, they've been exhibiting the same flaws, like uninspired practices and chemistry issues, that they swore they'd fix in early January, so we'll soon find out whether they've righted the ship or not.
 DO NOT GO MENTAL INTO THAT GOOD NIGHT. Sullinger isn't the only player who's displayed mental breakdowns this season. As a whole, this team seems particularly unclutch. When their games come down to the wire and they need a defensive stop and/or a bucket, too often, no one steps up.
Still ranked second in the nation in scoring margin, Ohio State has been defeated just once by double digits, a 10-point loss to Michigan State. In fact, they have lost their five conference games by an average of 5.4 points. However, only two of their Big Ten victories have been close, final score-wise: a six-point win at Wisconsin and a three-point one vs. Purdue. 
The matchup against the Badgers on Sunday was a microcosm of all their crunch-time difficulties: missed free throws, leaving an opponent open, and taking an ill-advised, potentially game-winning shot. Doug Lesmerises pointed out that the Buckeyes could learn a lesson from Kansas, who rallied from a 19-point deficit by continually putting the ball in the hands of Player of the Year candidate Thomas Robinson. 
Much too frequentlly, Ohio State will go away from Sullinger and start jacking up terrible shots. If his comments yesterday were true, then it's possible he'll start demanding the ball more in those situations. Last year in Evanston, it was that strategy that allowed the Scarlet and Gray to escape Northwestern.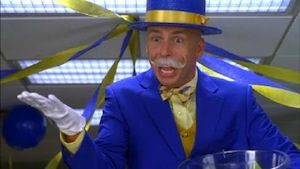 WHAT'S ALL THIS BRACKET? If Ohio State can prevail over the Wildcats again this evening, the Big Ten regular season crown will be on the line this Sunday in East Lansing. The Spartans have already clinched a share and in that case, would be playing for an outright title.
If Michigan beats Illinois and Penn State, they would have to swallow back the vomit and cheer for Ohio State to beat Michigan State, which would set up a three-way tie for the conference title. In that scenario, those three teams would have a 1-1 record against each other, and the B1G tournament seeding tiebreakers become slightly complicated.
The next team in the standings is Wisconsin, who Michigan State and Michigan did not lose to this year. Since Ohio State was 1-1 against the Badgers, that would give them the #3 seed. Then, the instate rivals' records would be compared to the fifth team in the standings, which is Indiana. Michigan State, 1-1 vs. the Hoosiers, would receive the #1 seed while Michigan, 0-1 vs. IU, would take the #2.
All of that is moot if Ohio State can't beat Northwestern, whose NCAA tournament hopes are riding on tonight. In his updated bracketology, Joe Lunardi includes the Wildcats as one of the last four teams invited to the Big Dance. As of right now, Jerry Palm also counts Northwestern in, but states that their current 6-11 record vs. teams in the RPI top 100 will not impress the selection committee. SI's Andy Glockner also believes NU needs a victory against OSU to make the Tourney3. 
BIG MEN ON CAMPUS. While Urban Meyer continues to haul in top-rated recruits, this time Evan Lisle, the best Ohio offensive lineman in the 2013 class, question marks surround this coming season's OL. There isn't much depth, and overall, the group is inexperienced.
Plus, as ESPN's Brian Bennett writes about, replacing four-year starter Mike Brewster and potential first-rounder Mike Adams is no small feat and should give pause to anyone who is overconfident about the 2012 Buckeyes. 
Exactly like Jason projected last month, Bennett thinks that Brian Bobek will take over at center and Andrew Norwell will claim the LT spot. At the guard positions, Corey Linsley and Jack Mewhort are the best bets. Other than the starting RT spot, which Marcus Hall and Reid Fragel will probably compete for, most of the certainty lies in how this young group will perform and whether any freshman earn significant playing time, either due to injury or merit. 
IS HE A DRAKE FAN TOO? Aiding Meyer on his quest to rule the recruiting kingdom is Greg Gillum, Director of High School Relations4. Although it's technically a new position, little will change in Gillum's role at Ohio State, where he has worked for the past seven years in a similar capacity, one that is focused on getting to know the recruits and helping coordinate football camps and clinics.
That doesn't mean he hasn't noticed a difference under the new regimen, most notably earlier evaluations and constant, more intense recruiting. That fits with Gillum's description of the man in charge:
"Coach Meyer is very meticulous. He wants to know everything possible about the people involved in the recruit's life -- anyone the recruit is relying on in the recruiting process. Knowing the small details important to the recruit is absolutely essential. He stresses to all of us to be completely prepared and leave no stone unturned."
No wonder the rest of the Big Ten just adores him. 
LINK BEFORE YOU SPEAK. An assistant football coach's heroic actions at Chardon High School... This big man you've never heard of is owning Division III... 2012 College Football Hall of Fame ballot, B1G-style... What happens when this baby hits 88 mph?... Now you know what to get me for Christmas... Omar Windin'... To go along with his Oscar, get him a small man's wetsuit, please... A quadriplegic dog learns to run (tissue required).
1 I apologize, because the Alabama football national championship was essentially my fault. The day before the Super Bowl, I worked a little reverse Zoltar magic and spared the world a New England Super Bowl title. 
2 That's certainly preferable than being called indifferent and lazy in a 2010 Cole Aldrich sort of way. 
3 I feel sorry for the Charlie Brown-ness of Northwestern every year in regard to the NCAA tournament, but I still want Ohio State to hammer them. I really wish they had beaten Michigan last week. 
4 Couldn't they have come up with a better title, one that doesn't invoke The Police?