Greetings, commenters and lurkers of 11W! I hope everyone enjoyed a lovely evening of Solomon Burke music and Ohio State basketball last night, which is a typical Tuesday for me.
So, just a reminder, today is in fact Wednesday, which might confuse fans of the Dubcast when it posts later this afternoon in a new time slot. Word on the street is that this edition is an early front-runner for the 2012 PodCast Awards. Or, to keep expectations from reaching Sam Thompson heights, I guess it's supposed to be somewhat decent.
After Saturday, when we were all metaphorically hit in the crotch à la Jared Sullinger via Andre Hollins1, it was comforting to watch the Buckeyes play much more competently, especially in a tough environment. Unfortunately, none of the five remaining games are gimmes, so they have to make sure that the team who suited up against the Spartans never sees the light of day again. 
AW YEAH, IT'S BUSINESS TIME. Before last night's contest, Bob Baptist noted that the players acted very serious and determined, like they were on a mission to prove that the Michigan State game was nothing but a fluke.
As Aaron Craft put it, "Any time you lose a game like we did Saturday, you have to refocus. We knew we had to get better, and we couldn't just wave off the loss and act like it didn't happen. It was something we had to accept and move on from. It was good to see our basketball team grow."
William Buford appeared to have a short memory, getting off to an auspicious start that saw him scoring more points in the first few minutes than he did all game against Sparty. That 2/12 performance was followed by a 10/17 one against the Gophers. Besides the opening minutes, he also sparked the team in the second half when Minnesota cut into Ohio State's lead. 
Overall, the senior tallied an impressive stat line: 24 points, 8 rebounds, and 5 assists. If this Buford shows up every time the Buckeyes take the court, they're near unstoppable. That's especially the case when Sullinger is on his game like he was at The Barn, bouncing back with 23 points of his own. Unfortunately, Buford's evil twin likes to drop by from time to time, which makes it difficult to predict how far this team will go. 
THE SWELL OFFSEASON. Yesterday, Adam Rittenberg talked about which football players he thinks need to step up during the offseason. The three he mentioned were seniors Jordan Hall and Etienne Sabino along with junior Philly Brown.
Besides being the most veteran running back on the team, Hall also has the kind of versatility that Urban Meyer likes to use to his advantage. Though he did not record as many receptions last season as some of us thought he would, no one was hauling in catches at a steady rate2. Hall certainly has the ability to do so, and Rittenberg believes that if he can learn Meyer's system this spring, it could be the offense in which he flourishes.  
Philly Brown has the type of speed that Meyer may be looking for in the Percy Harvin/hybrid role. He battled injuries but came on later in the season, at least as much as a marine mammal-run offense led by a freshman QB would allow. 
On the defensive side, Rittenberg said that while John Simon will no doubt bring leadership to the DL, the linebacking corps needs one of their own to do the same. The 2011 Ohio State defense was not up to the usual Silver Bullet standards, particularly at the LB position. Ryan Shazier is a future All-American, but just a sophomore, he doesn't have the same level of experience as Sabino. Although the senior has not lived up to his hype yet, he's got another year to try, and the best way to start is to take charge of this group.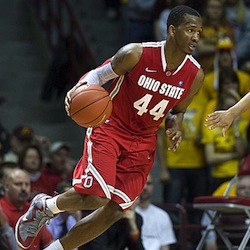 ROUND THE WAY THEY CALL ME BUBBLES. We're now in the bubble watch part of the season, and both the BTN's Brent Yarina and ESPN's Eamonn Brennan contend that five teams in the Big Ten are guaranteed to make the Tourney while four still have the potential to do so.
Of the bubble teams, Illinois has lost six of seven. Northwestern falls short every year. Purdue lacks signature wins. And Minnesota's remaining schedule is no cakewalk. They each still have chances to plead their case on the court, and ultimately, Yarina predicts that eight of the squads will make the cut.
At the moment, Jerry Palm includes all nine in his bracket, with the locks as follows: Ohio State (#2 seed), Michigan State (#2), Michigan (#4), Wisconsin (#5), and Indiana (#5). Though he thinks that one or two of the fringe teams will be left out, he also points out, "All nine Big Ten teams in the bracket rate higher in the RPI than every Pac 12 team except Cal."
Hopefully come March, that competitiveness will benefit the B1G in the Big Dance. There's this factor, too:
#Indiana's @tomcrean says every #B1G team requires unique preparation. Conference schedule helps teams get ready for NCAA Tournament.

— Big Ten Men's Hoops (@B1GMBBall) February 13, 2012
COACH CONTROL. Speaking of Tom Crean, there are quite a few personalities when it comes to Big Ten coaches in both football and basketball. Well, maybe not Kirk Ferentz. I'm pretty sure that guy eats Wonderbread toast every morning and washes it down with a glass of 2% milk3. And I'm fairly certain Indiana's football coach is just a piece of cardboard with googly eyes attached. Plus, who knows anything about Patrick Chambers, other than his name makes him sound like a bratty rich teenager on a CW show? 
First up in B1G coaching news, Ferentz's BB counterpart at Iowa, Fran McCaffery, helped raise money for the baseball team by autographing the chair he slammed at Michigan State. That display earned him a technical foul and a rebuke from Dr. Claw Jim Delany, but the chair, which McCaffery signed, "Coach With Passion", brought in $2,100. 
The Chicago Tribune's Shannon Ryan writes that Bruce Weber is on the hot seat after the Illini's collapse, similar to the one their football team experienced. Athletic director Mike Thomas is unhappy with the recent turn of events, saying, "It's not a question of being in the tournament. That should be a given. It should be what seed." Whether that means he gets rid of Weber like he did Ron Zook remains to be seen. How Illinois fares these next couple week will determine that.
Meanwhile, details of Bill O'Brien's contract were released yesterday. Joe Pa's successor will receive a $104,000 bonus in his first year if Penn State simply reaches a bowl game. It's an incentive not even included in Urban Meyer's contract, probably because after this season, it's just assumed that Ohio State will always head to a bowl game. PSU's Board of Trustees also revealed that it will consult the Paternos and different groups affiliated with the school to decide how to pay tribute to Joe Pa.
In the Twittersphere, Pat Fitzgerald caught some flack when the following tweet showed up on his account: "Officially on the Jeremy Lin bandwagon. There's finally an NBA player who plays hard and says the right things off the court." Even though Doug Meffley, who is in charge of social media for Northwestern athletics, accidentally tweeted it under Fitzgerald's name instead of his own, it received quite a bit of attention from people who took it as a slam against Chicago's Derrick Rose.
Basically, it's much ado about nothing, and as much as I love Twitter, that's not out of the ordinary. 
COLLEGE HUMOR. The blog Online Colleges put together a list of what they deemed the 25 funniest college sports traditions. Revered ones like Script Ohio do not fit that description, but the Mirror Lake jump does, coming in at #21.
The mere existence of the Stanford Tree landed at #1, and three Big Ten selections were included in the top 10. Michigan hockey fans, who heckle the other team's goalie by elaborately telling him he sucks, earned the #3 ranking. Surprisingly, their football fans were snubbed. I know I always find their key-jingling LOL-worthy. 
Wisconsin received both the #5 spot, with the overrated "Jump Around"4, and the #10 spot, with the homecoming cane toss, something I had never even heard of before. It involves bowler hats and law students and sounds completely inane, which I suppose is how most traditions seem to outsiders.
IN THE LINK OF A YOUNG GIRL'S EYE. The baseball team is picked to finish fifth in the B1G... West Virginia and the Big East are now divorced... Danny O'Brien could wind up at Wisconsin... How John Naismith and John B. McLendon, Jr. beat segregation... Clear Eyes, Full Parks, Can't Lose... Make it stop, indeed... Every show has an Omar Little... Happy Day After Valentine's Day.
1 Not a foul, by the way. /B1G ref'd
2 In case you had understandably wiped it from your brain, Devin Smith, Philly, and Jake Stoneburner led the team in receptions with 14 each. 
3 I guess you could call him "milquetoast"...I'll show myself out.
4 Unless Malcolm Jenkins is doing it.