Good day, fans of the Scarlet and gray! Today is February 8th, and twenty years ago, Right Said Fred's "I'm Too Sexy" hit #1 on the Billboard charts. Let us all take a moment and reflect on that particular shame.
With less than a week until Valentine's Day, I'm sure many of you are wondering what to get your significant other. Flowers, even of the collegiate kind, are pretty lame. Candy? It's been done. And not everyone can propose after winning the Super Bowl.
So, as a suggestion, how about donating in your special someone's name to 11W's efforts to hire a full-time beat writer who can personally ask Jared Sullinger, "how's it feel to get elbowed in the face and knocked to the ground without a foul being called?"
DEFENSE TAKES A HOLIDAY. Speaking of last night's win and people who do get to talk to the team, The Dispatch's Bob Baptist interviewed Matta and a couple players after the game. Sullinger, who did not return after DJ Brandon Paul Byrnes Byrd MMA'd him to the floor, claims, "We'll find out what happened. But I'll be good for Saturday." Considering it'll be both a matchup between first and second place in the conference, and the top two B1G Player of the Year candidates in Sully and Draymond Green, he'll be needed. 
Besides the welcome death of William Buford's slump1, the game was potentially a good test for the Buckeyes, who are used to blowing out opponents at home. As Aaron Craft put it, "Every game in the Big Ten's a dogfight, and I think it's great to see we were still able to find a way to win even though they shot the ball the way they did."
Although Ohio State's defense looked anything but the nation's best last night, for once, when a shooter went unconscious against them, it did not doom them. And the schedule doesn't get any easier, with road trips to Minnesota and Michigan following Saturday's meeting with the Spartans.
SMITH AND LESSON. Hate him or love to hate him, Dennis Dodd examined whether the NCAA was fair by issuing a postseason ban for the 2012 Ohio State football team. The university was charged with two offenses: failure to monitor and repeat violator, the latter because of the circumstances surrounding Jim O'Brien's firing. According to Dodd, in the past five years, Colorado, Oklahoma, and West Virginia were all hit with the same two infractions, and not one of the three was dealt a bowl ban. 
Even though the COI will not admit it, Gene Smith believes the NCAA was using Ohio State as an example that they're going to crack down on violations and hand out harsher penalties to those who commit them. More than anything, what vexed the OSU athletic department was the NCAA citing Tressel knowingly allowing ineligible players to take part in the Sugar Bowl two seasons ago as one of the justifications for the future bowl ban. It was not included in the public report but instead, was only discussed by the committee after the fact. 
While there may be some debate about whether Ohio State got what they deserved, Dodd is correct in asserting that few will feel pity for the program, especially when Tressel's dominance was followed by a coaching coup and a highly ranked recruiting class.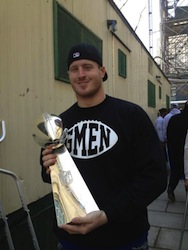 GOLLY GEE. Sitting down with The Lantern, Ohio State president Gordon Gee weighed in on many topics, including the university's switch from quarters to semesters, the partnership with Huntington Bank, and planned improvements to residence halls. However, it was his response to Bielema's criticism of Urban Meyer that unsurprisingly received the most attention.
Because Gee's gonna Gee, he retorted, "We hired the best coach and we went out and got the best kids so get a life", which while face palm-worthy, does not reach the level of gaffe as "I'm just hoping the coach doesn't dismiss me" or "We do not play the Little Sisters of the Poor".
In related news, Mark Dantonio clarified that his comment last week about unethical recruiting tactics was taken out of context and was not directed at Meyer. Or, perhaps he just didn't want Gee to invoke a Chris Elliot sitcom in his name.
MAJOR LEAGUE. On Sunday, 14 former Big Ten football players won Super Bowl rings for the New York Giants. The two Buckeyes on the roster were Jim Cordle and Jake Ballard, who caught two passes for 10 yards before leaving with an ACL injury. It was a breakout season for the latter and as The Middletown Journal's Tom Archdeacon points out this stat about the tight end2:
he became a forceful blocker while also winning quarterback Eli Manning's trust and amassing 43 catches, 647 yards and four touchdowns — more than he accumulated in all four years playing for Ohio State.
Looking to join them in the NFL are 45 B1G players who were selected to participate in the combine. Out of Ohio State, Mike Adams, Mike Brewster, Dan Herron, and DeVier Posey will travel to Indianapolis at the end of the month. Wisconsin leads all conference teams with eight players invited. 
HOOPS-LA. For those who can only commit to basketball when the football season is completely finished, it's time to play catch-up via this handy guide from Mike Miller of NBC Sports. As many would agree, he maintains there is no dominant team this season, though Kentucky, which crushed Florida last night, and Ohio State come the closest. There is also one remaining undefeated squad and that's Murray State at 23-0. 
Like most, Miller acknowledges that the Big Ten is the best conference, led by Final Four contenders Ohio State and Michigan State. Nine teams still have the chance to make the Big Dance, and in Eamonn Brennan's latest bubble watch, Illinois, Minnesota, Northwestern3, and Purdue all need to add to their resumes. 
Meanwhile, the Ohio State women's team is ranked 10th in the country and most recently handled Wisconsin. After that game, Samantha Prahalis earned player of the week honors with 34 points, 5 assists, 4 steals and 2 rebounds. The Lady Buckeyes are currently half a game out of first behind Purdue, who they will face off against on Sunday. 
LINK IT OVER. Rooting for Michael Redd... Another allegation against Wisconsin's John Chadima... No Super Bowl ring for Bill O'Brien, no problem... A look at Disneyland circa 1957... Follow the TV reference... The perfect Valentine Day's cards... Beware of their fake IDs... George Orwell lived here.
1 Please stay dead. 
2 No more of that, anyway. 
3 As long as it doesn't involve Northwestern beating Ohio State, I would really like to seem them make the tournament.