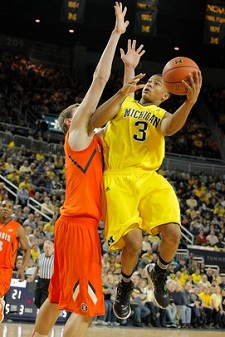 Tonight in a prime-time ESPN clash Ohio State goes to Ann Arbor to take on their hated rivals, the Michigan Wolverines. OSU is coming off an off-the-mat rebound victory at Minnesota in which they played with much more cohesion than they did in the loss to Sparty. Michigan has not played since Sunday, when they dispatched Bruce Weber's struggling Illini at home 70-61.
The Buckeyes are still tied for the lead in the Big Ten with Michigan State, and they need to win to keep pace with the Spartans. Tom Izzo's crew dismantled Wisconsin on Thursday, 69-55. OSU got balanced scoring from their leaders on Tuesday and that type of team emphasis will once again be important as they try to win on the road in a tough environment.
Ohio State leads the all-time series with UM, 91-71, although their record at Michigan is a miserable 26-52. Still, the Buckeyes have won 6 straight and 15 of the last 17 in the series, imitating the success of their football brethren during the last 6-7 years. In the first meeting back on 1/28, OSU used a 14-2 2nd half run to pull away from UM on their way to a 64-49 victory in Columbus. 
| # | Name | YR | HT/WT | PTS | REB | ASST | P | # | Name | YR | HT/WT | PTS | REB | ASST |
| --- | --- | --- | --- | --- | --- | --- | --- | --- | --- | --- | --- | --- | --- | --- |
| 4 | A. Craft | SO | 6-2/190 | 8.3 | 2.9 | 4.7 | G | 3 | T. Burke | FR | 5-11/180 | 14.0 | 3.5 | 4.8 |
| 32 | L. Smith Jr. | SO | 6-4/205 | 6.1 | 4.9 | 2.0 | G | 1 | S. Douglass | SR | 6-3/200 | 7.6 | 2.7 | 2.2 |
| 44 | W. Buford | SR | 6-6/220 | 15.3 | 4.8 | 3.1 | F | 0 | Z. Novak | SR | 6-4/210 | 9.7 | 4.7 | 2.0 |
| 1 | D. Thomas | SO | 6-7/225 | 14.2 | 4.3 | 0.8 | F | 10 | T. Hardaway Jr. | SO | 6-6/200 | 14.3 | 3.5 | 2.5 |
| 0 | J. Sullinger | SO | 6-9/265 | 17.6 | 9.2 | 1.0 | C | 52 | J. Morgan | SO | 6-8/250 | 7.7 | 5.3 | 0.3 |
Opponent
Michigan is a team that lives and dies shooting jump shots, which puts a premium on shooting a high percentage. The Wolverines shot well against Illinois on Sunday, hitting 50% of their shots overall and 48% from distance. They also went to the line 22 times, hitting 17 of them for 77%. UM is an excellent free-throw shooting team, and so OSU would do well to avoid fouling as much as possible, especially on drives to the basket.
The Wolverines use a variety of sets and screens to get their shooters open, but against the Buckeyes they will probably go with the most tried and true method of solving OSU's defense: the ball screen and pick-and-roll combination. The Buckeyes have struggled with this for most of the season, and Michigan does it extremely well. However, OSU cleaned up their defense in the 2nd half of the first meeting with the Wolverines, and John Beilein seemed to have no answer for it. 
If Michigan is to solve OSU's defense this time around, Trey Burke will be a big part of it. The freshman point guard gave ace defender Aaron Craft all he could handle in the first meeting, although he scored only 13 points on 5/11 shooting. The Wolverines shot poorly overall in the first meeting, hitting only 36%, and got to the line only 4 times. Look for Burke to be more aggressive this time around, working the pick-and-roll game for open shots and assists on drives to the hoop. 
Michigan shoots a large number of 3-pointers, and almost 50% of their shots come from beyond the arc. Looking only at the trio of Zack Novak, Evan Smotrycz, and Stu Douglass, the percentage is well over 50%, with leading scorer Tim Hardaway Jr. close to that as well. Smotrycz was recently sent to the bench in favor of the bulkier Jordan Morgan, but look for him to play a lot, especially if the Wolverines get down early and need a scoring lift from the bench.
UM was passive and soft two weeks ago in a 10-point loss to Michigan State (sound familiar?). In that game, they went to the line only 12 times and were out-rebounded by an astounding 39-15 margin. The Wolverines will need to be more aggressive and stronger in the paint if they are going to prevail against Ohio State, a team that is 2nd only to the Spartans in rebounding and rebounding defense in the Big Ten.
Buckeye Breakdown:
After the loss to Michigan State last weekend, there was a lot of talk among the Buckeye players about selfishness and not playing as a team. In fact, Jared Sullinger referred to the team as a bunch of "spoiled brats". Playing on the road in the Big Ten is extremely difficult, and it tends to bring a team together. Such was the case for OSU on Tuesday against Minnesota.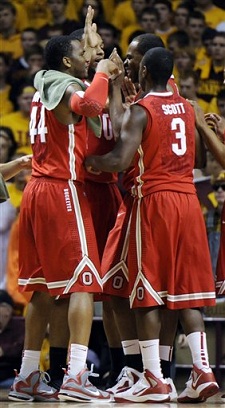 The Buckeyes dished out 15 assists against only 9 turnovers, led by Aaron Craft and Will Buford with 5 dimes apiece. Minnesota actually outshot Ohio State from the field, but OSU made up for it at the line, hitting 78% (22/28) there while the Gophers made only 65% (15/23). They also held Minny to 5/20 from 3-point land. 
Against Michigan, OSU will need to keep an eye on the perimeter of course, but they also need to beware of the drive. UM's Trey Burke and Tim Hardaway Jr. are especially dangerous if they get the first step on you and beat the defender into the lane. Not only does that lead to many layups and trips to the foul line, but it draws help from other defenders, leading to open shots for the likes of Douglass, Smotrycz, and Novak. 
Look for UM to utilize a lot of high ball screens, which will make it essential that Jared Sullinger and Deshaun Thomas hedge well to limit UM's ball movement and prevent wide-open 3-pointers. I have hammered on it for the entire season, but it's worth repeating again: the hedge is the best defense against ball screens, but until Sully consistently shows the ability and willingness to do it, other teams will continue to use this simple offensive tactic to riddle the otherwise-solid OSU defense.
On offense, it's pretty simple for the Buckeyes: move the ball around and find open shots. Michigan has no one who can defend either Sullinger or Thomas effectively down low, and so you can expect to see a lot of double-teams on the big guys. This will put a premium on good ball movement and hitting open shots. OSU's offense is at its best when they go inside-outside and reverse the ball against a sagging double-team. Getting good outside shooting from the likes of Buford, Smith, and Craft will silence the hostile crowd and lead to another victory for the Buckeyes in a series they have dominated.
Etc
Ohio State is 5-3 vs. ranked opponents this season, with wins coming against Florida, Duke, Indiana, Wisconsin, and these very same Wolverines. Aaron Craft averages 11.4 points per game in those contests, giving OSU four players averaging in double-figures against the ranked.
Dan Shulman and Jay Bilas will call the game for ESPN, with Erin Andrews providing sideline(?) reports. ESPN's College Gameday crew will be on-hand for an hour of pre-game coverage.