Good morning, Buckeye Nation! You know what to expect by now, right? My craving of the moment (are you sick of this yet?)... City BBQ.
I won't even be picky, as long as there is pulled pork involved. Go crazy and come up with your own order. Since I don't have a City BBQ within driving distance, if you go... post a picture for me, please! 
And now, let's get started...
DIGG-ING FOR ANSWERS. I'm going to start this off by saying that I was quite possibly one of the biggest brats in the world when it came to making my college decision. Nobody cared about my 40 time, but I was legitimately torn up until the last minute, and ultimately let my parents know through a mass email. The people who gave me life, and just about everything else for 17 years, found out in an email (that their friends were copied on) that I wanted to move 2,500 miles away from them. What happened next is a story I won't bore you with, but it's always served as a reminder to me that even the most level-headed teenagers, are still just teenagers. 
I try to keep that story in mind, as we roll our eyes at some of the bizarre things we see in the wonderful world of recruiting. And, among those that follow that world, many were rolling their eyes at Stefon Diggs this week, as he seemingly taunted everyone with his apparent inability to decide where he's going.
The five-star WR Diggs, who has narrowed his choices down to Ohio State, Maryland, Florida and Auburn, seemed to be debating with himself on Twitter on where he should go to school. At one point, Stefon said, "Never been this nervous my whole life. Football games I've never once got nervous ... Footballs easy just about the work you put in .. But making a decision that'll impact your life for the next 40 to 50 years .. Like I'm actually nervous .."
Later, he tweeted some of the reasons he felt this was such a big decision. He followed that up by saying, "Floridas hot I love weather and people ...Umd hometown ... Ohio state great place.. auburn a family... Can't go wrong with my decision .." So, either this kid really doesn't know where he wants to go, or he loves teasing a bunch of grown adults with a questionable obsession with high school boys. Either way, the circus should finally end at some point today.
He was originally scheduled to announced his decision on Comcast SportsNet at 10pm tonight, but later it was announced that he's backed out of announcing with them. Following that announcement, it was reported that its been rescheduled for 6pm at a pub in College Park, MD. Shortly after the change in venue, various outlets started posting the strong possibility that he'll be committing to Maryland.
Those writers, however, were likely fast asleep when Stefon tweeted shortly after 2am EST, "Just had a dream I was in the swamp time to go back to sleep ." So, while you all ponder the benefits of a Friday Skull Session writer who lives in PST, I'll just keep repeating the words "mass email" to myself and wait for 6pm EST.
THE ODD COUPLE. Maybe there's hope for peace in the Middle East, after all. Despite their differences in their long-gone SEC pasts, Urban Meyer and Lane Kiffin seem to have buried the hatchet. Perhaps the cruel ways of the NCAA can actually serve to make enemy coaches kiss and makeup... can sanction-adversity make the heart grow fonder? (That may be the most Carrie Bradshaw thing I've ever written, please forgive me. And if you know who Carrie Bradshaw is, please turn your man card in, on your way out.)  
Meyer and Kiffin, who are now being called the Big Ten and Pac XII counterparts of one another, both turned heads this week when referring to each other in interviews. 
First up, Lane Kiffin talked to the AJC about all the "gentlemen's agreement" drama that had gone down in the Big Ten last week. Though their aggressive recruiting styles are not all that different, his defense of Urban Meyer was surprising, given the things he's said about him in the past. Here's what Lane Kiffin had to say:
I just had someone call me about things being said about this 'gentlemen's agreement' in the Big Ten, how Urban came in there and shouldn't be recruiting guys who were committed.

For me, as a head coach, I work for the school and the athletic director. I'd hate to ever go to my athletic director and say 'Hey, there was a great player that hadn't signed his LOI [letter-of-intent] yet and we might have a chance at … but we're not going to recruit him because he's committed somewhere.' I would think that there are some athletic directors that would fire you for that. I know some coaches over there were upset about him going after their kids but I think that just shows what a great competitor he is.
The love was being spread all around this week, apparently, as Urban gave Lane Kiffin and his staff some props as well. On Thursday, during his appearance on "The Hooligans," Urban was asked about how coaching through a bowl ban might affect his approach this upcoming season. His response was also surprising, given how he felt about Kiffin, back in the day. Here's what Meyer had to say:
"I really don't know. I'm going to actually do some research. There's a program, USC, who has done a good job. They're dealing with a real severe bowl ban, three years. And I thought that staff has done a good job, so at the appropriate time I might reach out there. I don't know that answer, we haven't spent much time on it, at some point I will.
It should be noted that USC actually has a two year bowl ban, not three, but the question still remains... is this real life?! Are Pete Carroll and Jim Harbaugh going fishing together next week? (Though maybe Jim Harbaugh getting along with anybody would be the appropriate baby-step.)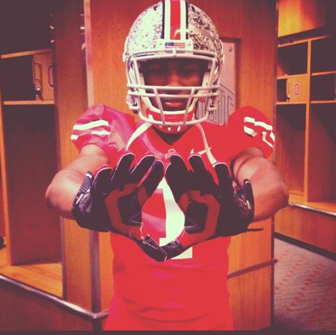 BULL, FOX AND URBAN. Urban made the radio rounds yesterday. In addition to his interview with The Hooligans, he also stopped in to chat with Bull and Fox. They covered a variety of topics, here are some of the highlights.
On what went into his decision to come to Ohio State: "There was no decision. This is my home." 
On recruiting, and how difficult it was having 2.5 months: "If you're at a place that you really don't believe in, or if you don't really know the school that you're representing, I imagine it would be difficult... Being at a place like Ohio State, where you can sell, that's easy. The hard part was trying to squeeze a year and a half of relationship into two weeks and three weeks."
On the bowl ban, and how it affected recruiting: "When it hit, yeah that was awful. It was a two to three week... just paranoia, just as hard as we possibly could to have constant communication and tell [the recruits] exactly what that meant."
On Bielema's comments last week: "I was very angry. You know, whenever you use those terms, something like "illegal" which couldn't be farther from the truth, that doesn't happen here. And if it did, we would make a change with whoever did it... To have that make the press, especially when it's not accurate, legally you can't do that."
On if the SEC is that much better than the B1G:  "I don't know, I don't think it's that far off. I think that it's cyclical. They'll be a time when the Big 10 will go get that crystal ball back. I'm hoping sooner rather than later... You look at the recruiting rankings, not that they mean a lot, but it does, and there's a lot of SEC teams right now in the top 25 where I think in my opinion the Big Ten has to get up in there. If you want to go have great great teams and win some of these bowl games, you have to go get some of those players."
On THE GAME and what it means to him: "It's an honor to be a part of it. We don't use their name. I'm a huge Woody Hayes fan, I've studied everything I possibly could about him. I grew up watching him and got to meet him one time. I was here when he passed away and that is the greatest rivalry. We will absolutely ready for it and our kids will have a clear understanding of what that game means. Obviously Coach Tressel did a fantastic job of that as well."
SPARTANS HEAD TO COLUMBUS. Matt Charboneau of The Detroit News wrote about Tom Izzo and the Spartans heading to Columbus to take on the Buckeyes. Tom Izzo, who during the preseason said he thought Ohio State was the best team in the conference, gave the Buckeyes props yesterday, saying, "They've got a shooter, a point guard who defends, wing guy who is an offensive rebounder and a hell of a post man. They've got a little bit of everything."
When discussing the Spartans' game plan for the Buckeyes, Izzo said, "We've got to guard Sullinger. But we've got to make him guard us. … We've got to make sure we're getting the ball to the right people."
It's always interesting to see how Ohio-born players, who cross state lines, feel about returning for a big game. Charboneau got into that as well, as Adreian Payne and Travis Trice are from Dayton and Huber Heights, respectively. Apparently, neither of them really cared to go to OSU. Trice elaborated, "I was really never an Ohio State fan for the simple fact that everyone around likes them. I wanted to be different." Well, way to be unique... as apparently no kids in the Midwest grow up wanting to play at Michigan State. I mean, do they even have a basketball program there? Game on.
HAPPY FRIDAY! This might be my favorite healthy tweet of all time... Butch Davis is headed to Tampa... Ummm, ok... A trip down Mad Hatter Lane... Giving all female sports fans a bad name... Another Urban interview, with his daughter.