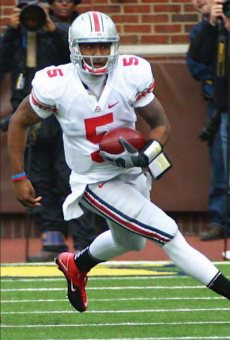 For the second time in the last four years, Ohio State turned its offense over to a true freshman quarterback and although in each case the quarterback oozed talent, learning on the job at the FBS level comes with its ups and downs.
In 2008, when Terrelle Pryor took over for Todd Boeckman, he had Jim Tressel guiding him as a coach, a supremely talented running back in Beanie Wells, veteran wide receivers and a defense featuring several future NFL starters. The result: a 10-3 season that ended in the Fiesta Bowl.
Last season, Braxton Miller took over for Joe Bauserman in the fourth game of the season, but had a first year coach at the top, his two best running backs suspended to start the year, an inexperienced receiver corps and a bend-and-LOL-break defense. The result: the team's first seven-loss season since 1897.
Given the transitions and turmoil surrounding the team, it's no surprise that the offense struggled as much as it did in 2011. Thanks to the aforementioned suspensions to Boom Herron and Jordan Hall, the rushing attack was woeful, with Miller the quarterback leading all rushers.
Things were so bad in 2011 that fullback Zach Boren earned the team's Rex Kern award as outstanding back. Now Boren is a human wrecking ball and a fan favorite for plowing running lanes, but his last rushing attempt came in November 2010.
But as is the theme with any preview of the 2012 season, optimism running rampant in Columbus these days. Urban Meyer has completely reinvigorated the program and has assembled a staff that features a real quarterback coach in the form of Tom Herman. Stan Drayton has moved from coaching wide receivers to his more natural position as a running backs coach and both groups will benefit from the strength and conditioning program of Mickey Marotti.
We have an idea of how Urban Meyer will run his offense and how the position battles will go down, but with a new regime comes new opportunities (paging Rod Smith).
One thing I feel comfortable saying with a certainty is that Braxton Miller will be the starting quarterback for the Buckeyes when Miami rolls in to town for the opener. Meyer has barely been able to contain his glee at the prospect of coaching the dynamic sophomore and the only thing keeping him out of the starting spot will be injuries.
Departing

| # | POS | Name | Notes |
| --- | --- | --- | --- |
| 14 | QB | Joe Bauserman | Graduated |
| 4 | RB | Jamaal Berry | Kicked off team |
| 33 | FB | David Durham | Transfer |
| 19 | QB | Taylor Graham | Transfer |
| 1 | RB | Boom Herron | NFL-bound |
Returning

| # | POS | Name | HT/WT | YR |
| --- | --- | --- | --- | --- |
| 44 | FB | Zach Boren | 6-0/252 | SR |
| 13 | QB | Kenny Guiton | 6-2/195 | R-JR |
| 7 | RB | Jordan Hall | 5-9/195 | SR |
| 49 | FB | Adam Homan | 6-2/248 | JR |
| 34 | RB | Carlos Hyde | 6-0/238 | JR |
| 5 | QB | Braxton Miller | 6-3/210 | SO |
| 2 | RB | Rod Smith | 6-3/230 | R-SO |
Incoming

| POS | Name | HT/WT | YR | Rivals |
| --- | --- | --- | --- | --- |
| RB | Warren Ball | 6-2/210 | FR | ★★★★ |
| RB | Br'onte Dunn | 6-2/215 | FR | ★★★★ |
| QB | Cardale Jones | 6-5/217 | FR | ★★★ |
As a true freshman, Miller started 10 games for the Buckeyes and really blossomed late in the year on his way to capturing the Big Ten's Thompson-Randle El Award as the league's freshman of the year. He finished 85/157 for 1,159 yards and 13 touchdowns to just four interceptions through the air and also led the team in rushing with 751 yards and seven touchdowns.
His first half against Nebraska was a thing of beauty before he left the game with an injury, he was part of a three-headed 100-yard rusher performance against the Hoosiers in which he set a school record for a quarterback with an 81-yard touchdown run and set career marks for passing completions, attempts, yards, and touchdowns on the way to racking up 335 yards of offense against the Wolverines in a very Troy Smith-like coming out party.
He is absolutely electric, finishing the long runs that Pryor only tempted us with and should flourish in Meyer's offense with its focus on easy reads and leveraging numbers.
But, oh, those injuries. Miller missed part of his junior and senior seasons in high school with various injuries and was knocked out of the Nebraska game, leading to a 2nd half of Bauserman throws into the stands and a gut-wrenching come-from-ahead loss. He took plenty of hits as a freshman, though, so you can't knock his toughness. He just has to avoid the type of injuries that will knock him out of games.
Should Miller get injured, Meyer will likely turn to redshirt junior Kenny Guiton. Guiton is not nearly as talented as Miller, but he's been in the program for a while and I have full confidence in Meyer and his staff to have Guiton prepared to play should Miller get hurt. Incoming freshman Cardale Jones has the frame (6-5/217) to trigger Tebow dreams for Meyer, so keep an eye on him as they may utilize him in a similar manner near the goal line (though with Braxton's shakes, that may not be needed).
The team will miss Boom Herron for his off the field leadership as much as it will for his on the field ability. Though he was suspended for the first six games of the season, he returned with a vengeance, sparking a three game winning streak against Illinois, Wisconsin and Indiana in which he rushed for 114, 160 and 141 yards, respectively.
In the upset over the Badgers, he outplayed Wisconsin star Montee Ball, behind 33 punishing carries and the image of Herron standing on the field with tears streaming out of his eyes will not soon be forgotten by Buckeye fans that came to appreciate his rushing style that seemed to always produce positive yards.
He leaves Ohio State as the school's 10th-leading rusher with 2,869 career yards and should surface somewhere soon in the NFL.
Vying to inherit Boom's role as the team's primary rusher will be senior Jordan Hall, junior Carlos Hyde, redshirt sophomore Rod Smith and two very talented freshmen: Canton GlenOak's Bri'onte Dunn and Columbus DeSale's Warren Ball.
Hall would seem to be the best fit, given the personnel on hand, for Meyer's offense. He lacks high end speed and won't be mistaken for Percy Harvin anytime soon, but he's dependable, smart and busts his ass giving effort.
Though he was himself suspended to open the year, he wound up starting three games during Boom's prolonged suspension and finished with 408 yards on 100 carries including a gutty performance in his first game back, coming against the Hurricanes (14/87). Hall also served as the team's primary return guy, both on punts and kickoffs and he finished first on the team and second in the Big Ten in all-purpose yards.
Hyde started three games in 2011, finishing 3rd on the team with 577 yards and six touchdowns on 106 carries. His average of 5.44 yards-per-carry was good enough to lead the team and the six rushing touchdowns were second-most on the roster. 
When Boom and Hall were both out against Akron for the opener, Hyde finished with 93 yards on 19 carries and followed it up with 18 rushes for 74 yards and a touchdown the next week against Toledo. He exploded for a 63-yard touchdown in the first half in Lincoln (finishing with 104 yards on 13 attempts that night) and topped 100 again against Indiana with a 15 carry, 105-yard performance. 
A fan favorite, for his output in limited opportunities, Hyde may have set himself back by taking playing time grievances to Twitter, but with the new staff comes somewhat of a clean slate, so expect him to compete for the starting job.
You may remember Rod Smith as the guy that elicited the "OMG, LIKE JIM BROWN BUT BETTER!!1!" praise coming out of fall camp last season. While he certainly has the talent, he needs to get his head right and cut down on the fumbles. Compounding his problems is that he missed the team's flight to the Gator Bowl and that was after Urban had already taken the job, so he has one huge strike against him already.
Dunn and Ball, the two hyped freshman should be in the mix and with a new staff comes a suspension of loyalty. If either one of them is the best choice at running back, they will play.
Zach Boren and Adam Homan, the team's top two fullbacks are both back and thought there's been talk of utilizing Boren as an H-back in Meyer's offense, we'll have to see what shakes out. One thing is almost guaranteed: Boren won't repeat as the team's Kern Award winner.