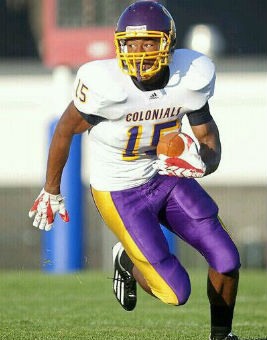 Ohio State held it's second Junior Day of the year this past Sunday and in the process hosted another outstanding group of 2013 prospects from both Ohio and outside of state borders.
One of those prospects coming from out of state was South Bend (IN) Clay WR Wesley Thomas. Thomas, a 6-0/190 receiver, is just starting to receive heavy interest from some of the top programs in the country and wanted to make the trip to Columbus to check out campus and get better acquainted with the Ohio State coaching staff.
Thomas visited along with his teammate OL Shakir Carr and both players had a great time while in Columbus. While it is unknown if either will receive an offer from OSU this year, it is no secret Urban Meyer and the staff are making a concerted effort to extend Ohio borders to the Hoosier state, after striking gold this past year with David Perkins and also targeting Tim Kimbrough and Jaylon Smith in the 2013 class. Thomas is one of the players being targeted and will definitely be looked at when talking about the wide receiver big board.
We got the chance to sit down with Thomas to talk about the latest in his recruitment, how his visit to Ohio State went this weekend, what his future plans are, and more. Join us after the jump to learn more about OSU recruiting target Wes Thomas.
First off, how did your junior season go? How did your team do and how did your perform individually?
My season went well. My team went 5-5 overall. I had 57 receptions for 965 yards and 16 touchdowns.
How is recruiting going? What offers do you have at this time?
Recruiting is going okay for me right now. I'm getting a lot of interest, but the only offer I have at this time is from Central Michigan.
Where are some of the places you have gone on visits? What other visits do you have planned?
I have only visited Central Michigan and now Ohio State. I plan on getting up to Minnesota sometime in the spring. That is the only one I have planned right now.
You went to OSU's junior day on February 12. What did you do while in Columbus and how did you enjoy the visit?
I definitely enjoyed the visit. We go to tour the campus and all the academic and football facilities, as well as talk to the coaches a bit.
What coaches did you get to sit down with and what did they tell you?
I talked to the receivers coach (Zach Smith). He told me that he would be in contact with me sometime soon.
What did you like most about your OSU visit? Do you plan to get back there at all?
I liked their facilities and academics the best on the trip. I will probably take the trip back there if the coaches ask me to.
When do you expect to make a college decision? Do you have a list of "top schools" at this point?
I plan on making a decision sometime during my senior year. Right now I don't have a list of top schools as things are just getting started for me.
What is most important to you when making your college decision?
The thing that is most important to me is how strong of a relationship I have with the coaches and where I feel most comfortable and fit in the best.
What are your strengths on the football field? What do you want to work on heading into your senior season?
I think my strength comes when I go 1-on-1 with a defender, as well as running short, speed routes. I really want to work on my blocking heading into next year.
Besides football what are your hobbies? What does Wesley Thomas like to do off the field?
Off the field I just like hanging out with my friends. I like going to the mall, the movies, and other stuff like that.
HIGHLIGHTS: