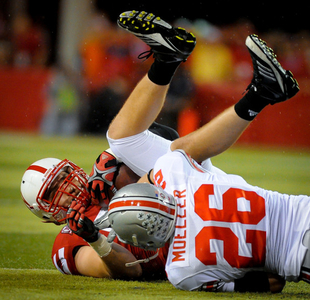 Although hounded by injuries for a good chunk of his career, Tyler Moeller was the consummate Buckeye. The former Division I Defensive Player of the Year at Cincinnati Colerain spent the better part of six years at Ohio State, leading by example on and off the field. 
I recently had the chance to talk to Tyler about his new job in New York, his memories of being a Buckeye, his thoughts on the trouble with the NCAA and more.
TRAINS WERE A BIG PART OF YOUR BLOG. HOW MUCH TIME DID YOU DEVOTE TO YOUR TRAIN WHILE AT OHIO STATE?
My grandpa was huge into it and he has a beautiful track. I've always thought they were cool and I had a lot of free time after I was injured, so I kind of picked up something. I stopped going out and hitting the bar scene after my head injury, so I found a little hobby and I love doing it. There's not much space in New York, so the track didn't make the trip. But I kept everything and it's all boxed-up at my parents house and one day I'll have the space and a little more time to take it out and mess with it again.
SPEAKING OF THE BLOG, DO YOU HAVE ANY PLANS TO PICK IT BACK UP?
I initially wanted to bring it back, but I got away from it at the beginning of the season -- just with everything going on, I didn't think it was appropriate to talk about football, so I shied away from it a little bit and the coaching staff didn't want us posting anything on any websites, so I got away from it.
When I was done with football, I started interviewing. I went through the interview process with Cardinal Health and VWR, who I'm currently with, and I've just been on the go since then and haven't had a lot of free time.
HOW IS NEW YORK? HAVE YOU HAD A CHANCE TO GET OUT AND SEE ANYTHING YET?
I love it. My brother helped me move in and get settled in and I've been to see the Statue of Liberty and the Freedom Tower, which was really cool to see as well as some other tourist type stuff before I really got busy with work. So I've done some things with him.
The great thing about living in New York is that there's a Whole Foods not even 100 yards away from me. It takes me 20 seconds to walk to it. I'm a block away from Central Park and in a really cool location. I haven't driven in two weeks except to go to IKEA and back, so that's been nice, too.
After the move, I'm happy that I'm up here and settled in and it's a great opportunity with a great company and I really enjoy it.
AS FANS, WE DON'T OFTEN THINK ABOUT THE ACADEMIC SIDE OF THE EXPERIENCE. WHAT WAS YOUR FAVORITE CLASS AT OHIO STATE?
It's funny because the class that I couldn't stand in college, but look back at now as a cool opportunity was calculus because it's so challenging in the moment, but I like how there's one answer at the end of an equation. I enjoyed math and all of my computer science classes.
I think if I had to go back and do it again, I'd be a software engineer, but the thing about football that makes it tough is to take a lot of those classes, you have to devote a lot of time to them and with football, that's really tough to do. I love football, but it really limits what you can do and what you can have time for.
YOU HAVE CHOSEN A CAREER IN THE BUSINESS WORLD INSTEAD OF TRYING TO MAKE AN NFL TEAM. WAS THAT A DIFFICULT DECISION?
Absolutely. It was a difficult decision and I still look back and it's a bummer the way things worked out for me, but when you look at reality -- when you look at the percentage of players that make it and the opportunities that I have now -- I've been banged up but I could still have a good shot of trying out for a team and making the team or a practice squad, but in the end, how long do player's careers last and when you look at my history, how long would my career last?
When you look at everything that's happened to me, I don't want to look back in 20 years and have a banged up body, or head problems. I had opportunities outside of football and I would rather have a fast start now in life than do something that could be or could not. I love football and I love the opportunities that I've had. I played on some great teams. I played with the best and I had a good time doing it and I don't regret anything that happened because it made me who I am today.
It was a fun ride, but looking at life and the future and I can be successful outside of football and I want to get an early start on it. There's only a certain timeframe that the name you made for yourself can open doors for you, so I went for it.
PERSEVERANCE IS A WORD THAT COULD BE USED TO DESCRIBE YOUR CAREER AS A BUCKEYE. WHAT KEPT YOU MOTIVATED?
Really, and this isn't just with football, but I want to be the best. Anything that happens to me in the past doesn't affect me. All I can control is the future. After everything -- one big thing or another bad thing that happened -- I've always had the mindset that the only thing I can control is my future.
I'm going to train like the best train and work as hard as I can to get there. I guess that's the mindset that I took because you really can't control some of the things that happen to you -- and a lot of things have happened to me -- but you can't think about them. You can't let them affect you.
Tyler's grandfather's train setup
SPEAKING OF SOME OF THOSE THINGS, ON A SCALE OF STUBBING YOUR TOE TO CUTTING OFF A FINGER, HOW PAINFUL IS A TORN PECTORAL?
You know, it's funny because a lot of people ask me that and it didn't really hurt that bad at all. I had a couple of muscle spasms, but other than that, it wasn't terrible.
Now, if you go back a year before that to my head injury1, that was the worst pain I think someone could ever go through.
I was in the habit for about a year of sleeping on my right side because when it initially happened -- after they let me out of the hospital in Florida saying I'd be fine in two weeks -- the left side of my head was throbbing so bad that I had to sleep on my right side to let the blood flow go to the other side. Before I didn't know that was the case, and it just felt better to do that, but now I know the reason why.
It was just the worst feeling that you could go through. I was stubborn and wanted to keep playing, so I wouldn't tell people about things that happened to me. So I was moving to a new apartment and they told me not to lift anything heavy, so I wasn't and I was just moving clothes and then my whole face went numb and my hands went numb for 20 seconds. That would occur here and there and I just wouldn't tell anyone about it. Looking back at it now and wow, what was I thinking?
It really hit me at one of our night workouts and I lost my speech and then it dawned on me that this might be serious, so I went to a doctor and ultimately it worked out in the end, but that was pain. The pec wasn't that bad after all of that happened. It was like having a flat tire.
WITH THE HEAD INJURY, WAS THERE ANY APPREHENSION THE FIRST DAY BACK IN PADS?
Oh, absolutely. I probably had the worst camp out of everybody because of the injury and I hadn't played in a year. But getting over that first big hit was huge. I remember it like it was yesterday, Taurian Washington was in the endzone in one of the last practices in camp and he came by to catch a ball and I didn't see him and he laid me on my butt. That was then I figured everything would be okay.
I was very fortunate to have coaches that had faith in me and trusted me.
WHAT WILL YOU MISS MOST FROM YOUR PLAYING DAYS AT OHIO STATE?
I want to cheat and say everything, but really it's just the team atmosphere. Everyone has you're back and you're part of something bigger than yourself. Just being in the locker room, messing around with guys and being at practice. You go through so much with these guys and you all go through the same thing, so there's a great bond.
I know in 20 years I can text CJ Barnett and just ask him how he's doing. I haven't talked to him in two months because I've been so busy, so I texted him out of the blue and things like that.
Going all the way back to day one when I was a freshman and they were seniors, guys from that class will write. Ben Person wrote to me when I graduated and asked me how I'm doing and if I needed any help. That goes for the guys that are 50 years-old now to current players. It's a brotherhood.
YOUR FORMER COACH AT COLERAIN HAS JOINED THE STAFF. WHAT CAN YOU TELL US ABOUT COACH COOMBS?
Moeller's Ohio State Highlights
I think that's the best decision Urban Meyer has made since he got to Columbus. Coach Coombs is a great coach and he's a great motivator. I think Coach Johnson really had a lot of enthusiasm -- there's always that one coach that can motivate players -- and I think Coach Coombs has it. He's a great guy, he's going to be a great recruiter, he gets you excited about stuff and I think he's going to be a really great coach.
I was pretty upset to see Coach Haynes go. I'll put money on Coach Haynes being a head coach of a Division I football team within five years. He's a great guy and a great coach, but I think bringing in Coach Coombs was a great decision. I can remember high school -- I think I have our state championship speech recorded. It takes a special person to be able to motivate like that and he has it and will do well.
THE NCAA VIOLATIONS AND THAT SAGA THAT ENSUED SURPRISED A LOT OF US. WERE YOU AS SHOCKED AS WE WERE?
Yeah, I mean none of us ever thought that could happen. I feel bad for Coach Tressel. You know, he made a mistake and when you're in his position, you can't make mistakes like that, but at the same time, he's a great person. He's a great role model, a man of God and he's the definition of class, so I was very sad to see him go.
As for the violations, they're definitely tough. If Gene Smith knew a bowl ban was coming, obviously we wouldn't have gone to the Gator Bowl. I don't think any of us thought that would happen. We thought we'd lose a couple of scholarships or something like that, but you have to look at the situation. If we opted into a bowl ban and the NCAA only hit us with a couple of scholarships, then people would have been pissed off.  He was definitely in a tough position and I know he had the counsel of a couple of people that told him this wouldn't happen and it did and it's unfortunate. He came in the next day and you could tell that he was very upset and genuinely sorry that this had happened, so I really didn't think it would happen, but it did.
I really feel bad for the seniors now because everyone that got in trouble was in a class ahead of them. I feel bad for guys like Zach Boren and Johnny Simon because they do everything right. Guys like that are in there every day and working hard. You could tell when that class came in that they thought they were bigger than what they were and the world came crashing down on them.
HAVE YOU HAD A CHANCE TO SPEAK TO COACH MEYER?
I haven't. We were there when he spoke to us after the announcement and he came in to speak to us. I met him once and I don't think he thought I played football, so I haven't had a chance to talk to him or anything like that.
HAVE YOU NOTICED ANY DIFFERENCES SINCE COACH MEYER TOOK OVER?
I think you guys are hearing the same thing we're hearing. I think it's completely different, but I think it's good. I think some of the guys need some of that discipline and really some of that tough love. He's working the guys out really hard and I think he's off to a good start.
I know the type of coach Tress was and it's very different.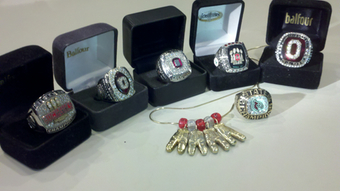 IT LOOKS LIKE CHANGE IS AFOOT FOR NCAA FOOTBALL. DO YOU THINK THERE SHOULD BE A PLAYOFF OF SOME SORT?
That's tough because how many games are you going to have to play? That's a lot of extra games for the players, but at the same time I do see why people do want to see a playoff. I really have mixed feelings.
I think people would enjoy a playoff system and the NCAA would definitely make money off of it, so they'll eventually go to it and suck a little bit more money out of players, but as a player, playing that many games is hard. You're not going to get away from your core games in your conference and you're not going to get away from a conference championship game, but it's a cool idea.
WHAT ABOUT ATHLETES? SHOULD THEY BE PAID?
I think a some people may disagree with my opinion on this, but I think the athletes that make the money should get paid. It's a business. You're over 18 years-old, you're an adult and you're making money for someone else.
Why are they charging so much for tickets? Why are they selling concessions? Why are they charging so much for our jerseys if it's not a business?
If it's not a business, then why aren't there more student tickets when Ohio Stadium is so large? Tickets sell out to the students within 10 minutes because there aren't that many student seats. There are 50,000 students at Ohio State. Why can't everyone get a ticket? The stadium holds 100,000. Well, it's because the students can't afford to pay that much money for tickets.
So, absolutely it's a business, so I think the players that get the money should get paid. Even with our Nike contract, we only received two pair of socks per year and trying to get that 3rd pair is a hassle. You have to literally beg to get equipment and I don't think many people realize that. Ohio State has 34 sports, so all of the money is being divvied up to the other sports and you have to have those sports, but at the same time, I see football and basketball bringing in all of the money and we don't see that much out of it. That's disappointing when you see the large figure at the end of the day and you don't see any of it. You have a torn pec or whatever at the end of the day and after 10 years, all of the injuries come back to you and you don't get anything out of it financially, but the school does.
I think it will eventually change and I think it's coming soon, but when that will happen, I don't know. I think players are getting fed up with it and it's going to happen.
I don't know about being paid as the first step, but something should be done because, like I said, you see this huge dollar figure at the end of the day and if I was Beanie Wells and saw my jersey getting sold, with everyone profiting on it, you would think that he would get something off it. I'm not speaking as a player that should have received something because I didn't really sell anything, but players like that, it's definitely tough when you're scrambling to pay rent and you don't see any money out of it.
You spend at least six hours a day at football and you don't really get anything out of it except for your school paid for. Don't get me wrong, that's awesome and I love that fact, but how much is that worth compared to how much you made for the university.
DO YOU THINK YOU'LL GET BACK FOR ANY GAMES THIS FALL?
I'd love to. I'm definitely going to purchase my two alumni tickets, but I don't know if I'll be able to make any games this year. Columbus is 12 hours away from me now, so maybe not this year. I'll definitely watch all of the games, but I'm not sure if I'll be able to make one, although I'd love to.
I'm going to be working very hard on my career and I definitely want to have that as my first focus.