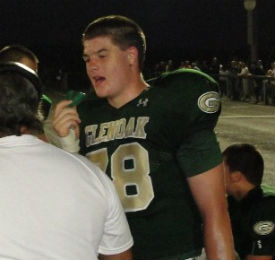 Ohio State has done well in the last decade or so in the recruiting area when it comes to Canton GlenOak High School, landing Kosta Koufos on the hardwood, while enlisting Dustin Fox, Brian Hartline, and now Bri'onte Dunn on the gridiron.
In the class of 2013, the GlenOak football program has another wave of solid prospects that are set to garner Division I football interest. One of those players is 6-5/285 offensive tackle Steve Mathie, who is being regarded as one of the top offensive line prospects in the state of Ohio.
While Dunn was one of the best running backs in the country this past year, Mathie was one of the guys paving the road for his success. His effort in the trenches did not go unnoticed, as big time schools are showing interest in him and offers are starting to come in.
Naturally, one of the schools showing interest is Ohio State, as the staff got an up close and personal look at Mathie while they were recruiting Dunn this past year. Mathie was invited to visit Columbus a number of times, including last weekend for what was the second Junior Day of the year.
We got the chance to catch up with Steve to hear the latest on his recruitment, how his OSU visit went, which Buckeye coaches he spoke to and more. Join us after the jump to hear more on Canton GlenOak tackle, Steve Mathie.
How did your junior season go?
I feel my junior season was successful. Our team won the league and made the playoffs.
How is recruiting going? What offers do you have? What schools are you hearing from?
Recruiting is starting to take off. I have gotten one offer so far and that is from Toledo. I am being recruited by mostly Big Ten, Big East, and MAC schools right now.
What is your current height/weight? What position are colleges recruiting you for?
I am currently 6'5" and weigh 285 pounds. I am being recruited to play both offensive tackle and offensive guard at the college level.
You recently visited Ohio State. What did you do on your visit and how did you enjoy your time there?
I was there for one of the Junior Days. I talked to some of the coaches, saw the football facilities, and toured the campus area. It was a good time.
What OSU coaches did you get to speak to?
I talked to Coach Warinner and Coach Hinton the most while on my visit. I did get to see Coach Meyer for a little as well.
Have you visited any other campuses? Do you have any visits lined up in the near future?
I have only been to Toledo thus far in addition to Ohio State. I will take more visits, I am just not sure of where and when yet.
Do you have a list of top schools? When do you want to make your college decision?
I don't have a top list yet. I plan to make my decision after my senior season. It will most likely be sometime in late December or January.
What is most important to you when you talk about choosing the right school?
The academics, how far away from home the school is, and the overall football program and coaches will be the most important factors when making my decision.
You played with Bri'onte Dunn in high school. What was it like blocking for such a talented back? Has Bri'onte given you any advice about making a college decision?
Blocking for him mean that if everyone did their job on a given play that he would break a run easily. He hasn't really given me any advice about making a college choice just yet.
What are your strengths on the field? What are some things you need to work on?
I feel I am good at pass blocking and moving up on linebackers in the next level. I feel I really need to work on my striking power.
HIGHLIGHTS: