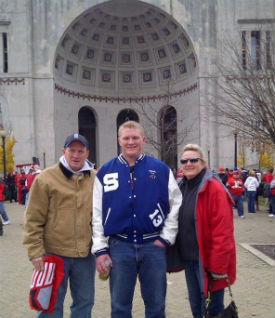 When Springboro High School is in the discussion, many Buckeye fans will think of former Ohio State and current New York Giants tight end Jake Ballard. In fact, the new Super Bowl Champion is probably the only Springboro alumnus the majority of fans can name when put to the task.
One player that is trying to change that and put his name right up there with Ballard's in Springboro history is 2013 offensive lineman, Sean Welsh, who is a rising star for the Panthers and is one of the more sought after players in Ohio by some major college football programs.
The 6-3/280 Welsh is projected at guard at the college level, but is getting a lot of interest despite tackle being the premium in the college game these days. He plays with a nasty streak and has shown good mechanics and great lower body strength in paving the way for the Springboro running backs to make big plays the last few years.
Welsh was one of the many players in attendance for Ohio State's second Junior Day last week and came away very impressed with what Urban Meyer has in store for the Buckeyes. We got the chance to sit down with Welsh to discuss that visit, what is going on with his recruitment, whether or not he plans on reaching out to Ballard for advice, and more.
Join us after the jump to hear more about 2013 offensive guard prospect, Springboro's Sean Welsh.
How did your junior season go? How did your team do and how did you perform?
I personally had a solid season. The coaches think I'm developing very nicely to prepare to play top level BCS football. My team, on the other hand, struggled a bit. We ended up going 3-7 on the year.
You come from the same high school as former Buckeye TE and Super Bowl Champion Jake Ballard. Have you gotten a chance to speak to Jake at all? What was it like watching him win a Super Bowl?
Believe it or not I haven't met him yet. It was kind of crazy, as I remember being a little kid in 4th grade and watching him play on our field. Now I'm watching him play in the Super Bowl. It is absolutely mind-blowing. I'm going to try to connect with him now that his season is over and see what kind of advice he has to give me.
How is recruiting going? What offers do you have right now?
Recruiting is getting crazy. My mailbox is full and my Facebook is blowing up as well. I have offers from Indiana, Cincinnati, Toledo, Bowling Green, Miami (OH), Kent State, and Ohio University. I'm getting "bumped into" by many college coaches at my high school quite a bit as well.
You just visited OSU for Junior Day. What did you do while on your trip and how did you enjoy it?
I went to Ohio State's Junior Day on the 12th. I brought my dad, my head coach, and my grandpa. We all had a great time. We toured their facilities, were able to see all of their gear, and got to hear a few talks with people from the strength program, the academic side of things, and others.
What coaches did you speak to while in Columbus? What did they tell you?
I met Coach Warinner and I spoke to my recruiter, Coach Hinton. I also spoke to Coach [Kirk] Barton, who is a GA from the last staff who I met at OSU's camp last spring.
Do you have any other visits planned in the near future?
I have Kentucky on February 25, Illinois on March 10, and there will probably be a few others. I was invited to Junior Days at Purdue and Michigan State, but I had already committed to other visits. Coach Bates at Northwestern is trying to get me back to their campus for another visit as well.
What was your favorite part of the OSU visit? Do you plan to get back to Columbus anytime in the near future?
My favorite part was hearing the strength and conditioning coach [Mickey Marotti] speak. He knows what he's doing to say the least. I'm definitely going to try and get back to Columbus for a spring practice.
What is most important to you when making your college decision?
The most important things to me will be competitiveness of the program and the quality of education I will get while I am there.
When do you anticipate making a college decision?
My goal to make a decision is sometime before my senior season begins, but we'll see what happens.
What are your strengths on the football field? What do you need to work on before playing at the next level?
My strengths on offense are having a low center of gravity, fast feed, a good punch, and solid technical skills. I feel I can read and interpret the play very well, as well as getting to the second and third levels, and finally, pass protection. I have given up very few sacks in my lifetime and feel good about that. On defense (defensive line), I have good hand, eyes, and footwork. I feel I need to work on staying low the whole game and playing both ways (offense and defense) without getting gassed. I want to be able to put everything together better.
HIGHLIGHTS: