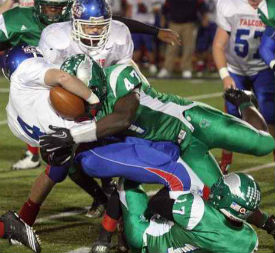 Last week during an interview with Hamilton LB Marcus Oliver, we learned that Ohio State is looking to bring in two players at the linebacker position. We also learned that the staff wants to evaluate all of the players on their board so that those players are two of the best at the position in the country, as Urban Meyer continues his efforts to try to land the best recruiting class in America for 2013.
One of the players on the evaluation list is Darrien Howard of Chaminade Julienne High School in Dayton. The Division IV All-Ohio Linebacker currently stands at 6-2/240 and projects to play the MIKE linebacker position at the next level. He is ranked as a 4-star by Rivals and is a member of their top 250 players.
He had a tremendous junior season that has already yielded him a couple of scholarship offers with more on the way in the near future. He has been invited to Junior Days by many of the top programs in the Midwest and is starting to take advantage of those opportunities in getting face to face time with coaching staffs.
One of the programs Howard checked out recently was Ohio State. Visiting OSU back on February 12, Howard took in the Junior Day with many of his peers and got the chance to tour the facilities and stadium, learn some more about academics, and sit down and talk to the coaches a bit while in Columbus.
We got the chance to sit down with Darrien to discuss the latest in his recruitment, how his visit to Columbus went, what he plans on working on this off-season, and more. Join us after the jump to learn more about one of the top prospects in Ohio for the class of 2013, Darrien Howard.
How did your junior season go? How did your team do and how did your perform individually?
My junior season went great. We made it to the regional finals and I had a good season individually as well.
How is recruiting going? What offers do you have at this time?
Recruiting is going well. I have offers from Cincinnati and Bowling Green so far. 
Where are some of the places you have gone on visits? What other visits do you have planned?
I have visited Ohio State, Bowling Green, and Kentucky. I have visits planned to Michigan State, and Ohio University in the near future.
You went to OSU's junior day on February 12. What did you do while in Columbus and how did you enjoy the visit?
We basically just took a tour of the campus and facilities and then got a chance to talk to the coaches. It was a good time. 
What coaches did you get to sit down with and what did they tell you?
I got the chance to talk to Zach Smith and Urban Meyer. They told me they want me to come down to one of their camps so they can get to know me better and see me play.
What did you like most about your OSU visit? Do you plan to get back there at all?
I liked meeting the staff the most. The new coaching staff if great, as they are very knowledgeable and easy to get along with. I definitely plan to get back to Ohio State.
When do you expect to make a college decision? Do you have a list of "top schools" at this point?
I plan to make a decision some time after my senior season ends. I don't have a list of top schools right now.
What is most important to you when making your college decision?
I want to go to a school with a great environment and a place where I can get a long with the coaches really well.
What are your strengths on the football field? What do you want to work on heading into your senior season?
My strengths are being able to play down hill, as well as being able to move well from sideline to sideline. I'd really like to work on my pass coverage this off-season.
Besides football what are your hobbies? 
I play basketball a lot and just do a lot of relaxing and hanging out when I'm not working out and training.
HIGHLIGHTS: