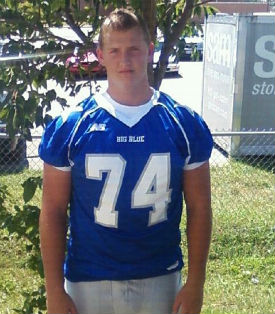 The offensive line is certainly a big need again in the recruiting class of 2013 and we have brought you updates from some players in the position on OSU's radar, so why stop now? We are back with another segment of "Catching Up" and this time we chat with Hamilton OT Ben Flick.
Flick, a 6-6/270 lineman, is best known for his athleticism which is very impressive for a player of his size. He currently holds just one offer, but as he makes more college visits and hits the camp circuit this coming summer, things are certain to heat up on the scholarship front as many top programs are in his ear selling their schools already.
Flick was in attendance at the Ohio State Junior Day at the end of January when the Bucks took on Michigan at the Schottenstein Center. He left Columbus with a better feel for where he stands with the Ohio State staff, as well as a good view on what the new coaching staff's plans are for the Buckeye football program.
We got the chance to sit down with Ben to discuss his recruitment, that visit to Ohio State, where he stands with the coaching staff, and much more. Join us after the jump to read more on Hamilton rising star lineman, Ben Flick.
First off, how did your junior season go? How did your team do and how did your perform individually?
Our team faced a lot of adversity this past year. We did not do as good as we thought we would, but we stuck together. We lacked some athleticism and size in some areas but our offensive line was incredible. Working with those guys helped make me put forth my best effort this year.
How is recruiting going? What offers do you have at this time?
Recruiting is going well for me at this point. Right now my only offer is from the University of Buffalo.
Where are some of the places you have gone on visits? What other visits do you have planned?
I have gone to Indiana, Cincinnati, and Ohio State. I plan on visiting Buffalo, Purdue, and Ohio University in the near future.
You went to OSU's junior day a while back. What did you do while in Columbus and how did you enjoy the visit?
The Junior Day was a blast. All of the Ohio State coaches are full of intensity. We basically just got familiar with the staff, the facilities, and the academics that they have to offer.
What coaches did you get to sit down with and what did they tell you?
I had the opportunity to sit and talk with Coach Hinton, Coach Warinner, and Coach Meyer. Coach Hinton said he likes my athleticism that I carry as a big man, such as footwork and hip movement. He also likes the way I carry myself off the field. He then went on to say that they want the top two or three linemen in the nation and he would see me at camp.
What did you like most about your OSU visit? Do you plan to get back there at all?
My favorite part about the visit was how intense and high juiced all the coaches were. I plan on attending a spring practice and camp in the summer.
When do you expect to make a college decision? Do you have a list of "top schools" at this point?
It is too early to tell right now when I will make my decision. A list of schools I am interested in includes Notre Dame, Ohio State, Cincinnati, Indiana, and Buffalo.
What is most important to you when making your college decision?
The most important thing to be will be a university's academics. More specifically, the strength of their business school.
What are your strengths on the football field? What do you want to work on heading into your senior season?
My strengths are my footwork, hip work, and speed. I am currently working on getting stronger in the weight room.
Besides football what are your hobbies? What does Ben Flick like to do off the field?
I play a few musical instruments, such as guitar. I also like to get involved at my school and I am in the Wilks Leadership Program. We come up with ways to stop stereotypes, bigotry, and other issues throughout the schools in our community.
HIGHLIGHTS: