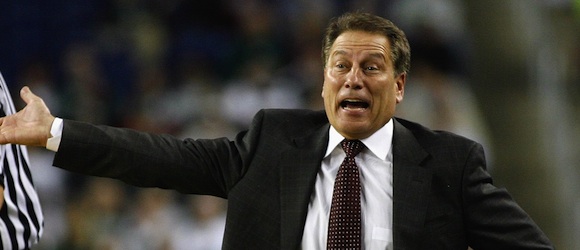 Michigan State, who takes on Penn State tonight at 6:30pm EST, heads to Columbus this Saturday in a showdown of the top two teams in the Big Ten. The Buckeyes, following an exciting victory over Purdue last night, look to extend their win streak to seven games. The Spartans, recovering from a few hiccups in conference play, hope to climb into the top ten and narrow the gap in the B1G standings, depending on how their game with Penn State goes.
It should be a great game. If, however, it proves to be a dud... you can always hop back on here and try to decide which of these four Tom Izzo pictures is your favorite. Or, perhaps you can check them out now, as I doubt it will come to that.
To help you get hyped, and know who to watch for, Pete Rossman of The Only Colors joins us to talk about the Spartans and the game on Saturday. 
What are three things you would tell someone who hasn't watched the Spartans this year, to give them an idea of this team so far?
Rebounding on both ends.  That should be no surprise given Izzo's leadership, but last year's soap opera of a team seemed to let so many boards slip away.
The second is the smoothness of the offense; it's leaps and bounds beyond where I thought it'd be this season.  Everyone knows that Draymond Green is a Swiss Army knife of a player, but Derrick Nix does a great job out of the post in not only finishing, but finding the open man on the perimeter. 
The third would be how quick some of the freshmen have picked up Izzo's style of man-to-man and help defense.  Branden Dawson looked lost for the first half of the B1G season, but has strung together 2-3 great games. Brandan Kearney only plays his 6-8 minutes a game, but it seems like he always has 2-3 smart decisions and/or hustle plays in that time.
Michigan State has done pretty well, for the most part, this season, but has dropped three Big Ten games. What do you think were the keys to the upsets by Northwestern, Michigan and Illinois?
The key to the Northwestern and Michigan upsets was lackadaisical interior defense by MSU.  This is still a young team, and many times Adreian Payne and Branden Dawson lost track of the men they were supposed to be guarding many  a time, leading to easy layups.  The defense wasn't a problem against Michigan on Sunday luckily.
As for Illinois, the key there was Michigan  State's inability to convert any sort of an offensive rebound into points.  They rebounded about half their misses but made less than a quarter of their field goals; it's amazing they only lost that game by one in retrospect.
Unsurprisingly, one of the biggest strengths of this team has been rebounding. Can you talk a little bit about the Spartans' rebounding ability, and the effect it's had this season in particular?
I don't believe in rebounding margin, so I'll break it down like this: The Spartans are rebounding 39.6% of their misses (also called offensive rebounding percentage), 13th best in the nation, while allowing opponents to rebound 26.4% of their misses, also 13th best in the nation. 
One irksome aspect of most Michigan State squads is that they have a tendency to push the ball and create unforced turnovers; the offensive rebounding helps mitigate any points ceded by  loss of possession.   As for the defensive rebounding, I think some teams'  game plan is to shoot, then partially concede the offensive rebound to stop the Spartans in transition.  MSU-Iowa was a great example of what happens when an inferior team tries to run with Michigan State, and the Breslin Center court has the dent to prove it.
If you had to pick one weakness of this Michigan State team that you could instantly improve overnight, what would it be?
If I had to say one I'd say limiting turnovers, but even that hasn't been that bad compared to previous seasons.  Still, MSU will have 4-5 minute spurts in the first half where they'll commit a turnover a minute. 
What is one thing about how the Spartans matchup against the Buckeyes that gets you excited for Saturday, and another that makes you nervous?
After seeing parts of the Purdue game, I'm excited to see MSU attack the Buckeyes at the post and driving the ball.  D.J. Byrd channeling Brandon Paul aside, MSU's one of the few teams in the Big Ten that has more than one capable post scorer and a couple of guards (Keith Appling, Brandon Wood) that can drive the ball.  They should be able to provide a challenge offensively.
As for concerns, I'm wondering how well the Spartans will be able to grab offensive rebounds while Sullinger's in.  The man vacuums up defensive rebounds, and although Michigan State is most likely the best rebounding team Ohio State's faced this year, I'm a bit apprehensive to see how MSU will respond.
Draymond Green aside, who are some other players that Buckeye fans should look out for when the two teams play this weekend?
As I've said previously, Derrick Nix is a very good offensive post player.  He looks big at 6'9" and 270, but he's deceptively quick; he has a couple of post moves and a hook shot that are difficult to guard.  Doubling him might help, but he's just as likely to kick the ball to an open player on the wing.   I've been very impressed with how well he's played.
Another is Branden Dawson.  He's a consistent jump shot away from being a complete power forward, because this player has everything: athleticism, rebounding, he's starting to get the hang of playing defense, two little people dressed as traffic cones...OK, maybe not the little people.  But you see what I'm getting at.
Lastly is Keith Appling.  The point guard has been a bit out of sorts the last few games, for reasons few can explain.  When he's playing well though he's a defensive stalwart who's explosive in transition, and I expect him and Craft to sort of nullify one another on Saturday.
What's your prediction for how far Michigan State goes this year?
This looks like at least a Sweet Sixteen squad to me.  They remind me of the 2005 MSU team, one that was overshadowed by the best team in the conference (Illinois then, OSU now) but still a very solid team that beat Duke and Kentucky on the way to the Final Four.  Do I see another Final Four?  Not yet, because the Spartans still have maddening spurts of inconsistency on both ends.  So let's split the difference and call them an Elite Eight squad.
Lastly, do you have a score prediction, or any final thoughts on the game?
This should be the best game in the Big Ten so far this year.  If you believe in efficiency margin (which I do), OSU and MSU are the clear #1 and #2 in the conference. I'm most worried about how MSU is going to deal with William Buford -- he's one of the best wings in the B1G, and I don't know how Michigan State's going to guard him.
Another thought -- the Spartans stifled Sullinger last year by taking him out of the post and forcing him to make a post move or shoot a contested jumper.  MSU definitely has the big men to do this again, it'll be interesting to see how the Buckeyes counter.
All in all, a very good way to spend 6 PM on a Saturday.  My prediction/obvious attempt to sandbag: OSU 68, MSU 63.
---
Thanks again to Pete Rossman of The Only Colors, for joining us to talk Michigan State. To read more from Pete and the rest of his crew on all things Spartans, check out the following links:
The Only Colors: www.theonlycolors.com
Twitter: @theonlycolors