Welcome back to another edition of the 11W Recruiting Mailbag. Since the first installment was so successful and we are now post-Signing Day, I figured another opportunity to ask me your questions would be welcomed.
In case you have been living under a rock for the past week, National Signing Day was pretty successful for the Ohio State Buckeyes. Urban Meyer's first class currently features 25 top level high school seniors, with one more spot left to fill if the staff chooses to do so. 
That one spot was speculated to be left to either Scottsdale (AZ) Chaparral ATH Davonte Neal or Olney (MD) Good Counsel WR Stefon Diggs. Rumor spread last week that the Buckeyes had turned away Neal's efforts to commit on Signing Day, and it turns out that the rumor is looking to be true, despite some details missing from the story. As for Diggs, things are still looking good for the five star prospect, as he will announce his decision Friday between the Bucks, Florida, Maryland, and Auburn.
In addition to covering 2012 prospects in this mailbag, we will also take a look at some of your questions regarding 2013 student athletes. This class is expected to be smaller, but is already off to a great start as DB Cameron Burrows and ATH Jalin Marshall are already on board, giving Urban Meyer two All-Americans to build from.
Please join us after the jump to discuss the latest on Diggs and Neal, what 2013 players to watch, and more on the recruiting front with the latest installment of the 11W Recruiting Mailbag.
If Tatgate hadn't happened, who do you think would have had the higher ranked recruiting class-Tressel or Meyer?
While Jim Tressel hauled in some pretty spectacular recruiting classes, I still have to give this one to Meyer. Meyer takes recruiting to a whole new level and is relentless in pursuit of the nation's best players. Both coaches had different strategies and both were successful, but I take Urban any day of the week when trying to close out a recruit and I think that gives him the edge at Ohio State over Jim Tressel.
So, just to be sure, Davonte Neal is definitely not going to be a Buckeye? What happened there?
As you all know now, Neal has apparently "eliminated Ohio State", but the real story is that Ohio State eliminated Neal. The rumors circulating last week that Neal tried to commit and was denied are apparently true, although I haven't been able to get my hands on the full details just yet, nor may I ever. I was told that there was something that Meyer and the OSU staff did not like from the Neal camp and those type of things are what Meyer didn't like about recruiting in the SEC. The fact that Urban wants to avoid the shady business, coupled with Ohio State's current situation of being in trouble with the NCAA, are plenty of reason not to be taking chances, even if it means losing some good talent.
I know Urban has been an integral part of pulling this class together, but many prospects give the position coach or recruiting coach credit a lot of times in getting them to go to a certain school. If I wanted to look at this class and say "this guy was all Urban", who would be that one recruit I could point to?
Without a question, Noah Spence. Urban played a very important role in getting some guys like Kyle Dodson, Tommy Schutt, Joey O'Connor, and others, but Meyer targeted Spence from day one he took the job and pretty much closed him all alone, despite taking some company with him in Fickell and Vrabel. I don't think there is a bigger prospect for your head coach to bring you, so be happy the Buckeyes got their man in Urban.
Do the coaches give the incoming recruits a workout regiment before they enroll?
Yes, many times the high school strength and conditioning coach or the player's trainer they work out with will talk to the staff at Ohio State and talk about what each prospect should be doing to prepare for Ohio State. I know Mickey Marotti has had these discussions and was very specific for each player in terms of goals and a way to achieve those goals before they step on campus. If the players follow Marotti's lead, they should be ready to go come June when most of them enroll.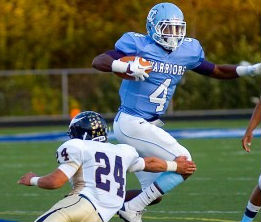 What are the biggest needs in the class of 2013?
While Kyle Dodson and Taylor Decker were good gets in 2012, I think the offensive line is still a bit raw in terms of talent and depth doesn't run deep. I expect Meyer to continue to pursue linemen, while also targeting defensive backs (especially corners), tight end, and probably most importantly, quarterback, as Braxton Miller will need a successor one day.
How many spots are available in the 2013 class and how quickly do you expect them to be filled?
Right now the class is looking to be around 15 players, but due to natural attrition and players transferring, I expect that number to be somewhere between 18-20 when it is all said and done. I think spots will go fairly quick in this class and I wouldn't be surprised if the class is half full, maybe even up to 10 by the start of next football season. Of course, there will always be the players who want to drag things out until Signing Day, but hopefully you are looking at only 2-3 of those players with the rest in the bag before the January stretch to the finish even starts.
Who do you think is Ohio State's top target in the 2013 class?
That is really hard to judge right now because it is still fairly early. I think Jalin Marshall was far and away the top target, with Cam Burrows a close second, when recruiting first started, and of course those two are committed. As for players still available, I think WR Robert Foster is definitely up there as the top target on the offensive side of the football, while LB Jaylon Smith is probably the top guy on the board on the defensive side.
Do you think OSU will offer Trotwood-Madison LB Michael McCray? Is it just a matter of time?
McCray is a very good player and a great kid. It is my hope that Meyer eventually offers, but I think the staff is being more careful at the linebacker position after locking down David Perkins, Cam Williams, Luke Roberts, Jamal Marcus, and Josh Perry in this year's recruiting class. I think McCray eventually does get offered, I just hope his love for the Buckeyes isn't tainted by the fact that he knows he wasn't the top priority from day one for this staff. It is still a bit puzzling why Courtney Love was offered a few weeks ago and McCray was not.
What are your feelings on the Buckeyes' chances with Robert Foster?
I think right now, Ohio State is definitely the team to beat. Unless something changes, I don't anticipate this one will be over anytime soon though, and of course plenty of programs will have a chance to get in on this. That being said, geography and early returns will make Urban Meyer a hard guy to defeat for Foster.
Is the staff looking at James Quick at all? If not, why?
I think James Quick is definitely on the radar, but guys like Foster, Marquez North, and Uriah LeMay are a bit higher in the pecking order right now. With a solid group of receivers in this past year's class, and Diggs possibly on the way, I'm not sure there will be room for too many wide outs and I think the first group of targets is going to get a lot more attention as compared to the "Plan B" guys right now, until things clear up a bit. Quick is good, but I think he is in the second tier of guys the staff is looking at right now.
What position will Jalin Marshall play?
Marshall will come in as a "quarterback", but if he ever even takes a snap behind center in practice I will be surprised. If you listen to Marshall speak, you can tell he knows a move to receiver is imminent, but this guys will have the ball plenty in his hands. People want to talk about someone like Stefon Diggs being the "Percy Harvin" at Ohio State, but the real guy for that role is Marshall. He will get be out wide, in the slot, in the backfield, and behind center making plays for Ohio State and will be a REALLY good one. 
Check out this video for what you may see from Jalin in Columbus:
Does Ohio State take a specialist or two in next year's class?
I think they have to. Ben Buchanan will be a senior this year and Drew Basil will be a junior, meaning they will be without a punter and will have a senior at kicker when the 2013 class comes on campus. I think Frank Epitropoulos is definitely an option at punter, but Urban knows how important special teams are and will likely go after the best specialist in the country. I think the staff will be looking for someone who can both kick and punt at the BCS level, as that way only one scholarship can be taken by a specialist, rather than too. Taking Ross Martin this past year may have been the move, but that was obviously not in the cards.
How much longer until Dymonte Thomas is a Buckeye?
If it does happen, I think this one will take a while, as breaking away from Michigan won't be as easy as it sounds. I think come the fall you will see Dymonte making visits to Ohio State to "visit family and see Bri'onte play". He may not be there "to see any coaches" but you can bet he will "bump into them". Slowly but surely after a couple more interactions at OSU, Thomas will officially start to consider Ohio State and gradually break up with his firm hold on a Michigan commitment. He will most likely wait until after his season is over to "further consider other options besides Michigan" and then once January rolls around he may even be "open". Once again, if this does happen, I think the final public pledge to OSU won't come until later in the game, but Urban will know long before where he stands in this one.
Between the three corners most see committing (Cam Burrows, Eli Woodard, Caleb Day), is there a chance any of them could move to safety or STAR?
Woodard is definitely a true corner and I think he will stay there. Caleb Day probably could move to free safety down the road, but I think Burrows could be the guy most likely to move as he is a bit bigger than the other two and plays with the physicality needed at the position.
How long before Michigan realizes their 2013 recruits from Ohio are Urban's leftovers?
I think their fan base would never acknowledge that, but that is most likely going to be the case. Fortunately for them, with a large talent base for the state in 2013 and a small Buckeye recruiting class, the "leftovers" are a "five star meal" most other years.
Thanks to our readers for their participation. Keep your eye on the forums for our next request for 11W Recruiting Mailbag questions.