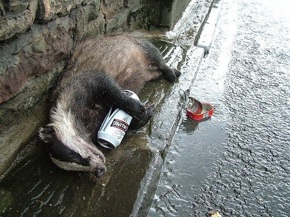 Our southern college football overlords have certainly done it to us this year. Gone is the silk glove which covered their iron fist. Gone is their generosity of allowing one of our meager football teams to serve as their sacrificial lamb. They will not only have the glory belonging to the butcher, now they're also taking the sympathy which belongs to the butchered. (Perhaps next year, we should sacrifice twice as many bushels of pork grinds to appease them!)
I have to applaud the SEC. Their dominance doesn't come from some mystical idea like "SEC speed" as if southerners are genetically faster than everybody else. It comes from their willingness to pay an assistant football coach over a million dollars a year to coach football. It comes from their willingness to establish shadowy networks capable of paying players like Cam Newton hundreds of thousands of dollars under the table and off the radar. It also comes from their shameless allowance of over-signing, which allows their top-tier programs to establish pro-like, yearly cuts to their rosters of "amateurs." It also comes from having the World Wide Leader having millions of dollars tied up into the conferences future to perpetuate the idea of just how superior the SEC is to everybody else.
This is the college football world we live in, and kudos to the SEC was waging into the muck full-speed ahead. If everybody is bending the rules -- even a little bit -- then why shackle yourself with things like morals and common sense? There are bragging rights and money to be had after all! Viewed through this scope, it's not hard to see why the SEC is "dominating" the moral cesspool which has become college football.
Will this stop me from watching LSU and Alabama? No, it won't. The sponsors of the BCS and the ad-makers (the true target to enact any change in college football) will get their millions of sets of eyes they paid millions of dollars for. The beat will continue, and as it does, I won't be able to help but wonder if we don't deserve this fate. Truth be told, we probably do.
Moral grandstanding on the internet over with, let's get to the games!
COTTON BOWL: #6 Arkansas vs. #8 Kansas State  (+7.5) - Friday 8:00 EST - FOX
Ah, the Cotton Bowl, the ol' dude who got hustled out of the BCS gravy train. Good try on keeping yourself relevant by putting your game after all the BCS Bowls, Cotton Bowl! It's still not going to work. You'll need more glamorous teams to get me to put up with Fox's hokey broadcasts. And this is another reason I hate bowl games: What does a game played in Dallas Cowboys Stadium -- that's right, the Cotton Bowl isn't in the Cotton Bowl -- played a month after the season tell us about who's the better team this year, other than just who happened to be better on Friday night?
Regardless, I know a lot of livelihoods depend on my aimless soothsaying, so I'll pick a winner. I think Kansas State comes in with a plan to give the Razorbacks a steady diet of destroyer Collin Klein. The QB had over 1,000 yards rushing this year... and I think Bill Snyder will use Klein to keep Arkansas' vaunted offense off the field. Tyler Wilson throwing a dumb interception or two wouldn't hurt either. If Kansas State can just hang tough -- they'll give up big plays, undoubtedly -- I think they can pull off a 4th quarter victory. When we last saw Arkansas coach Bobby Petrino, he was cussing out Les Miles from the opposite sideline while his team was getting drilled in the 4th quarter by LSU. I wouldn't be opposed to seeing that again.
FCS TITLE GAME: #2 North Dakota St. vs. #1 Sam Houston St. - Saturday 1:00 EST - ESPN2 
This game should be a real slobber-knocker. It's also a #1 vs. #2 matchup in a title game which has a sense of credibility about it, since these are the last two teams standing out of a 20 team tournament. Sam Houston State has whooped everyone they've lined up against this year en route to a sterling 14-0 record. North Dakota State, who started the season outside of the top 10, rebounded from an early season loss to Youngstown State and haven't lost since.
This will be a classic class of styles. Sam Houston State's offense leads the country in numerous statistics. North Dakota's balanced attack and power-running game is anchored by their staunch defense. While the Montana Grizzlies made it interesting late against Sam Houston in the semi-finals, North Dakota State absolutely ripped the hinges off Georgia Southern's team. When it comes to "an unstoppable force meets an unmovable object," always take the unmovable object. Go Bison.
BCS TITLE GAME: #2 Alabama vs. #1 LSU (PK) - Monday 8:00 EST - ESPN
During the LSU-Alabama game, I wonder how many times each team's "depth" will be lauded, as if it's the product of magic and not a systematic skirting of NCAA "laws"? I waited all year for Verne Lundquist or Gary Danielson to at least speculate on over-signing's role in this matter, but alas, there was nary a peep. Surely where one billion dollar corporation with millions of dollars tied into the SEC failed me, the other will pick me up. You know, since ESPN isn't just a college sports promoter, right?
As for the game, there ain't no way LSU came this far to lose. And if they do, why shouldn't the title be split? If the BCS is all about preserving the integrity of the regular season, then how does a neutral site loss a month after the season outweigh an in-season win at Alabama? AND WHY DOES NOTHING EVER MAKE SENSE IN THIS SPORT?
Do you need another anecdote for Les Miles' ballerness? This week, Miles informed the media his team would be under an earlier curfew than previous bowls. Eric Reid then later clarified that "early curfew" means midnight. Do you know how much partying can be done before midnight? I'm sure nobody knows more than Les... and yet, that's the power of him. NOBODY UNDERSTANDS THE MODERN PLAYER MORE THAN WARLOCK LESLIE MILES.
I said after LSU whipped Oregon, they were the best team in the country. It's been painfully obvious all year, no more so than when they got out-played in Bryant-Denny Stadium and used their guile to escape with the W. They are a team of destiny. The fact they're playing in Louisiana, where Les Miles will be able to harness his druid powers fully, is simply the icing on the cake. I also promise you Les Miles will give a speech after the game in which everybody will ask, "Just how in the hell did he lead a team to a title again?" and it will be awesome.
Congratulations to LSU, the 2012 (or 2011?) national champions.